21 Days and other things
March 31, 2007
Ok, I've put up the 21 Days challenge if you'll click the link over on the left. If you're interested in joining submit your blog. Obviously there might be some things to flesh out so feel free to ask questions so I can make things more clear.

Sorry for the whole dissapearing blog thing. It had nothing to do with the blog itself or anyone, it just was the target of my anger/anxiety/psychoticness and instead of throwing things I got rid of the blog. Alas, it's back and I promise to throw things next time instead.

Here are some fun things for the moment. Click on the Flick link for more North Carolina photos, but for now here are my favorites: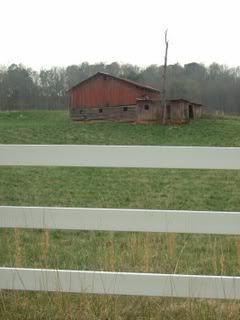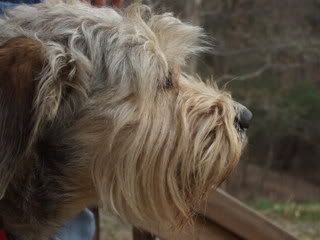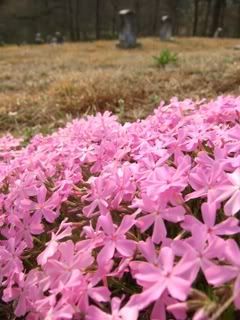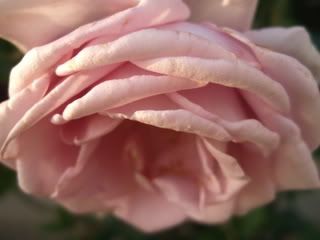 Rose from the garden






Back
March 30, 2007
I'm back but not sure I'm ready to post yet. I need to sort out thoughts first. I also believe I am going to only have one section for comments on the upper left hand side instead of after each post.

The Scenic Route
March 26, 2007
Here I am in North Carolina. It took about 13 hours to get here by truck. We took I-75 until Macon and then cut over to a back road the rest of the way. I loved the back road way. Little towns, neat scenes. If I had all the time in the world I would have stopped to take shots of falling down buildings, quaint downtowns, and all sorts of beautiful things that are blooming. The wisteria is a brilliant purple and climbing on things it probably shouldn't. Daffodils? I like them, but I don't think I'd replace my love of gladiolus or other interesting more tropical bulbs. Or irises. Love irises! I just like seeing so much in bloom. I am surprised at how much isn't waking up from winter yet. Many trees are still not leafing out and I had to remind myself that just because South Florida is pretty much in full spring mode, the rest isn't quite there yet.



;;; Sunday
March 25, 2007
It seems lately that I have a lot to write in here. I go about my day and little things pop up, silly insignificant ramblings or perhaps fun things that I feel like documenting. I think, "Ooo, I'll write about that". Sometimes it makes it on here, other times it doesn't.

So, as I sit here eating my lunch of leftover Lipton chicken rice and some fresh tomatoes from the garden, I'll write about my new friend Margaret. Margaret is going to be a new mother. She's a bit flighty and dodges my questions. Margaret is a mockingbird who has taken up residence inside the very unsightly yew "tree" out front. She has one little blue speckled egg, per Chris's investigation. I feel so bad because when I go to water or check on the plants out front she gets skittish and flies off. We're hoping she doesn't abandon her nest!

I like weekends at home. Or at least one weekend day at home. We were discussing today how if we get to stay another year here we'll probably rip up some sod where the tomatoes are in containers right now and just make that whole area a garden. The landlord shouldn't complain too much considering the four Brazillian peppers and air potatoes we ripped out as soon as we moved in.

There seems to be some better music coming out lately. My favorites right now are (some are a little older, some are recent):

Ain't No Other Man: Christina Aguilera
Suddenly I See: KT Tunstall
Save the Last Dance: Michael Buble
No More Cloudy Days: The Eagles
All I Can Do: Chantal Kreviazuk (not yet released in US but you can listen on MySpace)
Five for Fighting...I can't seem to find the name of the song but it is something about wars and peace and I really loved the song.
Are you Going to be my girl?: Jet

Some older songs I am enjoying are:

Bette Davis Eyes: Kim Carnes
Damn, I wish I was your Lover: Sophie B. Hawkins

Songs that should burn in Hell forver:

Bad Day: Daniel Powter
And this really awful song about talking on a phone to a girl and he's with a girl and I just cannot stand that song. It should die a thousand deaths.


I'm going to North Carolina next week and I may or may not have blogging access. I have tomato photos to share and some other stuff so I'll have to update you with those later. I *think* that's it!

Scrapbooking and the Plant ID's
March 23, 2007
Sorry about not id'ing everything. I'm a bit of a lazy bum. ;) Lessee here, without going outside I can only name one of the orchids. The middle one, my favorite, is Phalenopsis Baldan's Kaleidoscope. We bought it at a little cheapy orchid place off Krome Ave. down in the Redlands. Before then I hadn't seen it anywhere else but it has since begun popping up at most orchid nurseries. The top left one I got from a coworker who's wife used to work for Fairchild. The middle left is some sort of Brassovola I got at a GardenWeb swap. The rest I'll have to write here tomorrow. As for the bottom photos it is as follows, top to bottom, left to right: mustard green flower, canna, itty bitty baby carrot, amaryllis opening, Everglades tomato with Arkansas traveler, NOID rose, Jungle Samson, mustard green flower again, and I thought it was a lady bug but the markings and the weirdness of the body (I felt it) didn't seem right. So, no idea....

Since I actually scrapbooked last week I thought I'd post those too: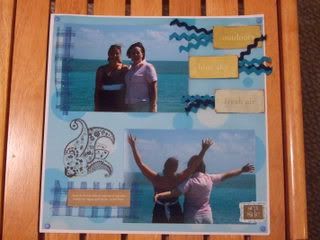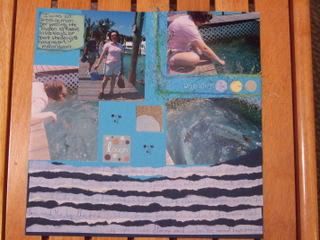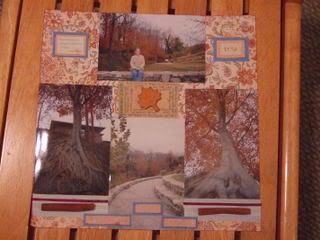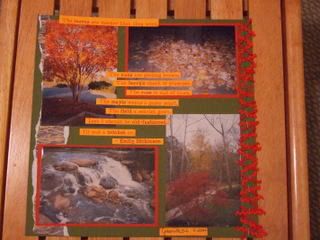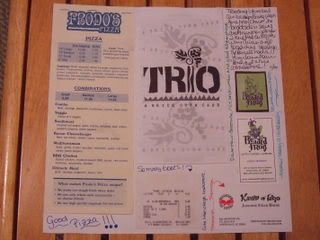 I dug out Pride and Prejudice to finish reading today. I picked it up months ago to start and got approximately halfway, around the point Lizzie goes with her aunt and uncle to London to visit Jane on their way to Charlotte and nutty cousin's house. So, since I've never read it before but have seen the Colin Firth and the most recent versions I'm very familiar with it. However, I didn't realize what exactly was left out! The letter Darcy wrote to Elizabeth explaining the tresspasses he has done is LONG. Not to mention he's actually sincere even after she's so terribly told him she'd never marry him. This never really comes out in the movie other than perhaps facial features. To go along with this there was a story today about the only known portrait of Jane Austen. The article is here. She reminds me of how Elizabeth would look a smidge.

Well, since Christopher Wistopher is sitting here drinking Tang and eating three pieces of buttered French bread, hovering for the computer, I suppose I'll get off now!



Les orchidées et le jardin
March 21, 2007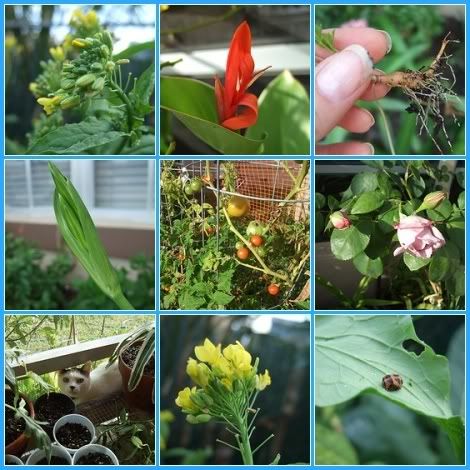 A PSA
March 20, 2007
My internet/scrapbooking idol, Ali Edwards is in a push to get a $10,000 match from Kevin Bacon and his charity website Six Degrees and I wanted to spread the word over here. Ali's son is autistic and her cause is for Autism. The goal is the person with the most donations, not necessarily the amount of money, gets the bonus. She is in second place now, and Kevin even knows who she is as she was mentioned a little on the Ellen DeGeneres show today. Even if you donate $10 it is ok. So, if your looking to donate some money (Six Degrees is part of the Network for Good) click the links and head on over and click for Ali.

I was going to put one up for the Humane Society but I could never get the banner to work so I gave up!

Anyway, thanks Alan for your comments and Heather for you PM at Ingleside. :) Cheered me up a bit! I think tomorrow I'm going to be discussing cat antics because my house is very much full of them!!



Self Pity
March 19, 2007
Here I am whining in my head that no one ever comments. Ok, so I whine to Chris too, but he replied that I should actually post something interesting. So, yeah, I've copped out lately with the photos. It is so easy to reach for the photos, but I know that people are probably getting sick of seeing the same plants in the garden blooming all the time.

Which sort of leads into that I have realized I seek approval a lot. Not that I need approval with what I write here, but rather that people read it. And in a way it goes back into stuff I've read in The Artist's Way about "artists" in general and their comparison of themselves to others and to look around for approval and that they are doing a good job. It's time I a: look for honest critiques and b: pat myself on the shoulder instead of waiting for others to do it.

I've also been stressing a little lately with the thought of having to move again. It really makes me angry to have to move. Honestly. It bugs me to no end and I wish my landlord would just say we could stay another year instead of wanting to sell. It makes me not want to garden anymore because what is the point of moving everything? Chris keeps bringing home plants and I keep thinking, another one to move. I have no energy to plant anything else, to start summer vegetable seeds, nothing. I do not look forward to shelling out deposit money (how in the hell do people come up with absurd amounts of money that equal closing costs???), pay for a U-Haul and box things up again. I don't want to go through the trouble of unloading and arranging my life again in what could be the fifth move in five years. Stupid. Stupid. Stupid. It makes me want to shove my fist up the middle of Florida to all of the asshats who decided to make owning a home impossible. It makes me want to cry. I have a lot of pent up anger and anxiety because here I am in the same sort of wondering that I was in five and a half years ago in wondering where the future was going. I try not to think that it really isn't slipping by, but it is. Have I amassed any goals? I lost weight after college, there's one. I married my love, there's two. Well, that's about it. I don't have a job in marine biology, I feel out of the loop in marine biology to the point that I feel I can never get back in it. I'm not disciplined enough to really form a habit with art, and not that I could even part with a piece at the moment (another thing i need to work on with the Artist's Way).

So, I'm frustrated, sad, depressed, but try to look on the bright side and think that I did have a fun week, but thinking of the fun just depresses me even more.



Vacation is over
March 18, 2007
The week off has been great. It really reinforces the fact that I need to win the lotto, buy a beach house and become a sea turtle biologist. Or professional artist. Or beach bum. Whatever it takes, you know. So, Mom came to visit, conciding with a visit from my friend Stephanie, who actually was at the airport this morning to leave back to DFW and it turns out they cancelled her flight as long with many others. I think inclement weather in the NE and no stewardesses, so she's having to go out tomorrow and missing work. And she had to buy a new ticket with American instead of US Air. Anyway.....

I shall share photos, photos and more photos...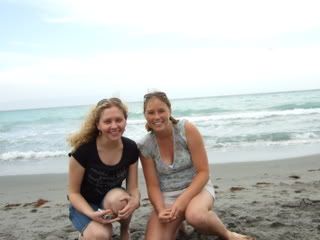 <;img src="http://i146.photobucket.com/albums/r269/oceanicwilderness/2007_0316stephaniebeach0073.jpg" border="0" alt="Photo Sharing and Video Hosting at Photobucket">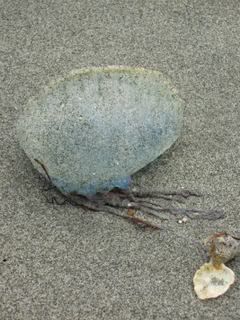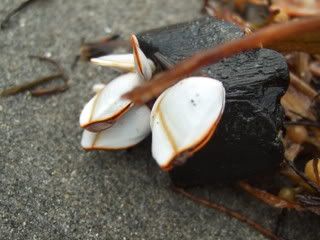 And a few things from the garden. Ready to throw in the towel on the tomatoes. If we get to stay in the house another year I'm going to plant more beans and okra to replace the waning mustard greens and the soon to be waning collard's.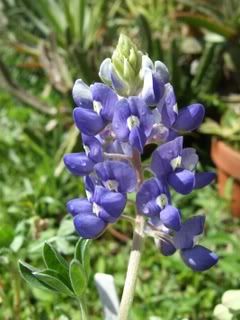 BLUEBONNET! :) My piece of Texas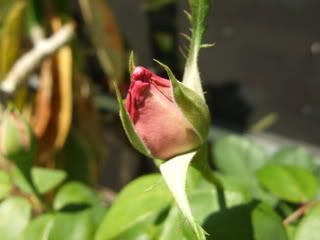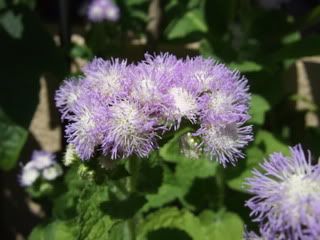 Ocean Breeze
March 16, 2007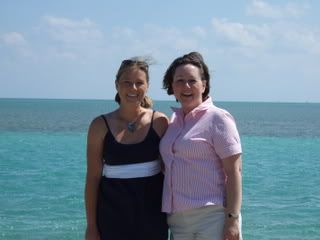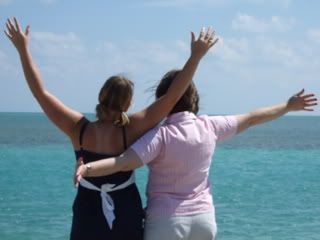 Mom and I on Tuesday in the Keys. She left yesterday and I switched her out for my friend Stephanie. :) Fun, busy week!

Orchid Eyecandy
March 10, 2007
Mom's in town and since she's never been to the Fruit and Spice Park or RF Orchids we took her there. Here are a few photos from the trip.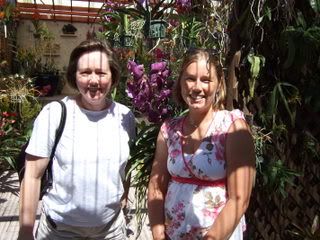 Mom and I with a beautiful Vanda orchid. Love them!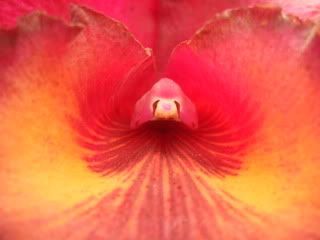 I think this was a close up Cattleya


Rows of Vanda's! Mmmm, yeah!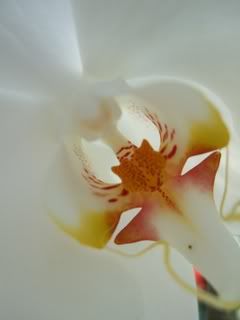 My favorite shot of the day, a Phaelenopsis, which reminds me of the cover of The Orchid Thief (which by the way I never got because the whole story was primarily regarding the ghost orchid).


Celosia at the Fruit and Spice Park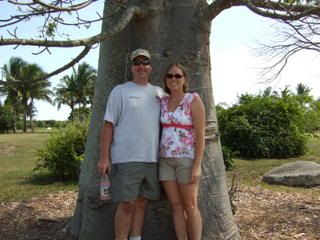 Chris and I at an Adansonia digitata, aka: Baobab. *love them!*
Mom's having fun. Today we went to the spa and had a manicure and pedicure, an hour massage, a facial, hair wash and dry and lunch! Ooh yeah! The facial was fun and it put me to sleep! I swear the hour massage goes too quickly that it doesn't feel like an hour! Anyway, we're totally zonked from being up late on Friday, late last night because of the time change and just running around so much. Ack! Tomorrow we're going to bum around and scrapbook, she's going to help me sew a purse and apron and then we're heading to SHOP, SHOP, SHOP!Mmm, Dillards. ;)



Retro Rewind
March 8, 2007
I was feeling nostalgic the other night so I dragged out my highschool scrapbooks and took some photos of what was inside.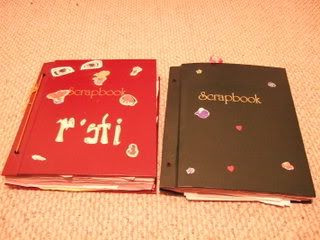 These are the scrapbooks. I started them because my friends in the non-Honors English class were making scrapbooks of their senior year. Being slightly jealous, I decided to do the same. The eyes on the front cover were done by my art friend Tami.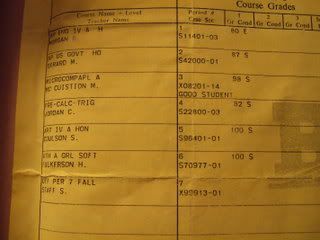 First semester grades of 12th grade. Not too shabby. I was definitely an A/B student, though as you'll see in the next photo...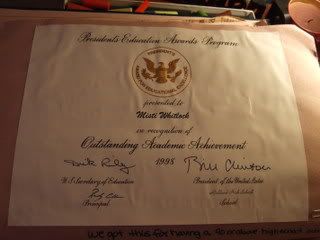 I did get the President's Award for having a highschool average of 90 or above. I also got another award that I totally forgot about which was because I did...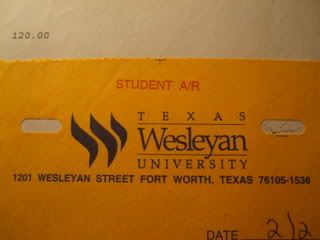 concurrent enrollment with Texas Weslyan Univeristy for Goverment and English classes. I think there was another we could do, Math perhaps, but I sucked at math.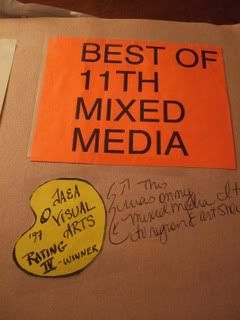 I am especially proud of this. I loved mixed media. I still love it. I started doing art in 6th grade after I dropped out of band. I ended up in Honors/AP art in highschool, where, yes, I lettered in Art! I actually have two letter jackets, one from softball too. Anyway, art was fun. It was an hour where we did whatever project we were focusing on, talked the entire time, ate Otis Spunkmeyer cookies that were on sale in the front foyer by one organization or another, and drank soda's. I was pretty sugared up in highschool. Lots of Enya, Celin Dion and Enigma listening in that class.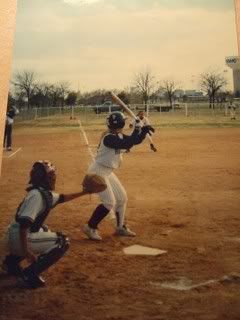 I also played softball. This was at a tournament in Midland, TX, which is almost to El Paso, but not quite. This is probably one of the few times I actually played in a game my senior year. I was on Varsity and unfortunatly not one of the "best" players. It really irks me to think about, because honestly, it sucks being on a team and not playing. Not to mention that I don't think you get better sitting on the bench. I wasn't alone, that's for sure. There were several of us that were really pretty good, but just not the "stars". Ack!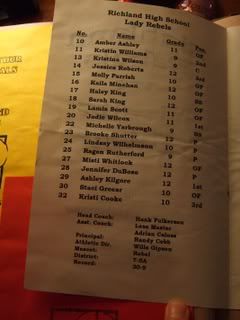 That said, we were actually really good that year, making it to the last game before going to the state finals.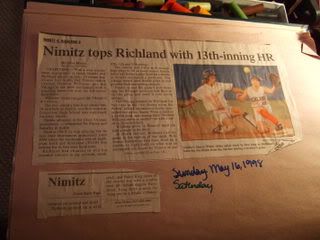 Of course, we ended up losing that game. I remember the coach looking over in my direction, and the others that were on the bench, towards the end, debating whether to put us in and if he trusted us enough to get a base hit, an RBI or whatever we needed to win the game. He never put me in and I don't think he put but one of us on the bench in. Alas, we lost. Of course the year after they ended up going to state and winning. Lucky.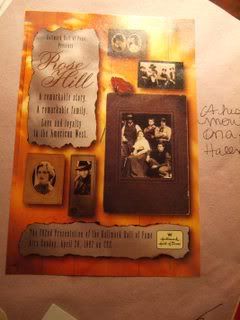 Oh, yes. I was into Jennifer Garner wayyy back before her Alias days too. I mean, Hallmark Hall of Fame movie, I had to watch it as I did work at Hallmark! ;)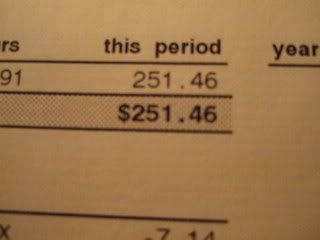 Speaking of working, this is a 40 hour paycheck at $6.00/hr from my desk job that I did in the summertime. Yes, I thought this was like millions and zillions of dollars! WOO! Can you imagine though that there are families out there subsisting on this every week??? YIKES!


This is one of my bff's (Best Friends Forever if you aren't schooled in schoolgirl lingo) Stephanie. We've known each other since 1st grade. We worked at Hallmark together and we often spent the quiet evenings writing out silly things like this...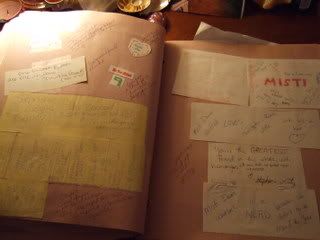 between customers. Yes, we were dorks...lol, but can you see Chris' name over there??? ;)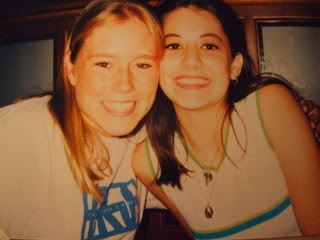 Another one of us. Several of us in our group, we would go to parks often and just take photos and do silly things. Get sno-cones, drive around...teenager stuff.


Here is our prom picture. I'm over there on the right hand side with Chris. It was a fun night! This was at Debbie's parent's house. Debbie is in the yellow plaid dress.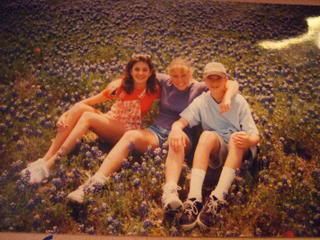 This is one of my favorites. Bluebonnet time around Easter, or actually on Easter. My family, with Stephanie because her mom was working, drove out to Mineral Wells area to take photos of the bluebonnets and just have a nice day driving. I miss that about Texas. Driving to little towns, the country side and going all over. You can't really do that in south Florida.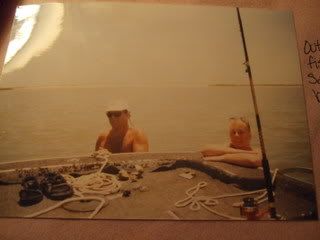 I'm not sure when this was taken, highschool for sure, but this is my dad and me. Mom and Curt are on the little boat we rented. We would stay in Rockport, TX for many vacations and sometimes rent a boat and go out into Aransas Bay and hang out, fish. My marine biology aspirations are definitely spurred from these expeditions. Lots of fun!!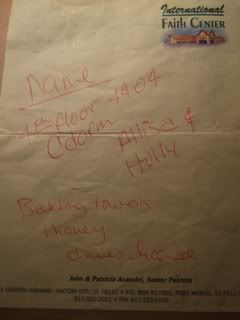 This little note has more on it than you think. Alisa actually ended up being a friend. She was a host for a campus preview weekend in November 1997 at Texas A&M Univeristy-Galveston (TAMUG), where I went to college. I was a senior in HS and exploring colleges. I pretty much new I wanted to go, in fact, I think I was accepted at this time. I can't remember exactly. Anyway, I went on Summer School at Sea where Alisa was part of the Corps of Cadets and so I got to know her there, but also in that note not directly related is my meeting Chris. We met on the van ride back to the airport to return to DFW. I remember being on the bench in front of him, slapping mosquito's on the ceiling and really thinking he was HOT! LOL, or as I would have said then, "FINE!". Oh yeah...

Anyway, I wanted to reminence a little bit.



Beautiful March
March 4, 2007
At the last minute yesterday morning I decided to get up and go with Chris to a CITO event at Bill Baggs Cape Florida State Park. I hopped out of bed at 7:20 and we left at 7:35 with a stop at Mickey D's for some chicken biscuits and coffee. We then spend the next three hours pulling out Nicker Bean mostly but also Lather leaf. Nicker bean is a native but it has taken over plant communities it shouldn't, so we all spread out and ripped a bunch out. The park ranger was impressed because he works 8 hours a day by himself and doesn't make nearly the dent in it we did. The problem is someone'll have to go back next year and remove the babies that we missed.

I did a short walk on the beach afterwards. I miss the beach. I miss the easy access I used to have. Heck, I'd take Galveston beaches because they were accessible. I found a small cone snail shell. Then we came back and tried to do a few things around the house. Samson had more fun on the porch until the sprinkler came on and he got scared and I let him in. I just made a decent dent in cleaning the spare room up. WOO!

Now I am jamming to Toad the Wet Sprocket which I dug out of the cd case. Will need to upload this so I can rip it and download it to my mp3! I'd forgotten about this cd and it is such a good one.



Samson the Movie Star
March 3, 2007

Isn't he a cutie patootie? Our little jungle cat! :)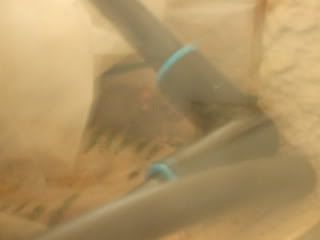 This is one of the mice that entertain Leo constantly. It's a little blurry, but you can tell it's there! I think he's cute, personally!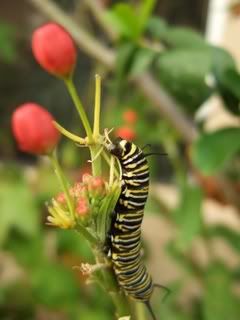 Monarch chompin' down on the milkweed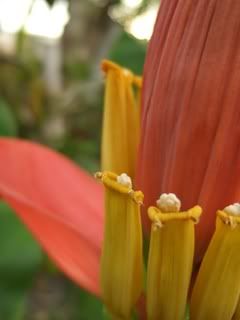 One of our banana tree's is flowering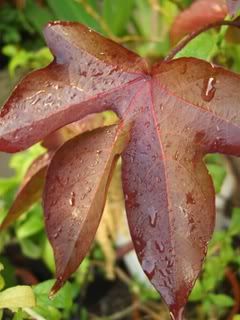 Jungle Red Hibiscus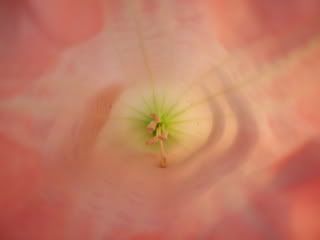 Inside an Insignis Pink Brug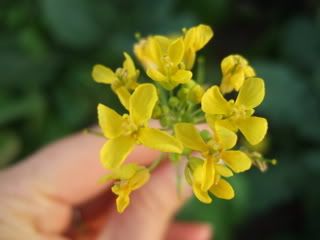 India Mustard flowers
And now for the creative Works in Progress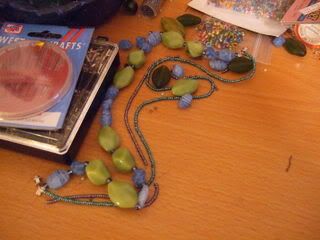 A necklace I started, oh, in early December. *doh*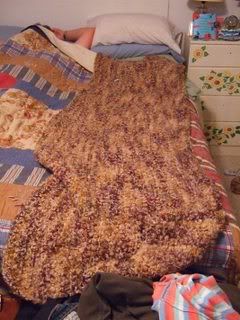 Blanket for someone. Crochet...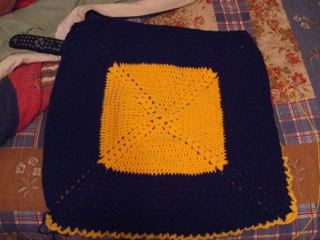 Another blanket.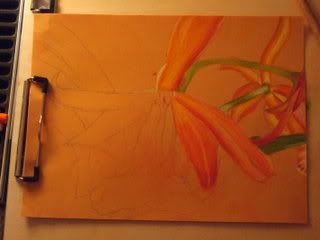 Kinda bummed about the photo, but it's a soft pastel of an orchid that I'm working on.



Creative Desperation
February 28, 2007
I feel lost. Here, there, everywhere. Trying to catch up and feel like things just continue to fall behind. AHHHHH! This is the product of a super busy and super traveling month of February. March should be better. *hopefully*. I am trying to think of anything I accomplished creatively in February. Mmmm, I crocheted maybe twice. I did actually get two things drawn out to paint. I started on another pastel. So, I moved slowly.

The other by-product of February was that my house became a very unkempt mess. I mean, I keep things by no means perfect, but this was especially bad. I get very stressed out when there is an exceptional mess. Chris knows this and when I stress out, he stresses out and well, all hell breaks loose. So, the mess piled up, laundry seemed never ending from the trips/weekends away, the shower grew a nice shade of orange mildew, the toilets, mold. Those are at least clean now. I dusted the cat fur off the bedroom furniture. The living room is next. And dusting while sick with a cold is not the best thing. The garden at least got some loving care when we rearranged everything and weeded the pots. I still need to write my plant list out and label everything. If you can find me another weekend to do this I'll be happy.

It's the little projects. Putting all the photos from cd's on our old camera onto the computer and then saving onto larger cd's, categorizing all of my negatives into negative sleeves, figuring out how to string my sewing machine again, taking used books to Goodwill, cleaning the spare room. I'm sick of the random piles of stuff. I wish I had an attic to store things. Third bedroom...anything.

Once things are in semi decent shape I don't stress as much. I feel comfortable to do creative things again. I need to get to that place. I'm not fond of this one at the moment.

phew. That's out. I feel like I needed to say that for awhile!

Last weekend was our annual Campin' in the Glades geocaching event. It went well and we had a ton of fun! Some of my favorites photos are:



This is Sophia Loren (brown) and Rosemary, puppy Chihuahua's of our friend's Chris and Sarah. They were adorable! Rosemary is about the size of Leo when we found him! I mean, they are little bitty things!



Thistle...ouch!



Rosemary swamped on the bed!



Aiden, the son of a geocaching friend Gladeslvr. He's an adorable little goof! :)

Oh and I forgot, Sophia Loren chasing after her Mama...

More on my Flickr acct.



Cold's Suck
February 23, 2006
I seem to be a once a week blogger lately! Sorry for any who is actually waiting with baited breath!

I am sick. Tuesday I woke up with that ache that I knew I was in for it. It just went downhill from there and here I am with a nasty cold/sinus infection probably. Watery eyes, runny nose, ears clogged up, glands swollen, sneezing, coughing. Luckily the throat isn't sore and I hope it doesn't get that way. I slept until 10:30 this morning which was good. I called in at 6:00am when Chris got up because I just couldn't handle sitting in the office or doing field work when I need to be laying down.

My house is a disaster, too, from not feeling like keeping up with it. I may try to do a few things but now next week is going to be a week of cleaning crap up. I hate when things get cluttered and then it just seems like a sick house.

I have been reading a good book called Hooked: Pirates, Poaching and the Perfect Fish. It's a true account about an Australian patrol that found poachers in their waters catching Patagonian toothfish, aka: Chilean seabass. It chronicles the chase from the southern Indian Ocean near Antarctica to the south Atlantic between Uraguay and South Africa. Almost every other chapter is a substory regarding either the development of Chilean seabass as a commercial fish or a background on some of the fisherman on the boat. It's actually a very fascinating story and has renewed my interest of not eating any fish. For one it describes the longlines which can be miles long by hundreds of feet deep with thousands of hooks on each subline. That's an incredible decimation! "Chilean seabass", which is a name that was coined to make it sound better than the true name of Patagonian toothfish, were decimated when the popularity soared. They moved from Chile to off Argentina and then when populations were found in the southern Indian Ocean then they went there. The thing is you can't even trace a lot of the fish catches sometimes. Companies can easily move one shipment to another boat in the ocean and bypass any port for inspection. It's really crazy! Oh, toothfish weren't really popular until 15 years ago, "discovered" about 25-30 years ago, so you can imagine how quickly that has occurred. My coworker who gave me the book said he has seen "Sustainable Chilean Seabass" as Whole Foods before. That is a crock apparently because the fish doesn't reach maturity until 30 or 40 years, therefore you can't even aquaculture it. It's about as sustainable as whale hunting. Anyway, there are a lot of quotes from the book that I want to write on here, but my nose is running away from me at the moment, so it'll have to be another time!

Meanwhile, I'm coming down on your hard, friends. It's time to start working on fixing our fisheries. What can you do? You can check out the Monterey Bay Aquarium's Seafood Watch list and eat from the Green list. I did find some flawed things in there. You still have to watch your aquaculture things in other countries because sometimes they destroy habitat to build it but also many countries don't have the same regulations on releasing pollutants as we do. So, if you can see it as a Product of USA then I'd suggest buying it. The company can't just be in the US, as they can outsource the main production to out of the country.

So, I hope you all have enjoyed my marine biology rant for the day! :)

Oh, I forgot, one more marine biology rant: I was on my college's webpage yesterday and saw this: Sea Turtle Saturday! I'm jealous! Why couldn't they do that 5 years ago?!?!?! But if you check out H.E.A.R.T you'll see that 102 nests were found last year! That is extraordinary! This is all in part to the hatchery program in Galveston with National Marine Fisheries and releasing them on the beach. Ridley's return to their natal beaches to lay their eggs and because we had lost many nesting and many turtles to...dum dum dum...shrimp and fishing....they weren't nesting on Texas beaches. Now they are back and look to be doing good! Stoked!!!!! :)



A Week Overdue for an Update
February 16, 2007
Whoa. Overdue here! I thought about blogging last weekend but then when I sat down to blog the spark was gone. The spark isn't here that much but I'm going to attempt to catch up a little. So many things to discuss....

Hummingbirds... I went to a little garden party thing last Sunday at someone from GardenWeb's house. I've met her before at other trade's. She was having people from the area come to take cutting's and just hang out for a few hours. Well, I saw my second ever hummingbird!!! It was hovering around some firespike and it was so cute and small! The first one I saw was in Panama in 1998. I have some hummingbird type plants but I guess I don't have a big meal type area for them.

The Dixie Chicks Ugh, I'm not listening to the pundits who want to continue to bash them and say their Grammy wins were all political. I'm not listening because their CD Taking the Long Way was FABULOUS! Come on, they deserve it! And it sure beats having some negative I'll stick my boot in your ass person win. I'm sure you can figure out who that person is....

Washington DC OMG. DC was bitterly cold. Bitter. Thank you Mom and Dad for the faboo jacket which kept me utterfly warm. Shame on you Misti for leaving the hotel without your little scarf/head thingy and freezing your head off while walking around the Mall. DOH! Warm all over except my ears which are very sensitive to cold wind (even 65* wind will send my ears into aching). The meeting was so-so, the hotel bed was delightful. I want that bed. This is the kind of bed that you want to take over. I mean, I woke up diagnonal. Any hotel that provides down/feather pillows is 100% ok in my book. I love the Metro! It's just so fun and cosmopolitan like! I've been to DC before, but it was fun to go again. We did the Capitol one night for a little meet and greet sort of thing for the Tribal rep's to talk to them. Rangel was the one that sticks off the top of my head as being there. There were two other men who had to be in their 80's. Seriously, term limits. We need 'em. Anyway, Nancy Pelosi was RSVP'd to come but she's already giving empty promises. We did walk right past her door though where a guard was standing by.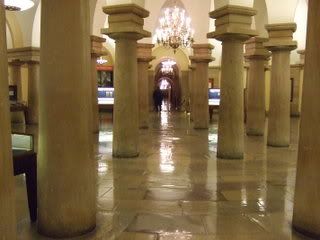 Inside the Capitol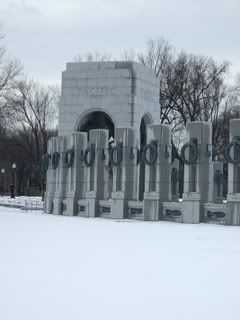 The WWII memorial. I was so mad because my camera crapped out on me right then. The last time I'd checked the battery had been full but I'd been carrying the camera in my pocket so I'm pretty sure it got turned on my accident when I had my hands in my jacket.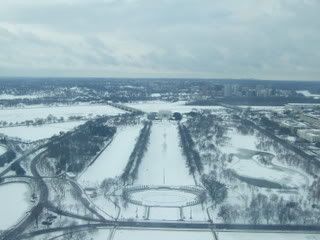 View west to the Potomac, which was frozen in spots, the Lincoln memorial and the WWII memorial up closer. This is from the top of the Washington Monument


View East to the Capital.


View from my hotel room

Meeting Forum Friends A brief rundown for those who don't know my internet forumming experiences. Circa 2000 a forum called Anne3.com was born in relation to the new Anne of Green Gables movie. I joined and was thus addicted to the internet and forum's. I mean, if you knew me when I was 9 and 10 and saw how I'd try to put my hair up like Anne's after I watched the movie you'd realize that I was a little insane. And here was a whole world of other insane people that I could relate to! So, I was on that forum for awhile, then branched to Avonlea.org when a brouhaha occurred, then another brouhaha occurred and we're all at the Ingleside forum. So, yes, seven years later I still talk to a lot of people that I 'met' back then. Well, in DC I met forum friend #5! WOO! We ate at a Thai place, which I'd never had before, and then walked to a book store and talked books to avoid getting hypothermia.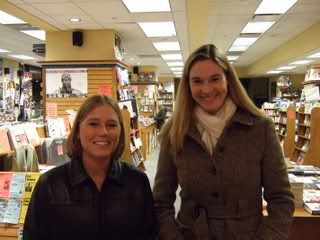 Here we are, me and "Rilla my Rilla" aka: RMR for short. Yes, she has a real name....She's tall, I'm super short, and we look funny like that! LOL! But I had a super time. It's weird in a way that sometimes "forum friends" are almost closer than real friends...sometimes.

What else... We're putting out a hard geocache this weekend. I have Monday off and am scrapbooking. Orchids are blooming their heads off. Tomatoes are being YUMMY. Mustard greens are flowering. Monarch's are flying. Found mouse holes under the container garden...the source of Leo's mouse friend on the patio. Samson is a cranky baby.

And I think that is it! Promises for writing more often...PS: Who's Dawn?



Harry Potter and the Deathly Hallows
February 6, 2007
So, I preordered the new HP book at Borders. I did that the past two times, or rather the first time was at Waldenbooks, and they both worked out great. I decided not to take my chances on there being enough books for the final one. There were plenty last time but you never know with so much leading up to the final book, not to mention another movie coming out this summer. I think I will have to read all of them again before I get into the last one! I suppose I better get crackin'! lol...

Speaking of books I finished The Memory Keeper's Daughteron the way to work this morning. It was a really good book, sad really. It's one of those stories that things doesn't turn out how you want them, which is really how life is. I do have to agree with a few of the reviews I read, in that the end part of the story is not as tight and clean as the rest of the novel. It unravels somehow. Perhaps it was a hurry up and finish thing. I highly recommend this to anyone looking for a good book to read.

On another note I have a boy/male rant. I've been married almost five years but things Chris does never cease to amaze me. I'd bought groceries tonight and was putting them away and cleaning the fridge out at the same time. In the freezer I was looking to make room for some fruit and I saw a half cut package of bacon. At first I thought it was wrapped up in a bag until I saw that no, it wasn't, it was just a half cut package of bacon put back in the freezer. Um, freezer burn??? I sighed and Chris wasn't around to yell at. It's the little thing, the half done things that I think irk me most. I mean, why not continue what you were doing and finish it? I've learned that this isn't a thing pertaining just to hubster. Nooo, when you carpool with three men you learn they're all just like that. One of my carpooler/coworkers told me that basicly wives/women in general want men to want to do all those chores etc. Yes, it's true. We want you to want to do these things because we really do not want to do them all the time. Face it, most things wouldn't get done if we didn't have the initiative to just do it. But, the thing is, we don't want to do it all the time. We have our own things to do. So, men, want to do things sometime. And this isn't a rant/bad thing on hubster...he's great. I mean, he puts up with a lot from me. It's just that when you find a package of bacon in the freezer not wrapped at all you get a little irritated.



Samson is looking at me...
February 4, 2007
Eh, I couldn't think of a better title, and Samson is sitting on the desk licking his paw and then looking up at me. He's a little cranky tonight, but he did get to go outside when we got home. Now, Leo, he didn't, but I gave him some treats instead. The booger decided to jump up on the counter where I keep the treats (in a Winnie-the-Pooh cookie jar) and tried to get more. I moved him down and then he tried again a few minutes later but I prevented him from going through with it. He's rebelling. Little goof!

We went to Tampa last night for Chris' work appreciation party. It was 60 or 70's theme or you could wear "prom" attire. So I wore a nice dress and felt wayyy overdressed until I saw a few others in some fancy dresses. There were plenty of Austin Power lookalike's and women in go-go boots. It would have been fun to dress up but Chris didn't know it was dress up until Friday night. Sooo....no go on that. We got up this morning and on our way back stopped in Sarasota to go to the Selby Botanic Garden where Chris and I proceeded to argue about who could have the camera and when the entire time. It is really bad when two people are addicted to plants and taking photos try and do it at the same time. He was the camera hog this time. Yep. I missed some photos. It's just not the same when you say "ooh, take that one over there". Nooooo I wanna take it! There is a pleasure in taking the photo. An excitement. It's weird.

Anyway, I uploaded them to Flickr and you can see them if you click my Flickr Badge. Here are a few of my favorites: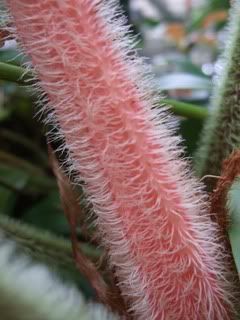 A fuzzy stem of I want to say a begonia but I don't remember. Just liked the fuzz...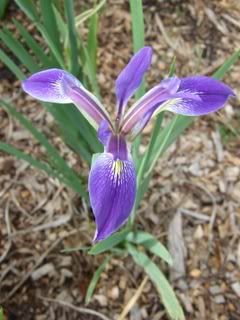 Blue flag iris


Hollyhock's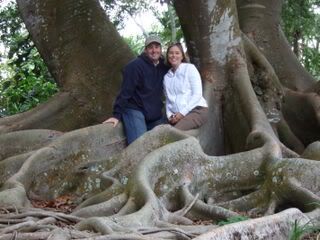 Chris and me sitting on a banyan tree


I loved this orchid. It's a slipper orchid of some sort, but don't you see the two eyes, nose and wide open mouth???

Well, I can't remember my resolutions, but I do think I remember some of the goals for January. I think the only thing that I really accomplished was finally finishing the blanket for Michelle.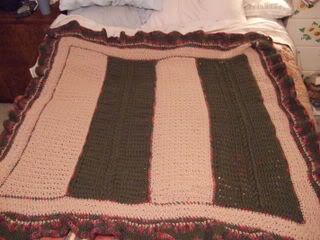 Once I got going on finishing it I worked pretty fast. I also started one for my brother and his wife and while I was in Atlanta I started another for a friend. I have now two baby blankets I need to work on! One for Michelle and the other for someone else. Michelle told me last week she's pregnant and I'm so excited! She's the first in our circle besides Connie to get pregnant. I say that because Connie wasn't as close to everyone and when I say the "circle" I primarily mean me, Rosemarie, Stephanie F. and Michelle. (and I realize the majority of you have no clue who I am talking about, but I'm just rambling so bear with me!). The four of us were really close our freshmen year of college (we met on the Texas Clipper II) and some of the fun memories are driving around Galveston in my Mercury Capri with the top down and jamming to songs like "Never Ever" by All Saints. Ah, the good 'ole days!

Also in Atlanta I crocheted a little hat thing. It was in a crochet magazine and I figured I'd give it a go as my first non-afghan crochet. I have hopes on doing a tunic/shirt soon. *adding to piles of to-do's*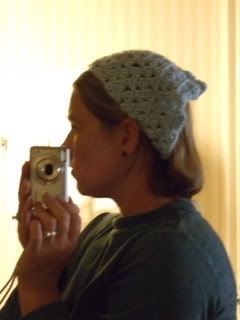 Let's see...oh and when you travel by yourself you also get bored. I read a book too. It was good to read as I haven't done a lot of it lately. Mostly has been non-fiction and that takes me twice as long to read so I'm constantly putting down and picking it back up. My MIL had given me The Shop on Blossom Stree which is a breezy, cute novel. I picked up The Memory Keeper's Daughter at the Atlanta airport while waiting for my flight. I'd been eyeing it for awhile and it is fantastic! Will probably finish in the next few days if I can get a few more hours strung together to sit and read!



Playing Catch-up
February 3, 2007
I'm kinda wondering where on Earth January went? I mean, seriously. It's gone. February? Going to be just as fast. I have something every single weekend, including this one. Not to mention another business trip. AHHHHH! I will be glad when I can take a weekend to do nothing!

Atlanta was COLD! The Georgia Aquarium was pretty cool! Photos are there if you want to see them. I loved the sea turtle, the beluga's, the leafy and weedy sea dragons, and their South Pacific tank. In that tank they had Moorish Idol's. They are really cool! Of course it renewed my feelings about the ocean. I hate being so far away from it. Yes, I know, I live in Florida, but the beaches are hard to get to where I'm at, and it feels like another world away!

I do have more to write but I have to pack for our little overnight trip and do stuff. Glad y'all liked the video. Maybe I'll do a video blog sometime with just a tour of the house and some cat antics thrown in. Dee: my boots are Timberland's and I got them at Bass Pro Shop. I've worn them on other long hikes sans backpack so I just think the extra weight and lack of hiking lately helped to getting the blisters.



Backpacking Trip
January 28, 2007
So, we are zonked. We did our first backpacking trip yesterday and today. The backpacking round trip was 12 miles and with probably a 1.5 mile side hike. It's fun! We probably started off with 25 and 30 lbs each but came back with less. The biggest pain was getting my waist strap to sit correctly. It seemed to loosen up after awhile so I was constantly tightening it. I also need to walk longer distances in my hiking boots. I have two small blisters on my left foot. :( Anyway, I would talk more but I'm tired and I still have stuff to do. So, I'll leave you until Thursday (business trip) with a link to the photos and two videos. Backpacking trip

To explain the first video...I thought Chris was taking a photo. So, here I am trying poses and waiting for him to snap when he was just taking a photo. I look like a big dork.


So, you wouldn't think I'd fall for it again. Well, look again...


And I have one that I tried to do of Chris but I'm not as sneaky as him and it isn't as funny. So, that's your entertainment for a few days!



Big Honkin' Elephant Ear Rhizome
January 24, 2007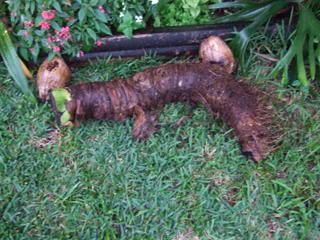 Chris nabbed it at a work site they were doing to tear up. Can you believe it???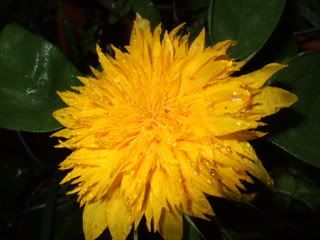 Teddy Bear Sunflower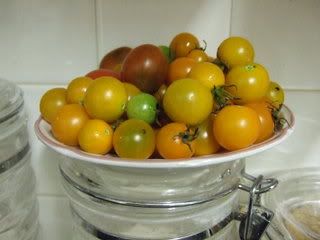 My plate runneth over...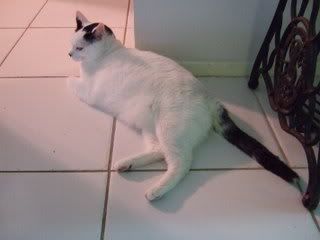 My real life teddy bear! ;)



Sunday Ramblings
January 21, 2007
Sometimes MySpace is a bit annoying. Like, for instance, when you get a friend request from someone as well as a message and they act like they know you. To boot, they have a profile that is only viewable if they are your friend and the photo is something not of them. So, I'm going through thinking, who could this person be? I email back and ask if I know them to maybe give me a hint. I add them and I still don't know who this person is because they still have nothing on their page or a photo of themselves to give me a clue. So, I resort to the yearbook. At first I thought this person was the sister of a guy in my class who was also friends with a guy I used to date. Same last name, wrong first name as I found out when I checked the yearbook. She looks familiar but I just can't place her as being in any class that I took. I was in a lot of honor's classes and usually the same people were in my classes year after year. Nope, still don't know her. I felt bad! Something similar happened to me in around 2000 when that highschooalumni.com website was up and was a free alternative to classmates.com. Girl claimed to know me from a science class but, even only two years out of highschool versus the nine now, I didn't know her! Which makes me wonder, was I a snob? Did I ignore people? Ack!

I finished an afghan finally! I'll post the photo soon, after she gets it. If you are on Ingleside you can see it in the Knitting topic. I'm glad it was done. It started out as something else and then I ditched it and the scraps are now a blanket Samson lays on. I like how it turned out though! So, I'm starting another already and I picked up a crochet magazine that has some really pretty tops that I want to crochet. Perhaps that'll be my next project.

Our first backpacking trip will be this weekend! Just a one nighter at a state park we've been too, but it has pieces of the Florida Trail and other trails that we can do. It'll be a good experience. I'm reading a backpacking book right now along with the Florida Trail guidebook and the backpacking book has all these scenario's for getting hurt. I'm just like please nothing impale me, no bears eat me, and no rivers swamp me!



Backpacking, tomatoes and cat bathing time
January 17, 2007
We're getting geared up to start backpacking soon. Chris' dad sent us two backpacks and we already had one from his mom and step-dad. We're going to lend the third to our friend JC when he wants to come out with us. So far we've got the tent and the stove, but we sent our sleeping bags back after Chris realized he'd found better ones. We've got our South Florida map of the Florida Trail and aren't sure where we're heading out to start. We're thinking of doing the backcountry portions of Jonathan Dickinson to start as it is in a state park, is relatively dry and has a lot to be explored. Then we'll head off to what Chris said is the hardest part of the Florida Trail, the ~8 mile portion from Loop Road to US 41 in Big Cypress Nat'l Preserve. The hard part supposedly is the wet terrain but also the slippery limestone/coral rock formations. It's also the least hiked part. Should be fun though!


See? Ready to go! Leo wanted to come too. He was a bit squirmy there as you can tell!

I snapped some good photos of the cats a few days ago. The light was coming in good in the bedroom, both of them were up on the bed and before I knew it, it was bathing time all of a sudden. It's almost like a cleaning station in the ocean/aquarium. Very weird!


Samson licking his paw!


Mid lick...


Leo looking for trouble and Samson thinking it is his blanket!


Peaceful Sammy with a glowing ear! Kinda cool looking!


After bathtime catfight


Leo being bathed


Samson being bathed


Leo, you didn't get behind your ears!


Samson, you didn't get under your chin!

And now for more tomatoes...


Lemon boy macro


Black plum and Lemon Boy macro


Served up!


Tomato Still Life: Black plum Sungold and Lemon Boy

The sungold's have definitely been my most prolific so far. The Everglades tomatoes are just starting to set and I know they are very heavy bearers so we'll see in a few weeks! I luuurrrrve tomato season! I'm about ready to get some spinach and lettuce put in the ground. The seedlings are doing well!



Gardening weekend
January 14, 2007
Yesterday we layed sod. Chris had some leftover from a project at work and they were going to throw it out. We've got several bare layers of "grass" that just looked crappy so we put the sod to good use. I'm getting shirtloads of tomatoes! Mostly sungold's, but everything else is starting to take off.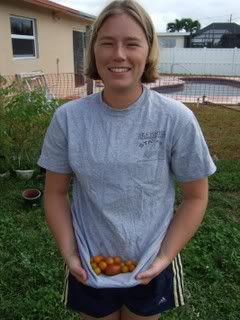 See, shirtloads? Got a bunch of them on Thursday and now I'm getting more!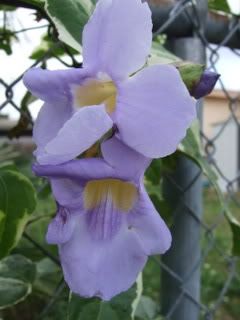 Our variegated Thumbergia (blue sky vine) is blooming! YAY!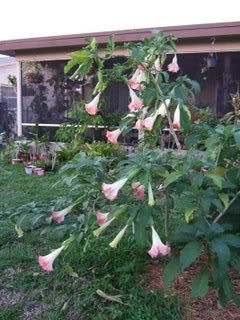 The brug's are blooming!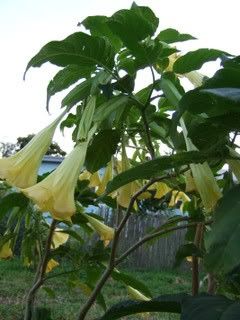 Jamaican yellow


This is Lemon Boy from Burpee. I hope it tastes good. The green one has a hole in it from something, so I'll save the seeds from that one.


Here is another fish tank video!

Guess that's about it. Going to spend the day doing a few more chores and working on starting some art projects. Tomorrow I've decided to dedicate to scrapbooking with one escape to a used book store to get rid of some books.



Home
January 11, 2007
Finally home. It's been a long few days. Had to get up at 3am this morning to make my 6am flight. Slept on both flights (had a connection). I came home, ate lunch and then took a three hour nap! I'm going to hit the sack tonight as soon as Grey's Anatomy is over (thank goodness for a new episode, FINALLY!)

The trip was pretty fun. I enjoyed my trip to Indiana a lot! (Sorry Beth for being so close and not seeing you!) Connie is great and the house is beautiful. Gabriel, her son, is a doll! I met him for the first time a year and a half ago when he was just about 14 months. He was trying to learn to walk then but now he is fully conversational and walking. He knows what he wants, ie: demanding, but oh he'll be very polite about it with all the please's and thank you's. It's hard not to think it's adorable! Anyway, here are some of my favorite photos of the trip and then I'll link to the whole album. There's a lot of 'em!!!



Tenneesse Fog on the way up to Indy.


Gabriel eating waffles. He's so fun to watch!


Gabriel playing. He played with this box of little Ark toys forever! Oh, and I got to watch the Veggie Tales version of LOTR! LOL...


Sienna. This is Connie's cat that showed up at our apartment balcony Thanksgiving of 2000. (Connie and I were apartment roomates for a year and suitemates in the dorm the previous year). Anyway, Sienna is a total spaz, but she's loving. Very, very talkative. Beats my cats on that aspect.


Connie Kitchen


Indiana before Kentucky sunset


Sunset


Ohio River bridge getting back into Kentucky.
Anyway, I have a ton more here: photos which include the hotel photos I took. We were at the Gaylord Opryland and it is HUGE. I mean, you get lost in there! They have two conservatories with tons of plants and it was just awesome!!! I'll do some photos and talk about that tomorrow.



Pipefish video
January 6, 2007


Our new camera is cool! It shot that! And it can do up to 15 minutes supposedly so I'll probably be putting some cat fights on here. Maybe a Leo trying to chase the feather on a stick video too!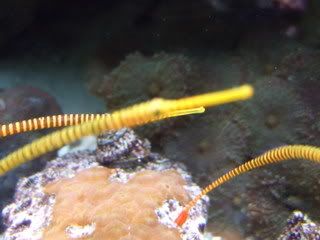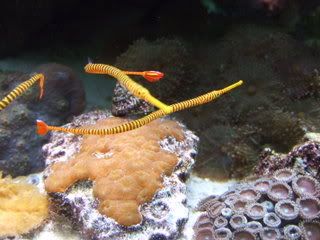 I'll be out of town this week. I'm leaving tomorrow for Nashville where I will then drive four hours north to Indianapolis to visit my friend Connie for a day. Then Monday evening I'll be driving back to Nashville for a two day air quaility training thing. Then back here on Thursday! I'm going to be traveling to Atlanta in three weeks and then two weeks after that I'm going to D.C. Busy busy!!



Cat Bonanza
January 3, 2007


Will this thing clean my teeth??? Mmmm, tasty!


Mom, I want ouuuuttt!