December 30, 2007
The garden bug has bitten again. However, we're experience bizarre heat again and if it keeps it up I might just become how I was in June this past summer, non-existent in the garden. I think we're getting a pretty big front though on Wednesday, enough to where everyone is looking to protect tropicals and tomatoes. I'm not sure I'm going to worry just yet. Yesterday I was in a very blah mood. I woke up restless and sleepy, mostly because Leo can never figure out that Saturday is Saturday and not the weekday where he can begin waking us up two hours before we're supposed to get up by scratching the floor, picking fights with Samson and running all over us on the bed. I got up and had breakfast and then proceeded to lounge in bed another two hours while watching Love Comes Softly on the DVD. I somehow managed to get up and head to the mall where I returned some jeans for Chris and used a gift card I got for Christmas. I was still mostly restless when I came home so I read in bed, and took a nap. I dug out some blankets that were in my chest at the foot of the bed, because I've decided that there's no reason not to use blankets. Somehow around 4:30 I managed to get up and walk outside. I was hoping to pick some tomatoes and to just sit on the swing for awhile, which I did do. I was sad to see two ruined tomatoes, one that I didn't find until after I picked it.


These are one of Chris' babies, Galapagos tomatoes. I didn't pick them yesterday but I think I will today. We tried them last year but started them too late and they didn't do well or produce fruit.


I have no idea what this one is. There are just wayyy too many tomatoes and with all of the names that Chris has, mostly rare or uncommon varities, they just run together.


The sungold's were tasty. I picked them off the vine and ate them. I wasn't sure if they would come true from seed because I saved the seed from last year and for some reason I thought they were a hybrid. But they did come true and they are yum-o!


I picked the ripe Sunmaster but it was cracked and mealy inside. I looked for seeds but couldn't find any to keep.


I am looking forward to these Italian heirloom. They were fantastic last year. Also the Arkansas travelers were good, but they aren't near ripe yet.


I laid down on the grass for this one. Inspiration from Chris at Digital Flower Pictures and his grape hyacinth photo at the top of the post.


This pear shaped one is a favorite. I love the odd shapes and crinkles that are cropping up in the tomatoes.


We had several vines on the fence when we put the tomatoes in and I am hoping they won't be drowned out by them. You can see the stephanotis hanging out with the tomatoes in this photo.


The stick tomato fruit are doing good. Chris tells me these aren't the tastiest, but I plan on eating them anyway.


And since my husband likes the odd things, he had to get this other tomato that is not edible, but is incredibly spiky. I think you could plant a large hedge of this under your windows and no one would dare enter your house!


A begonia was flowering and the sunset light was catching it nicely.


This is probably my most favorite orchid we have on the orchid collection, a Brassavola. They are a frequent bloomer, and currently this one has three spikes on it, loaded with flowers. It blooms several time a year, no waiting for a certain period for them to bloom. My second favorite is a Phalenopsis that is in spike and will bloom in the next month or so. We've killed off a few Phal's, but we now know what they need. We keep them in orchid bark and water them whenever the sprinkler comes on. I think the moss that they normally come in stays too wet and the roots end up rotting. The Brassavola is in a hollowed out coconut that is now covered in roots of the plant. Coconut shells are marvelous orchid growing holders. We have a stack of them in the front yard that we've collected from the neighbors coconut trees, and we need to use them soon. I'm hoping our Vanilla will bloom this year. It is growing like crazy across the top of the porch and I think it could flower.

Today I'm hoping to put some collard's in the ground, a verbena in the front bed, mow, move around some containers so that other plants can grow, and take a nice long nap.



Fresh Explorations
December 27, 2007


We went hiking with Eliana and Marc on Sunday to Fakahatchee and Loop Road. The water is dropping considerably, but it is still higher in the main slough areas. I found pond apple seedlings beginning to grow in odd places, like this tree stump. Maybe they will make it.

It's not too early to start talking about fresh starts and new ideas for 2008. Ali Edwards, a well known scrapbooking and "life artist", has something called One Little Word, a simple word to focus on for the year. I didn't do one this past year but I have decided my word for 2008 will be Explore. To explore my goals in life, explore my art in more detail, to explore the world a bit more, explore my relationships and get more out of them and to explore the time I utilize for more appropriate activities. I haven't quite pinned down my resolutions yet, but for sure I am going to be picking up running again. I have slowly started doing a few days a week jogs in the past several weeks. I'm aiming for 100 miles ran from January to the end of March. This is a high goal. I have fresh shoes to start off again, high hopes, and plenty of time to explore my capabilities in the sport. I'm also aiming to do six pieces of art this year. It is small, but I didn't do that much this year. About a week ago I sat down and figured out what I completed artistically this year.

Fine Art

Gayle's Rose #1 (oil on the plate)
Gayle's Rose #2 (pencil drawing)
Kristen's ghost orchid (pencil and ink)
The Fish Thief (pelican pastel)
I did start a few things that turned out to be rubbish and they were subsequently tossed in the trash.

Crochet
Ohh, I did loads here...
Michelle and JP's blanket
Curtis and Stephanie's blanket
Joni's baby blanket
Amy's baby blanket
Eye candy purse
Bliss bag (my purse I kept)
Yellow Paisley bag
Blue ocean bag
Stephanie's paisley bag
5+ kerchief's
Rose's blanket
Christine's purse
Autumn bag
So, I crocheted a lot! I need to find some balance between that and drawing.

Travel

Atlanta twice
Nashville
Indianapolis to visit Connie while I was in Nashville
D.C.
Cherokee, NC
South Dakota
Ft. Worth thrice!
Hiking
Kissimmee Prairie Preserve State Park: our first backpacking trip.
Florida Trail from Tamiami Trail to 75: done in three days due to water shortage
Florida Trail Loop Road to Tamiami Trail: one day due to heat and having a nasty cold
Countless hikes in Big Cypress and Fakahatchee Strand
Finding 607 ghost orchids in Little Slough

So, I really can't say I was a big bum, even if I felt like it. I have many more goals this year. To complete some garments via crocheting, get some paintings completed, do some traveling and hanging out. I have two babies to expect this year as I'll be an Auntie again in May and an Aunt for the first time in August and a wedding of a best friend to be in in October. Some fun times to look forward to.



Cotyledons: First Leaves
December 26, 2007
For some reason everything seems fresh and new and ready for a new year. After the eating and the presents yesterday I felt anxious to get out and do something. Today was no different and it really felt like it should be spring and time for new things to begin growing and new experiences to be had. One thing that has changed is the decor on this blog. If you are a lurker or read via a Reader, drop by and let me know what you think. Everything is actually all uniform and I actually have a narrative on the Art section now. If I can just prod Chris to work on the Little Slough page more and get that updated....

I didn't make it to the end of It's a Wonderful Life the other night. I fell asleep when George slammed the door on his family to wander the streets of Bedford Falls. I'm sort of sad about this fact because I missed most of the Christmas shows this year. That is what I get for not watching much tv. So, since we went to bed before 10pm on Christmas Eve we were up at 7:30 with the cats on Christmas Day. We let the cats "open" their stockings first. They each got treats and toys, though Samson really wanted to go outside first thing and didn't seem too interested in what we were doing. Overall we got really good gifts from everyone. A digital photo frame from my MIL, B&N gift cards from my FIL (and a lens that just didn't seem to be compatiable...we're still trying to remedy that problem.), and some cash-moola and clothes from my parents. Not too shabby at all!!! Chris gave me some reusable bags for groceries since I had asked for them, the new Harry Potter movie, and a super cool porch swing, the stand alone kind. He even worked his butt off and got it put up while we were lounging around. It's super comfy and I'm excited because it is perfect for napping and reading! Now, I wish I'd been better about coming up with ideas for him! Drat!

I am looking forward to the New Year. I know it didn't seem like that a few posts ago, but I am ready for spring and summer and today I had the urge to feel sunshine on my face and cool Keys water on my feet. Nevermind I'll be wishing for winter when it is summer.

More tomatoes are ripening as I speak. As for gardening we are oogling at catalogs from Seed Savers Exchange, Baker's Creek and Tomato Growers Supply. It's time to prune and fertilize some things and do a little yard work this weekend.
Curt and Stephanie: Camping in the Glades IV is set for the first weekend in March. Check the Florida geocaching page!

I almost forgot. I can show you the purse I made for Stephanie, my sister in law, for Christmas, now that she's recieved it!

Christmas from Us to You
December 25, 2007
Christmas Eve
December 24, 2007
My cats spent most of the day sleeping.


Leo was on the table most of the day because his friend Samson was outside.


Samson spent the day lounging on the porch, mostly on the cooler outside the door, but also in the sun in front of the grill.


My handsome little booger, with an eye booger. He constantly has them and I'm always being a good momma and picking his eye boogers out.


Little squirt here was good most of the day. Not much trouble here, just lots of sleeping.

I did something for myself this weekend. I finally got together and made something fun! I've been wanting a crochet hook holder for forever and last weekend I crochted up with a J hook and a half double crochet a little backing to what I would eventually line and make my hook case.


Pretty cute, I think.


Enough room for all the hooks and a little pocket for scissors, stich markers and yarn needles. The big hook and the tunisian hook are a bit longer than the holder, but that's ok.


I'm quite happy with it!

I couldn't really sleep in this morning. We did go to bed around 9pm last night. We had a long day hiking in Fakahatchee and then took our friends Eliana and Mark to see some ghost orchids and then drove down Loop Road a bit. I am getting another cold, this one from Chris, so I am sleepy and full of crap in my sinuses. Today I got up early and did chores around the house and finally picked our spare room/computer room/crap room and then made it out to Target for essentials. It wasn't too bad line-wise, but I was still just ready to get home. I'm glad I did most of my shopping via the internet this year or in non-major commercial places.

Have a Happy Christmas Eve!!!



Winter Flowers and Two Tomato Harvest
December 21, 2007
Yesterday we took a little trip to another property for work and I of course took the 40D with me. You just never know what you are going to find and I am falling more and more in love with the camera as I use it. It is also nice to not have to share it with anyone, as I can be quite a camera hog. Chris knows this, of course.


This is my favorite landscape type photo I took yesterday. There was a small patch of coreopsis that were blooming and with the bluestems in the background and the canal for some blue constrast, I am in love. It is on my background wallpaper for work.


I love the back side of the coreopsis.


Showy crotolaria is one of my favorite natives here in Florida. They are a good butterfly attractor as well. There weren't any flowers on the plant just these seed pods.


Grasses are magnificent to photograph as well. I love the seed heads and the nice color they have right now. I like how this one came out. It was windy and you can only get what you can get, but I'm happy with the effect.


I like this one as well, even though the top came out blurry and focused further below. I'm unsure on the plant, perhaps a goldenrod?


I'm really excited about this one. It was a smaller distance photo and I used Corel to zoom in and crop. I didn't even realize that the butterfly was moving when I snapped the photo. This is a gulf fritilary, one of my favorites. Ok, so I like most butterflies in general! I love how the abdomen is sticking out and is in focus while the wings are blurred.


This is the original photo of the above.


This is a fun backlit white peacock. There were quite a few of them as well. I have a dead one pinned to my wall at work, along with a monarch. The monarch a coworker put up for me and the white peacock I found on the side of the road, probably a casualty of the passing cars.


This one is also super cool. You can see the proboscis inside the Caesar weed, sipping the nectar.

And now on to the best part of today. The harvesting of my first tomatoes of the season. Get out your salt and pepper shaker and let your taste buds start tingling.


Yes, two yummy and delicious Sunmaster tomatoes. Ooohhh yeah! The photos are crummy as it was almost dark when I took them.


The biggest one was 7.9 ounces. I'm saving it for tomorrow. I gobbled the smaller one up for dinner.


Really, aren't they the two prettiest tomatoes???



Randomness on a Winter Day
December 19, 2007


Saturday morning while waiting for the plumber, we let Samson out on the porch. He loves to sit out there and just watch whatever is going on in the yard, lay on the porch, and munch on plants. Apparently he had a little too much fun rolling this time around because he came inside very filthy. Of course the photos just don't show how grey he really was. He was chanelling Leo for cutest grey cat in the house.


He really was quite dirty!

I love listening to Virgin Radio on the internet. It is fun to pretend I am in London in my flat, hanging out with friends or walking the streets after work or shopping. I started listening a few years ago when I worked in the micro lab. Plus, they play a nice variety and they have a classic rock station that is awesome as well. Music lately has been bumming me out, or should I put it as the radio stations have been bumming me out. Same old thing. Tonight I actually have free time again. I'm not quite sure what to do with myself other than watch some Mr. Darcy and finish up some side projects I have going. I'm contemplating cleaning up my art desk area. It has been the piling point of many things lately and it is time for it to be cleaned up and ready for more art work to be started in the New Year.

I'm having a hard time with it being 2008 soon . I just haven't been able to fathom this is the year of 10 from high school, the year of two away from 30, the year of five years from the passing of a friend, the year of six years since college and from the last time I saw Rosemarie. On the Ravelry forum there is a group called the 20-spot, for the 20 something's out there. Reading the topics really brought a bit of comfort because I know that I am not alone. And I am not alone amongst my friends either, but the whole thing of where I'd be by now just hasn't happened. Obviously most of it is my fault. I either didn't get out there and do what I wanted, had expectations that were too high or just plain let the years slip by. We (or I) keep saying we'll have kids in the 5 years or so, and honestly I am not quite ready for them, but the prospect of in five years I'll be 32 makes me hold my breathe a bit. At 32 am I going to be saying the same thing I've been saying? Are we going to be where we want to be in order for all these little cards to fall into place? Moreover, do we even need to have the cards in place and just do it how we want to. Half the time I feel like I am just in a state of being and not in a state of moving forward. As in I am in the same place as last year, just a different hairstyle (or not). Is it even important to make your mark in the world? At this point I am mostly rambling, but for some reason I feel the need to put it down.

Now that I got a bit of that off my chest I'll move on to some fluff. My Christmas cards are almost done. The only ones are the ones for the family that I need Chris to write on as well. I am looking foward to a nice four day weekend and want to spent Saturday doing some baking, crafting and gardening. I think Sunday we may be going to Fakahatchee to check out the alba clamshell orchids and then Monday I'm off all day by myself so I will do a bit of cooking for Christmas and watching movies in bed with Samson and Leo. I am wishing it would be cold on Christmas, or at least dreary so I can pretend it is cold. We had a nice cold front come through earlier this week, the one that brought all the good snow to everyone else. I dug out two vests I bought in Texas (or mom bought, I think!) to wear and pretended I was going skiing. HA!

I just had the best chocolate EVER! Well, maybe not quite. I love truffle chocolates. I discovered them in college one year and ever since I have been in love. My parents sent me a box of Harry and David dark chocolate truffles and I just had one to whet my appetite before dinner. Well, really I had them because they were un- opened and needing to be opened. ;) The good things is that I believe I will have them to myself because Chris isn't a dark chocolate fan, though he may have some out of desperation. Dark chocolate is an acquired taste, much like Starbucks coffee. I never liked it growing up and my dad always had the Hershey's Special Dark to himself. Now that I am grown up, I love dark chocolate. I love getting the 70+% cacao chocolates at the store. Mmmmmm!

So, today I dropped off a prescription at CVS and they said come back in an hour. Ok, I had to go to the post office to pick up three packages and I figured that would only take 30 minutes. No. It took 55 minutes. I stood in line from 5:30 to 6:15 and then 10 minutes at the counter while she went back to find my packages. There are FIVE spots open and only two clerks. This is normal for after 5pm at the post office and most days there's a line to the door. I don't understand this at all. Especially at the holiday season. Normally if I wait until after 6:30 I can get in and out quickly, but there was no reason to wait, so I waited in line instead. I'm just at a loss for words.

Well, I'm off to relax for the first time in a week or so. It's time for Mr. Darcy in a white, wet Regency shirt. :) Now, if I can only get Chris into that! LOL!



Quiet Indoors
December 16, 2007
I feel like the past four days have been non-stop go, go, go! Time for some down time. Thursday was spent running errands, Friday I went to a co-workers house for a little after work party and yesterday Chris and I did some Christmas shopping, dealt with the plumber (our toilet and shower backed up last week), and went out on Loop Road to take some photos and check out some sloughs for ghost orchids and then in the evening drove back down to Miami to go to Shelah's little Christmas party. And now I have chores to catch up on, Christmas stuff to finish up and I want to spend some time on the bed watching Pride and Prejudice and Colin Firth in a wet, white shirt. Now, doesn't that sound like a good day??? ;) Unfortunately I do have to leave the house and I can't decide whether to just get it out of the way first or hibernate most of the day and go later. I have baking and cooking to do for two parties on Tuesday and in order to go to the crochet/knit night tomorrow I have to get it out of the way tonight.

So, on Loop Road we set up the tripod and took some shots. I let Chris get his fill first and then I played with the Fuji camera and talked to a heron that was hanging out by the road.


The gator's were very good at posing today.


Just waiting for a good bite to come through.


Don't you want a face like leather?


My heron friend was behaving very nice until I got a bit too close and he flew to a branch nearby.


My little green heron friend. I love the way he is just sitting there blending in with the background.


Sweetwater Strand is a fun place to take pictures. It's one of the few very open spots on Loop Road. About two years or so ago, in the dry season, we walked down the area that is full of water now and poked about the long hollowed out cypress logs. No alligators on sight.


It was late afternoon when we took these and slightly overcast, though it did clear up as the day wore on.


On our way to the next spot we were heading I saw these birdies chilling on the cypress. We just shot from the car. They almost look like Christmas ornaments!


The secondary purpose for our little expedition was to check out some sloughs on Loop Road for some rumored ghost orchids. Sure enough we found two. I found the first one and it was dead and then Chris had found this one while I was resting on a nice little cypress log and was talking to a little caterpillar that had hitchhicked on my clothes.


I took a few photos of Chris taking photos of the ghost orchid. He looks like such a pro. ;) hehehe!

I finally finished the last Christmas present. I'm so glad it is over! The best thing is that I love it so much. I sincerely hope the receipient loves it as much as I do, because if not they are welcome to send it back to me! Yesterday I whipped up what is to be a crochet hook holder. I had extra green yarn left and wasn't sure what to do with it. This week I plan to line it and then I'll have something for me! I am itching to paint again but I have crochet ideas in my head and I am wanting to read at least one book in the next week. I need to finish a few that I've started but I actually have a hankering to re-read Harry Potter and the Deathly Hallows.

Today I got a call from my brother as I was just about to get started around the house for the day. It turns out I am going to be an Aunt in August! I'm so excited!! I am going to spoil it crazy!!

Lastly there is a little article in the NYT about Etsy and handmade. It is an interesting read. I certainly will never be a top seller, but it is interesting to see what others have done. Article.



Two down, one to go.
December 12, 2007
I officially have two presents made and one more to finish! WOO! I don't think I'll be able to finish the last until this weekend, but it has to be done by the because I will need to send it out then. But, I can share one of the items I just made. It is really simple, actually. I organized a Secret Santa with a few of my friends and one of them mentioned we should do handmade. I thought it was a good idea, and it really is, but because I mentioned the swap right around Thanksgiving it puts everyone in a bit of a tight crunch to do it. Next year if we do it again I'll send the email out in early November instead! So, if your name is Stephanie F., Michelle H., Rosemarie E., or Alisa C., stop reading right now. I mean, one of you could be the ones to get my gift! ;)

So, that is fair warning. I know sometimes you peek in. Now, go away!!! Come back in a few days or a week or so. ;)

Ok, so my mother in law gave me some cloth over Thanksgiving and I really didn't know what to do with it. But one day I got the idea for a little picnic blanket. One is a solid yellow and the other is a white and yellow check pattern. Lightbulb going off in my head! Something like six years ago my mom helped me do a similar blanket with some sort of felt/fleece like material and all I did was just throw some blanket binding on the edges and wa-la, a mini-blanket. I decided I could do the same thing with the pieces of cloth. I started off with the checked pattern and then after I'd gotten most of the binding on I realized that the edges were frayed and I should have rolled them under and then sewn them. Dur. I mean I am so not a sewer. So I decided I'd keep the white and yellow one for myself and fix it later and do the solid one instead. After some frustrating curse words to my 100 year old sewing machine, I finally finished it up tonight! WOO!


See, really, really simple. I am allll for simple.


Of course Leo likes to hang out with it. When it was a work in progress and draped over the chair, he made it his little fort and would lay either under the chair or on the chair and under the blanket.


It looks all purty when it is folded up.

WOO, I am DONE! Almost. I feel much better about the other thing I am making now that I am doing it on my own terms. I'm feeling rambly tonight so I better go before I just sit here and talk my head off.



The Little Tomato Farm
December 11, 2007
The tomatoes are growing like crazy and the majority of them have fruit on them. I am hoping the giant Sunmaster that set fruit in early November will be ready to eat by Christmas.


Half of the tomatoes I can't tell the names of by the fruit, I just know they look delicious.


I think what is interesting is the diveristy in the leaves, the flowers and the fruit.


There is a little bitty fruit hiding in there.


I love this crinkly one. It is one of Chris'.


This is the stick tomato. I love the fuzziness on the stems! The little hairs are so cute!


Of course our variegated ones are doing good too. I especially like the. Which reminds me, we think we found a variegated fern. I need to upload the photo.


You can see some are getting near the top of the fence. They are a bit crowded, but I think they will be ok.


More hairy fun!


I had to chop the cotton down as it got top heavy and fell over my rose and the blackberry lily. I actually have rooted them from cuttings before, so I stuck the two in the ground where we have a bit of space in the veggie garden.


The cotton is a fun flower to grow. I really like how it starts off pink and turns yellow as it opens. They are just the epitome of the south and of Texas for me.


I'm too lazy to look up the name of this but I got a cutting of it back in February and it has finally bloomed.

I plan on spending my four day holiday weekend somewhat in the yard. Trimming back, fertilizing, poking about. Things are starting to root from out of the bottom of the containers as was evident with a Florida gardenia that we had to plant in the yard instead. I took a cutting of a plant in a park about two years ago and it rooted well and is now about four feet tall. It blooms often and I really enjoy it. I'm hoping I can keep it alive and then take cutting again when we have to move one day. I really haven't paid attention to the veggie garden. The lettuce mix has done well a few mustard greens are hanging in and there are a few dill seedlings that like me enough to stick around. We have two pepper plants that are struggling, the mint is having a field day and I wish the other things I had planted had lived. I don't water as often as I should (read: never...almost) and since the water line doesn't go down there it only gets it when it rains or when I get out to water.

I'm trudging along on the holiday craft stuff. After I finally ditched the process of one thing and did it my own way I am much happier. If only I'd of done that two weeks ago I'd be done by now! I am hoping to wrap most of it up by the weekend, do my Christmas shopping and mail it all on its way to Texas. Last night I finally went out Sweet Stitchin' Betties meetup again like I did back in August. It was nice to get out, even though I almost copped out again. It is just difficult for me to be motivated on a Monday night to get out and do something! Everyone was nice as always and I hope to make it a more than once a month effort!

In other news my grandmother is sick again. They are hoping to keep her from getting dehydrated this time around. She is so close to being able to move to assisted living and then these little pitfalls happen. It is incredibly frustrating. And then my mom told me today that my friend was in a car accident last weekend in which her car rolled several times when someone cut her off. She was lucky and only had a concussion and was lucky in that her almost four year old wasn't in the car either. I have yet to get ahold of her and I am hoping that I can find out more soon. These little things scare me and it isn't just that. I recently started a weekly email to several of my friends in an effort to get everyone talking and to keep in touch more. So far it is working...mostly...and even if they touch in and say their week was boooorrrring then at least I hear from them. Sometimes the phone is just difficult to handle, people are easier to catch on their own time. At least that is how I feel. But I am glad for it. Even if I ramble on once a week then it is something.

Robin and Em, thank you for my mail! :) I am going to get cards out at the end of the week hopefully!!



Camping at the Lox
December 9, 2007
I am wiped out. We went to Cacheaplaooza II and really didn't do much geocaching, just some hiking, hanging out, eating and a lot of relaxing. I don't know why I am so tired though! Chris took a lot of good pictures and I will share those first. He got some really awesome bird shots while I was sleeping in my chair at the main pavilion. That's what I get for snoozing!


I think this is one of my favorites he took. It is an osprey! The day before we saw one sitting in a pine tree and it took off with a huge fish!


Ooh look an ivory bill....errr, pileated woodpecker. Lots of good shots of this one as it was really close to Chris and Marc on the trail.


Digging for some bugs!


A red bellied woodpecker.


This is Baloo (forgive me Eliana, I don't know how to spell his name!). He is the cutest little pit bull ever! He will give you a nice bath with good doggie slobber!


Baloo was trying to check out this huge golden retriver that came with some other cachers (another very good doggie!) and Chris got a few good photos of them sniffing each other.


Chris found a ground orchid when he went on a morning hike. We haven't id'd it yet.


He also got this nice log with mushrooms. I like the dark lighting of it.


Last night we hung out around the campfire for a little bit with our friends Chris and Sarah and a few other geocachers and then the rain began to come down. Luckily we had our new tent up that we got on Friday. Some others didn't and I know that might have gotten wet!!!


This morning I got to play with the camera for awhile and shot some cool shelf fungi and other fungi.


Gotta love the fungi!


I have more but I am kind of zonked and I need to get a few things done before bed.



Scenes from Highlands County
December 7, 2007
First, let's remember those who were killed today at Pearl Harbor in 1941.

Yesterday we went to some property in Highlands County where sand hills, cabbage palm savanna's and oak hammocks reign. This is "cracker" Florida, where a lot of farming takes places, orange groves are harvested to make your orange juice, and where people are actually nice to you. I love being up there. Visiting towns like Lake Placid, Sebring, and Avon Park will show you a side of Florida you don't get on the coasts. You should meander through there sometime. I took the new Canon 40D from work so we could get some good shots. The lenses used were the one that came with the camera a 28-135mm with image stabilization built in and a 75-300 mm that we already had from another film SLR. I'm going to show the ones that I zoomed in and cropped because I think they are cool, but if you want to see the rest you can go here.


We first encountered a flock of turkeys running across the main road. I got some shots of them as a group and then when we drove by I got a shot of them fly-jumping over the barb-wire fence. I then zoomed and cropped this one.


We have a cattle lease on this property and I didn't notice this at first, but the cow is munching on Spanish moss!


We saw four pairs of sandhill cranes. I love watching these birds. They are pretty much not very skittish and will let you get fairly close. When we lived in Melbourne we would see them fairly frequently.


Another pair of cranes.


I'm pretty darn excited about these. We went to check out a new pond being built and a swarm of purple martin's were swooping down to get a drink of water. I had the smaller lens on at the time and put it on the action mode and went to town shooting photos. It is pretty cool without zooming in and then zoomed in to actually see the birds is even more cool! They dart all the time in front of my truck on the road to and from work and you can't ever really see their bodies.


Or at least I think they are purple martins. LOL, my boss said they were so I took his word for it. I'm not a birder!


We saw quite a few deer as well, including one big buck that just evaded the camera no matter what I tried.


Mmm, tasty shrubs!!! Hehe! I got out on foot and followed these gals down a little trail and was able to get some decent shots of them.


There were several killdeer hanging out with the cattle.


I put on the long lens for this one and the hawk soared over my head for several rounds and I action shot these.


Weeeee!


See that beak open? This was one talkative bird.


Someone's about to lose a feather!


And I like this one, it is the actual shot of the bird not zoomed and then I hit "auto levels" and wa-la, it went funky on me. Sometimes auto levels mean nothing.


This is a kestral (think!) that kept spotting my lens and would fly as soon as I brought it out of the car. Darn bird!


And lastly my woodstork friend. :) He watched for a bit, got a little hesitant and then flew off behind some sand pines.

For the lenses on the Rebel we have an 18-55, 50mm, 75-300 and a wide angle/macro. We're going to a geocaching even this weekend so we will be playing around more with it and hopefully get some good shots!

I have definitely learned my lesson this year about making presents for people. I wasn't going to be doing much anyway, but I really just stressed myself out. Next time I need to start in October. But, I'm ok. Things will get done and they will be sent on time. We sat down and started figuring out what to get everyone. It is really hard to buy for people! I mean, I can easily buy for my SIL and mom but everyone else it is just HARD! I'm still trying to find Bob's Candy Canes. Dude, I can buy a case of 24 packs for $25!!!!! Too excited! I can't find them here, but I found them in Texas over Thanksgiving and forgot to eat some. :( I'm subbing them right now for some Hershey's Mint Chocolate canes and they are pretty good. Well, everyone have a great weekend! Maybe we'll come back with some kick-ass photos!



Christmas Decorating
December 5, 2007
Though it is the 5th, I feel like December is slipping through my fingers already. I'm trying to enjoy it as best as possible and tonight we finally put up the Christmas tree. This is the first time in three years that we've had one. Our first two Christmases we got a tree, the second year we had Samson and he was a good little boy. The next year we had Leo and we were too afraid of him climbing it or being an all out bad boy. We bought a Norfolk "pine" and tried to call it Christmas, especially considering it was in the high 80's that day and I was wearing shorts. Now, I've experienced some warmer Christmases in Texas, but nothing like that, and trust me, it is pretty depressing. I'm not sure I could handle a southern hemisphere Christmas. Gimmme snow!!! I've been reveling in everyone's snow photos on Flickr and at Kal's and Monarch's pages. I want to feel the crunchy, white goodness under some boots. I want to wrap up in a coat and wear sweaters.

Our Christmas tree is named Bud #3. I am not quite sure how we came up with Bud, but I think it had to do with the new pinecones that were beginning to form on our first tree. We went to a tree nursery at a Catholic church down the road and they were a bit pricey so we hit up Public (grocery store) instead. It doesn't smell as much as I was hoping for, though if you rub up against it you can smell it. I hope that maybe with time it will put off more scent. Leo has been magnificent so far with it. He was more interested in the ball ornaments than the tree, though I think he and Sam will both be sitting under the tree a lot.


I tried all sorts of light settings and this is the best one that came out I think.


A little arangement


The little "town". I put that snow "hair" under it and then a few of the branches from the bottom of the tree. Chris told me they may be brown in a week though.


I think Mom gave this to me


As well as this one...


I think this is supposed to be a Leo ornament. I put it up high so there would be now batting of it.


One of two Aggie ornaments. We have a Reveille ornament as well.


Even Sam's tired from decorating!

I had a slight panic moment when I couldn't find the ornaments and then I realized they were in a little filing container in the garage. I need to buy one of those ornament storage containers and I saw one at Bed, Bath and Beyond the other day. I also need a few more bows for the tree and some stocking holders.

I was trying to think of things I wanted for Christmas because I really don't need anything. I organized my crafting area over the weekend and I have cloth that I don't know what to do with (learn to sew...), lots of yarn (obviously), and plenty of art supplies to get me through a year or two. I also do not need books, though I certainly will not say no to them. Clothes...got a closet full of 'em that I don't ever get to wear. I could always use more plants, but then I'll end up having to move them at some point, so, I'll nix that one for now. But, I do have a mini-list anyway.


DVD's: Alias Seasons 2 and 4 (really, really need), Little House on the Prairie S2-??, House MD S1-3, The Walton's S2-???, Road to Avonlea S1-7, Dr. Quinn Medicine Woman S1-??, Harry Potter movies but I think I only need one or two as I already have a few.
Books: Of course I need books. I just need to read the ones I already have, as well. Life Artist, Crochet Me, Positively Crochet, Everyday Crochet, The Swamp.
Misc: I'm not opposed to another pair of Keen's in blue. ;)


Tomorrow: Going to be outside to use the Canon 40D at work (IT IS SO AWESOME!!), I'll fill you in on the lenses like Chris at Digital Flower Pics asked, talk holiday recipes and maybe tomorrow there will be a new bundle of blue arriving for some friends of ours. *crossing fingers*.

PS: Did anyone get to watch Rudolph? It's one of my favorites!



Light
December 3, 2007


Live in rooms full of light. ~Cornelius Celsus
In the right light, at the right time, everything is extraordinary. ~Aaron Rose

This is the kind of light that always makes me quiet and lets me think.



Flamingo
December 2, 2007
Chris and I had never been to Flamingo in Everglades National Park until today. We were looking for a trip to go play with our new Canon Rebel XTI. We have a lot to learn. I will be reading the manual over the next few days as well as playing around with settings. We are going to trash probably 3/4 of the shots we took today, but we did get a few good ones. Some sightings we had but didn't get photos of were one snail kite that flew right in front of the truck and at first we thought it was a hawk. Then we saw the stripe on the tail and knew it was a snail kite. Chris had asked the park ranger at the gate about seeing any and he said we probably wouldn't and that they were where we already knew they were. So, we proved him wrong! Then, as we drove the last bit into Flamingo, we are pretty darn sure we saw a flamingo flying over. It was much pinker than a roseate spoonbill and the beak looked more like an ibis, curved.

First, we found a pretty little yellow finch, dead in the parking lot. I'll spare you the gore here but you can find it on Flickr under the Everglades set.

I liked this grape leaf that was glimmering in the sun.


Not sure on this flower but it was purty.


We went down a little dirt road and it was lined with these cassia's (or cassia looking) shrub's and I got a few shots but they were too dark and this one was the best. I liked the blue and yellow together.


Down at the marina area in Flamingo.


Coconuts!


We drove down the camping area and first saw this, which we think is an American kestrel, but we aren't positive. Then we saw...


our hawk friend who posed for many pictures before...


flying off. Chris snapped this and it was in the wrong mode for this kind of shot, but I think it is cool because it looks like an oversized hummingbird. The kestrel had flown off a bit before to another tree and the hawk decided he wanted the spot the kestrel had and the kestrel, being the smaller of the two, had to give up his perch.


Then we saw two osprey with a humongo nest. This one also posted for us all the while calling to its mate and probably telling us not to take its fish.


You can see the fish right below the bird on the tree branch. I like watching them on the way to work and they will swoop down into the canal and come up with a fish and fly off with it wiggling in its talons.
Then we walked down Christian Point Trail, which was a nice little change from our normal swamp hiking. It borders along Florida Bay so there were a lot of salt marsh plants and I like seeing those. I know most of my salt marsh plants fairly well from my college classes. We never made it to the end of the trail because we didn't bring the trail map and we weren't sure how far we were, though we could hear boats getting closer, and the sun was also working on setting.


I'm excited that we have the long lens because now I can get those flittery little sulphur's and white's that do not want to hold still if you get close to them.


Chris found this little orchid that we haven't really id'd yet, though someone on Flickr gave us an idea. Just need to check our books first.


Another salt marsh plant, Christmas berry or Lycium carolinianum.


And probably one of my favorites that I took, stink weed, or Pluchea spp., probably purpurascens. On the trail we kept smelling something sweet every so often and there were some morning glories blooming but I don't know that they would put off a scent. The stink weed however is very stinky, though I tend to like it.


Another salt marsh plant, Distichlis spicata or salt grass. Purty!

Salicornia virginica

And the almost on the way out the biggest clump of butterfly orchids we've seen. Chris took a few of these shots.


And then we drove home to the sun setting over Shark River Slough.

I will probably post twice today after I get out in the garden this afternoon and play with the camera more. We have a lot to learn and figure out. I thought you could open RAW files in Photoshop but I tried and it wouldn't work. So, I need to read up and figure it out. It sucks to have to convert the ones you want to jpg to upload to Flickr, but I suppose that helps me eliminate the ones that just don't make it.

More later!



Thing I love at the moment
November 29, 2007
I'm sitting here at home because I took the day off work. My glands are nice and swollen, the ears are itchy and hard to hear out of (Chris would say this is a normal occurrence), and I have a nice stuffy/runny nose, and a cough. Blah! So, today I thought I'd do a fluff post and talk about some things I am enjoying at the moment.



Well, I am off to down more shots of Robitussin, pop a Zicam (gross!) and vegetate in bed some more.


Putting it all out there...my yarn stash
November 28, 2007
When I was home in Texas my mom and I went through my grandmothers house to work on cleaning things out. While there we found a ton of yarn that she hadn't used, some of it probably 20+ years old. There were many doilies, lots of doilies. It all got me thinking that I really need to use my yarn stash up so that in 20 years I don't see a bunch of yarn that I found at Michael's on clearance and never used it. It also had me thinking that I need to share what I make as much as possible. Sure, I'll keep some things, the pieces I just can't part with, but I don't want to have a lot of what I make lying around for decades only to be gone through by my grandchildren. This applies to art as well, I believe. When I drew the ghost orchid for my coworker for her birthday another coworker made the comment that it was good I was sharing what I liked to do instead of keeping it to myself. Little did he know that it was the first time I had shared it with someone outside of my family!



So, here it is. Some of it has been covered by Samson, but most of it is out there for all to see. My mother in law did send me home with a nice bag of yarn and cloth, so that doesn't necessarily count. I ended up separating it out into three "categories": acrylic for afghan's, softer yarns and cottons, and frilly yarns. At least I now know what I have and what I have to work with. I've been printing some patterns out from the internet that I will hopefully begin working on one day. Dragging out the yarn also made me want to go through my scrapbooking bags and other craft junk in my little corner. Unfortunately I now am getting a cold so I doubt that will happen until the weekend.

I am making a few things for Christmas presents this year but I am trying to figure out what to get the men in my life: Chris, dad, my bro, and Chris' side of the family. I hate to get the obligatory sweater or shirt or giftcard. I need ideas!!



Samson likes my yarn stash because it's cozy! I suppose I could make him and Leo a zillion cuddly blankets! Maybe your cats need some, Robin? Hehehe!

Here are a few things my grandmother made:



Our tomatoes are HUGE! It seems the warm temperatures we had last week while we were gone really got them growing. The sunmaster tomato I showed a few posts back is so BIG but not quite ripe yet. There are variegated and black plum tomatoes forming and I am just so so excited about the haul we are going to have this year!! I think tomatoes are probably my favorite thing to grow. I'm still holding out hope for my lettuce and mustard greens. My boss gave me some plantable paper things today that came in the mail and will grow into the native coreopsis. I think I'll stick that in the ground this weekend as well.

I'm off to nurse this cold now.



Home Again
November 26, 2007
We're back in Florida now. Back to the grind of work and life. Thanksgiving vacation was relaxing and we enjoyed our time with everyone. We spent Tuesday night through Friday morning on his side of the family in Dallas and Friday through Sunday afternoon at my side in Fort Worth. Wednesday was mostly spent with Chris' dad and step-mom, going to lunch and hanging out at their house. His dad has a cool little backyard with a pond that Chris helped dig and put together. We've given him a few things to put around the yard and he has many things that I want to acquire one day. Clematis for one!


I really liked the bucket's on the fence. We spent some time at two nurseries, the first one happened to be the better this go around. It was mostly an orchid hothouse and the orchid guy was really cool. Gunter had many orchids we liked and we talked for awhile about our orchid explorations here in Florida. We told him where he should go when he came to Ft. Lauderdale.


If anyone can tell me what kind of cactus this is I'd be happy. He wasn't sure what it was. It has a little red flower that you can sorta see in the middle right.

We hung out with Diane's cat Chase, a super fat and happy cat.


He was mostly good with a few fussy moments. What cat doesn't have their fussy moments?



That night we went to dinner at Chris' grandmother's retirement complex. It's an upscale place. This is my brother-in-law Neil and me.



We spent Thanksgiving day at his mom's house and had a nice lunch with just six of us, his mom and step-dad and grandmother and her husband.


I even got some crocheting in, almost finishing a purse. It just needs a liner. Chris got me as I turned to check out the Macy's parade.


This is Gayle's super Jello salad mold. I'm not the biggest fan of cherry so it is good for cherry. Now, substitute it for strawberry and I'll be happy! (The jello mold is a running joke with Chris and his mom.)


After dinner we bundled up to burn some turkey calories and took the doggies for a walk. They were dog-sitting a neighbor's golden retriever in addition to their two sheltie's. Oh, yeah it snowed in Ft. Worth and at the Cowboy game but not in Dallas. It was a cold day for me!


I mapped it on Google Earth today and we walked a mile in the cold with these doggies. Murphy is on the right, Mitzi and Guiness. There is always lots of Mitzi/Misti confusion when I come to visit.
Friday it was more animal fun at my parents house.


Isabelle and her crooked teeth.


The Leo look-alike, Duck, came over on Saturday to keep from being under feet at my brother's house for the Thanksgiving there. She looks precious, but at midnight-thirty on Sunday morning until four thirty am she meowed constantly. We tried to pet her to calm her down. Nope. She is one loud cat too.


She has long whiskers!


My brother carved the turkey for their first Thanksgiving at their new house.


This is one of my favorite shots. I have a few good ones of my brother and Baileigh my second cousin.


I got to see Biff again, my brother and Stephanie's golden doodle. He is so quiet and reserved compared to the Boston terriers. He looks like he has a secret.


My cousin Marty and Baileigh, his niece. I don't see him often so it was good to see him.


I conned Baileigh into making funny faces with me. This is my Alice the Goon face. She just needs to work on that upper lip and she'll have it down.


Baileigh's momma, Crystal. Taken by Bai herself.


This was a cute picture with my sister in law. I just wish it wasn't so orange in the background (and on her sweatshirt. ;) )

That's mostly it. It was a cold, dreary time mostly, but that is how I know winter in Texas a lot of times. It felt like Thanksgiving because it was cold. A good excuse to dig out my winter clothes from the storage in the closet. I'm back to short sleeves and jeans again.

A&M did beat Hell outta the t-sips on Friday. ;) That's two years in a row. WHOOP!

Later this week I might have some photos from our new Canon Rebel XTI. :) Need to read the manual first.


Thanksgiving
November 20, 2007
Howdy all. 1: Etsy shop is back. I have one more purse to add tomorrow and will probably redo the photos of it when I get back. I have seeds. WOO! I'm also feverishly working on another purse already. Thank you airport. 2. I'm thinking site re-design soon. Being on someone else's computer besides my own showed me some of the colors show up very bright here. I think I am blinding y'all. 3: A&M is going to beat HELL outta t.u. on Friday. WHOOP! 4: Saturday is a special anniversary. It is 10 years since I have met Chris as well two other friends from college. Long story, but I will be sure to tell it when I get back. 5: I'm on a mini- break for the rest of the week. Relaxing a little, spending time with my family. I shall return sometime next week. Be safe and enjoy your Thanksgiving if you are in the US and if not, have a great week!



Fall in the Garden
November 18, 2007


I love my cats. They are more like dogs in that they follow you around, talk to you and want to be near you. Samson has been hanging out with me the past two days while I crocheted on the bed and watched movies.


He's enjoyed the nice, cool weather and has wanted to be out for as long as possible and protested by giving me his low meows when I bring him inside.


This little trouble maker was a devil yesterday. From early morning on he was non-stop running around the house and picking fights with Samson. I ended up awake at 8:30 and sat at the computer for awhile and he got up twice onto the top of one of the bookshelves. Sam looked at him like he was insane.


And he insisted that he was going to go outside and at a moment I was trying to get Samson inside, Leo darted from under my legs and onto the porch. I tried to lure him from underneath the plant shelves with a treat, but he knew what I was up to. I knew what he was up to, too, because he made a beeline for the area the mice hang out at and I grabbed him before he could go further. It was one bratty thing after another with him, but today he is much more civilized.

I took quite a few photos in the yard today. I spent about thirty minutes wandering around, picking weeds, poking about and dashing around in the sprinkles that fell from the overcast sky.


This is some of the color of fall


This variegated elephant ear was opening up and I loved the pattern on the leaf.


The banana's are doing good. I'm still not sure if they'll end up being plantains or not.


This is the tomato farm. Can you believe it??


This is a kiwano, horned melon. We started it from seed a few months ago and now we've got fruit!


A cotton blossom.


Spanish moss dangling from something on the porch. The light was catching it nicely at the time.


Chris went out with JC yesterday to check out the Alba version of the clamshell orchid, Encyclia cochleata.


Here's one that looks like a heart.

I finally finished projects this weekend. I sat all day watching movies yesterday (Knocked Up...hilarious!...Miss PotterSweet, sad, and just good... Evening...a sad, thinking movie that makes me want to seize moments and not waste them and Bridget Jones' Diary for the umpteenth time) and worked on the blanket and purses. I am officially finished with the blanket; it's wrapped and ready to go to work tomorrow. I'll have a photo tomorrow. The purses are done too! My head is spinning from it all. I'm am the slowest person working on them and am not sure why I am doing this. Sometimes it feels like torture. LOL...not really, but I hope someone actually likes it. I will probably get some seeds on Etsy tomorrow (and I just fixed the link, I didn't know it was broken) and the purses on Tuesday morning when I can get some good light.

And the other morning in Atlanta at the hotel I saw in the USA Today this:


It was the ship before the one I sailed on, but still a bit of a sad occassion. A video of it is here. I was surprised to see it on the front page of Yahoo! today.



A meme and a prayer
November 16, 2007
If you are the praying kind, could you say a prayer for my grandmother. She is in the hospital again after being in the rehab place for two months. Her leg is better, but she picked up a bacterial infection that has caused her to be really sick and dehydrated. Clostridium difficile, is not a good thing to have and she also has a bed sore on her other leg which is not healing and she may need surgery. I have a feeling this will be a rough Thanksgiving.

Kimberly tagged me a few days ago. I don't get these very often so I'll join in...

Here's what this is about...
1. Link to the person that tagged you.
2. Post the rules.
3. Share 7 random and/or weird facts about yourself.
4. "Tag" 7 people at the end of the post and include links to their blogs.
5. Let each person know that you tagged them.

1. I break things a lot. A lot. This is difficult to admit. I am slowly adding more plastic cups into our dish sets instead of the glass ones. The ones we got for our wedding were long gone four years ago and I am very depressed to admit that some vintage sets that were my great-grandmother's are now history, though I do still have the smaller juice glasses because I never use them. The last yellow flowered one bit the dust the other night when I went to refill my glass in the bathroom and I dropped it in the sink. I do believe I inherited the dropping from my dad.

2. I lettered in softball and in art in high school. I have separate letter jackets for both, though I wish I hadn't of. I paid for the art one first because I lettered my junior year and then my senior year in softball the coaches bought everyone their jackets an it was the nicer mostly leather version than the one I got. I am rather proud of my art one though!

3. My oldest friend, Stephanie L., I've known for 21 years. We met September 1986 in Mrs. White's first grade class. We had our ups and downs over the years and despite going to separate colleges we are still good friends. We don't talk as often as I wish, but when we get together again it's always good. I hope that in 21 more years we'll still be friends!

4. I make a really funny face in which I roll my upper lip to my nose and kind of push out my bottom lip and crinkle my eyes. I do it when I am being silly, inadvertently, thinking, and whenever. Chris thinks I'm insane and my mom always said I looked like Alice the Goon from Popeye. If I am daring I'll post a photo one day.

5. I knew I wanted to go to Texas A&M University in the 7th grade when I met my Life Science teacher Mrs. Strohmeyer. She was super cool and really hit home my love of marine biology. One time I wrote her a note and was too embarrassed to give it to her outright so I left it on the work table near where she kept the jars of animals in formalin. She wrote a note back on a test or homework assignment. I think I told her that I wanted to go to A&M and since she was from a city near where we used to vacation, I thought she was even cooler! She had a baby that year and now that I think about it the kid must be a teenager now!

6. I have a very active imagination. In my head I have: won Olympic gold medals in figure skating, gymnastics, softball and track events, become the first female President, won Oscars and Grammy's, been a famous pianist, cellist and violinist as well as many other crazy things. Most of these happen when I'm driving because I tend to zone out to music then.

7. The only time I've drank a copious amount of beer was at my Aggie Ring Dunk. This is when lots of Aggies get together and put their Aggie ring in the bottom of a pitcher, or in my case four glasses because the bar wouldn't let us drink a whole pitcher like that, and race to finish and then put their ring on. Ahhh, yes. I, the mostly non-drinker, was the slowest.


Mid drinking. Karen there on the right beat us all I think. I'm sparing you the gagging face photos.


Fun times! I think this is before. Because afterwards I made a beeline to the bathroom and then had pizza with everyone. Once is enough for me.

I'm tagging:
Shelly
Shelah
Mae
Robin
Christine
Tamara



Tired
November 15, 2007


Thalia geniculata, Alligator Flag at Fakahatchee Strand.

Atlanta was good. We drove all day on Tuesday and if you've never driven in Florida, it takes forever to get out of the state. It is such a long state that from the bottom it takes a good six-seven hours to get out. And if you ever come across I-10 from Mobile to Jacksonville, never, ever do it at night. So, we got to Atlanta late on Tuesday and I had dinner at a little deli cafe around the corner from the hotel and settled in to watch House. I worked on the two purses and I have them basically finished. I need to add a few more bits and bobbles to them this weekend and I think if I can whip out a small clutch I'll get it all up on Etsy on Sunday or Monday. I'm almost finished with the baby blanket as well. It could really use one more row of squares but I'm just tired of doing them. So, it is what it is.

Yesterday after our meeting I got to meet up with my friend Erin that I went to college with. You may remember her from a post awhile back that I shared of her doing a presentation with a seal. She is a biologist/trainer at the Georgia Aquarium and we both worked together as naturalists at Moody Gardens in college. We did a lot of reminiscing and honestly I'm trying to grasp where five years from college graduation went. Moreover, how is this coming May, 10 years from high school graduation? There's a country song out there right now about one night you go to bed and your six and then next morning you wake up and your 26. That's exactly how I feel! But talking with her it makes me feel less out of the loop than I am, because I know that I'm not the only one with friends scattered across the continent. I'm still trying to figure out how my friend Rosemarie and I have not seen each other since she and Stephanie came to visit right after we moved to Florida, five years ago. Ok, so she does live in California, but still.



Some sort of sulphur, I haven't id'd it yet. From the trip the other day.

Off to read the 160 blogs that are on my Google Reader...


Bushwhacking and Swamp Walking
November 12, 2007


We got to "camp" in Fakahatchee this weekend. Something I've always thought would be fun. I almost didn't go because I was too anxious on having time this weekend to do things around the house, and then decided that I was being a ninny and went. We were on an orchid hunting expedition for an orchid that hasn't been seen in around 40 years. We took a zillion photos which can all be seen here from the bottom up to where you start seeing the cabin.

We did 4-5 miles, swamp miles mostly. We left around 9am and then made the last mile in the dark on East Main tram with the lightning bugs lighting our way back. It's much less scary at night when there are seven people with you. The night before I went around the corner to "use the tree" and it's kinda creepy when you're by yourself. Anyway, I have two video's that sum most of the last part of the trip back. We were racing the clock to get on the tram before sunset and ended up going through the thickest part of the area that we'd been in; lots of willows, Brazilian peppers and vines and sawgrass. The last part on the tram left me with a head full of Caesar weed. Ever tried pulling it out of your hair?


Dur! Bad way to go....

Reminiscent of the time Chris and I put out The Ghost Orchid geocache, and were literally less than a 0.1 of a mile from Janes Scenic drive and it took us 45 minutes to get to the road. Fun stuff!



Probably my new favorite, or at least top five, orchids. Epidendrum nocturnum. Similar to the ghost and the Brassavola genus. I'm liking the wispy, white goodness.

Out of town for a few days. When I get back maybe I'll highlight more of the arduous trip.



Pieces of Saturday
November 10, 2007


Hi! How's your day going?? Mine is...


Sam's pretty happy 'cause he got to roll around out on the porch.


Leo's happy because he's cute, but he's also a bad boy for throwing Sam against the sliding door and pinning him down while biting on his head.


Enjoying a nice Japanese morning glory bloom.


Relishing my first tomato to form, a Sunmaster.


Hoping for tomatillo's to form so I can make tomatillo salsa.


Excited about the possibility of Galapagos tomatoes forming.


Wishing for more time so I can finish the two purses I have waiting.


As well as wishing more time to start working on this painting.


Hoping for more progress on my squares soon.


The single crochet orange squares.

Enjoy your day. I hope it is as beautiful where you are as it is where I'm at.



Friday Ramblings
November 9, 2007
I'm enjoying a drop biscuit made with Bisquick. I haven't made them in forever, probably a few years actually, mostly because Chris isn't that enthused with them usually. I opened up the pantry tonight looking for what to make for dinner and saw the box of Bisquick and decided that it sounded really good to make. I need to go to the grocery store. I only go about once a month, sometimes stretching into five weeks or so. I buy a lot at one time, a habit I picked up from my mom. About 3/4 of the way through our grocery trips she'd send one of us kids out for a second buggy. She was buying for a family of four and for two weeks at a time, whereas I am buying for two. It's mostly because I have no interest in going to the store all the time, though I do run in weekly to get fruit, milk and other sundries. So, the biscuits are good. Dinner was good, chicken on the grill, baked beans and instant potatoes. Pretty good for not having much in the pantry.

Thanks for all the input on the epidural's. Thanks to my MIL for calling me a few minutes after I posted and telling me it isn't all that bad. Sometimes it seems like these maternity matters are kept to the circle of mothers out there, and not really discussed. I'm sure it isn't intentional but it must be a shock to first time mothers when they learn all of the "secrets". So, I guess until that time I'll stay in the dark because otherwise the world just wouldn't continue on, right?

On the Loop Road paving issue, you can write your letters to this address, attention Superintendent Karen Gustin and if you want you can CC Pedro Ramos the Deputy Superintendent. I plan on working on one in the next few weeks. Maybe you want to go higher? Florida Senators and Florida House members. You'll have to find the one for your district, and I am pretty sure Ileana Ros-Lehtinen is the one for the Miami area. I mean, it is your tax dollars here. What I am trying to understand is the benefit for the Preserve. They have no entrance fee and I think there are only one or two paying campgrounds, and heck one campground isn't even open but once a year in December.

Well, it's a few hours later since I composed the above and I've since had dinner and done errands. I rambled through Bed, Bath and Beyond for awhile, mostly meaning to get about three items and came out with more than that. If you didn't know already, you can use up to five of the 20% off coupons, even if they've already expired. I've got a stack of them on my desk that I go through once in awhile. I'm a bit bummed though because I meant to get eye gel, which isn't that $20 price, but $12 at BB&B, and only came home to realize I got some face cream instead. It was the same size box. Boohoo. Then I rambled through Borders for awhile and sipped a Tazo peach tea while enjoying the music of A Fine Frenzy which was playing on the sound system. YAY! I tried to listen to it on the way to Ft. Myers the other day and apparently it isn't boy music. Or at least my boy's music. It got axed and the radio had to come back on. Anywho, I am attempting to not buy new books, (though I did find The Historian at BB&B for $2.00 and I impulse bought it), so I found a red leather journal that was 75% off, a cool pen, and used my 20% off Border coupon for a Yoga Journal magazine. I've been feeling to need for more stretching lately. The back is tight, limbs are tight, just need a good all over stretching. So many books to read. Must get through personal library first. One of my goals on the to-do list is to write out all the books I do own in a notebook. Yep...still working on that one.

A few things to share:
-Kasie posted about another artist who does children's illustrations and prints and I am in love with this print. It reminds me of Pooh and the Velveteen Rabbit for some reason. (psssss, Chelle, what are you decorating the nursery with???) Might just buy it for myself for the future.
-While browsing Flickr for other snail kite photos, which by the way there are many and if you see the photo of the swarm of snail kites in Mexico, you'll be amazed, I found Saving Florida's photos. She has some very awesome shuttle launch and landing photos as well as very cool nature shots. Truly amazing! Check out her Best Photo section and look at the osprey eating the fish as well as the one of the blue heron and the snake.

Thought I had more. Well, 'til tomorrow....



November is speeding by.
November 8, 2007
Thanksgiving is two weeks away. I thought that I had three weeks and apparently, I don't. But, that's good. I'm going home for Thanksgiving and will get to see friends and family again. This year I've probably gone home the most times since I've lived in Florida. I'll even count the six hour layover a few weeks ago from South Dakota. So, Thanksgiving is coming. I really want to make something and I am planning on the pumpkin goat cheese cheesecake again. However, I can't find it on the Martha Stewart website and I am hoping I have it written down or stashed away by my recipes. I also want to make the sausage cornbread dressing I made for Christmas last year. Choices, choices. I'd love to cook more, but it is so hard to cook for two. I don't mind leftovers because I'll take them to work.

I am loving this cooler weather. I said last weekend was gorgeous, it was because a cool/cold front came through and swept the clouds away. We've had beautiful clear skies for this entire week and I am enjoying it. Finally, no heat. It does warm up during the day but it is pleasant out and I am always wishing I could be at home working in the yard or drawing or reading a book. The only bad thing is the time change this week. It has helped me get up earlier because the sun is up, but coming home between 5:30 and 6pm it is almost dark and I'm ready to hibernate when I get home. The other bad thing is that Leo hasn't learned to tell time yet and his playing antics that used to start at 5am are now starting at 4am. Ugh. First the squeaking begins, then the scratching of the carpet, then the jingle of his collar while he runs throughout the house and the occasional paw against the glass when he sees a mouse. If he continues being bored he'll come up on the bed and run across me to the window, jump down and then try to get Samson to get up and play and then lots of meowing and growling ensues and then my last two hours of good sleep are thwarted.

So, aside from being sleepy at night, I'm loving this week. I have needed to clean all week and I keep putting it off. I'm trying to work through the baby blanket and I am getting squares done, but it seems to take longer than I thought. I'm only averaging two a night and now I have given up hope of finishing this week. Unless I sit down and put the pedal to the metal on Saturday afternoon. I am pleased with it so far, working a basket weave pattern in blue and a single crochet in orange. The baby is going to Florida 'Gator parents, so I figured boy blanket should be boyish but not baby boyish and that seemed appropriate.

Well, whaddya know. It wasn't in Martha Stewart, it was in Country Living, the cheesecake recipe. Here it is. Trust me, it is GOOD. If you are turning your nose up to the goat cheese, don't. You won't even notice. And just ignore the calorie count. ;) Speaking of calories, I have been a major sweet tooth this past week. We have Halloween candy leftovers at work and I'm devouring it all! My favorite have been the Nerds because I haven't had then in forever.

I wanted to give a head's up to S. Floridians because I got word of the possibility that Loop Road will be paved and widened in the future (near future?). That means that the shoulders will be cleared, filled and paved and I believe the speed limit will be raised. This is not a good thing in my opinion. Loop Road should remain quiet, unpaved, and removed from society and certainly no potential for speeders to have road kill issues. I've seen so much road kill on Tamiami Trail lately. If I find out anything more I'll let you know, but I'd suggest writing letters now and stopping it now. What's next, adding an entrance to I-75 on Turner River Rd? Paving of Jane's Scenic Drive? I'm all for access to our preserves, but not at the expensive of the environment and wildlife.


And for those readers who have given birth, can you help the uninitiated please? No, not giving birth anytime soon, but above said co-worker that I am making the blanket for, well, we all tend to get into the baby talk at work and I found out, or so she said and a few others corroborated, that the epidural isn't just a shot. Please, someone, tell me it is just a shot and that's it. She said it was like an IV and it was left in your spine. If so, I'm thinking I'm going to go natural birth because that just creeps me out. An IV is one thing, something in my back bugging me while I'm pushing 10lbs out of me, I don't think so. So, for the sake of my sanity, lie to me. (Ok, just tell me the truth).


Perfect Weekend
November 5, 2007
This weekend was one of those really good weekends. I've been needing one for awhile and this one was just plain good. We set off Saturday morning after a few errands before we left down. Chris insisted I get a car wash and I was resisting because it was going to get buggy anyway driving across the state. We were on the road for maybe 20 minutes when on (detailed location for anyone wanting to scout them later) Alligator Alley in Water Conservation Area 3A North at the fishing stop about 6.5 miles west of the toll plaza and right before the rest stop on the Miami Canal, we saw snail kites! We both remarked that there were more together than we'd seen combined, which is about 5 total and later we counted about six. Debating whether or not to turn around, we finally did at the rest stop on the Miami Canal and we pulled into the fishing stop. Chris dug out his film SLR and even though he had 200 speed film and not the best lenses to be making a distant shot, he took some really decent shots. We later discovered he had 800 film in the bag. After staying there on the side of the road for about thirty minutes watching the birds diving into the sawgrass and willows for apple snails, we drove on down the road. It was a neat experience because these birds are very rare here and many nests do not make it. I believe there were only a handful of nests that succeeded this year. Some scientists predict their demise from the Everglades in the future because of the constant mismanagement of the water levels. Even if they weren't rare and endangered they would still be a sight to see. I get a little smile when I see an osprey or a red shouldered hawk. The are such majestic birds. Even the kingfishers are fun to watch, with their spiked feather-do's.



On down the road we went and we finally crossed over the Sanibel causeway around lunch time. It is now $6 to cross. EEK! I suppose it is one way to manage traffic. I had been to Sanibel a few months after Hurricane Charley came through and it was going through a state of change. Many of the Australian pines had been blown down in the storm and the shade that was prized along Periwinkle Way was gone. Much of it is now becoming restored by the native landscaping and it was a bit difficult for me to remember certain shopping areas because of the lack of trees. Our mission was to go to the Cheeburger Cheeburger, the very first one that started the chain. I drove down to exactly where I remembered it to be, and I couldn't find it. We had passed a sign that said Cheeburger Cheeburger on it but I knew that it didn't belong there. I went in a 7-11 and asked the clerk and she didn't seem to know what I was talking about. I couldn't be lost! We drove back to where we saw the sign and decided we'd just eat at that one because the other one just must have moved. Sure enough, after Charley the restaurant moved to the little round, elevated corner of a shopping strip. It's always better to eat at Cheeburger Cheeburger on Sanibel. Eating it elsewhere just isn't the same. I ordered a portabella mushroom melt, which I later regretted, and Chris got himself a cheeburger. Outside on the trees were many established bromeliads and orchids which we took a look at after we ate.

With our stomachs full we drove on down the way to the J.N. Ding Darling National Wildlife Refuge. We first started out by walking in on a trail, $1 each for pedestrians, and walked about a mile. The path wasn't very scenic, though we enjoyed the mangroves, the raccoon that crossed the road, and several large gators. The sky was so clear this weekend, a change from this past week, and it was very enjoyable to revel in the sunlight. A very Florida Fall day. We decided then to head on down the four mile scenic drive where so that we could see more of the park. Not far down the road we saw a colony of roseate spoonbills. As hard we we tried to get closer, we didn't get as close as we wanted. We did get a photo of them but the roll has not been developed. And then a bit past the spoonbills we found white pelicans floating in the lagoon! Back in college I found out that once the brown pelicans were more rare than the white pelicans and were considered endangered. Now, you don't seem to see as many white pelicans around. A few waddled on the sandbar they were chilling at. Chris was watching with an envious eye at a wading fisherman on the opposite side of the lagoon. I told him he should have brought his fishing rod!

We finished out the rest of the road, snapped a phot of a juvenile ibis and then made our way to Bowman's Beach on Sanibel for a few hours in the late afternoon sun. In the 90's the beach was lined with Australian pines and since those are gone the dunes are being restored with native grasses, railroad vine, beach sunflower and other subtle natives. We found our spot on the sand and I dipped my toes in. It was chilly with the wind so we chose instead to walk down the beach a ways. Chris decided to make his mission to find a shark tooth, while I ended up collecting sand dollar pieces. Chris informed me that I needn't pick up every broken one, because the quarters wouldn't make a dollar. (ha!) A nice beach doggie came by with his owner, a golden red retriever, and we had fun with the terns, gulls and "do da do" birds. Do Da Do birds are the little birds that scurry along on the beach, running to the intertidal zone when the waves retreat and then speeding up the beach when the waves come back. It was late afternoon by the time we left and we needed to make our way to the hotel so we could clean up and get some dinner. We stayed on Ft. Myers Beach and I had forgotten, or maybe it has gotten worse, the crowds. It was a bit frustrating at first, but we found the hotel. It had a very dorm-like feel, or at least a dorm in Galveston feel. Namely, Chris' dorm, with a walkway on the outside, a noisy air conditioner and the echos of other visitors down the corridor.

Dinner was good. I had planned on going to Snug Harbor and old favorite with my family. Lots of good times were had at the old restaurant. I ended up getting the snapper Matanzas and Chris the grouper. We were stuffed afterwards and rolled our way back to the hotel.

Sunday morning, after relishing the "extra" hour we got in the time change, we got up and had the meager Continental breakfast while we sat outside in the beach chairs and watched some people play shuffleboard. After packing up and checking out we decided to play mini-golf, aka: Putt-Putt, and probably picked the most expensive mini-golf I've ever been too. After we purchased the baby alligator food, it was almost $25. We paid almost $3 for dog food to feed "baby" gators that were a good four feet long. The poor gators had blue mouths, like a Kool-aid mouth, from the colored water. These were not very hungry gators either, as we had to practically put the food in their mouth (via a pole) for them. Lazy gators. The first 9 hole of the mini-golf adventure went good for us. We shot the same par for most of the 9 holes, with me getting ahead for a bit, and then Chris pulling out his scare tactics and telling me I was going to pull a "Misti", which is similar to pulling a "Monica", because I am notorious for screwing up after I get down by one and then I'll continue until I've gone six strokes and then I lose the game. But, this time I prevailed! Shortly before the turn of events, we heard the cry of Bald Eagles. Sure enough there were three in the sky, diving and circling and looking like they were having a good time. Score another point for cool birds on this trip. Then, we reached the hole they changed the course of the game. It was an optional 16.5 hole, where if you made it into one of the many holes on the green, you could add a point to your score, whereas if you missed you had to deduct two. Before we went we decided that Chris was going to go for it but I knew I didn't stand a chance so I sat out. Chris almost got a hole in one, but it went just between two of the holes putting him, after the final hole, one point behind me for the game. SCORE! for me. :)

After my high from the game we decided to go back to Sanibel after our Plan A didn't pan out. We had planned to drive to the dock to catch a ferry for Cayo Costa State Park, which is another island to the north of Sanibel and Captiva, however the number called kept ringing and rining. Chris wanted Cheeburger Cheeburger again and even though I came up with a few places we could check out, we decided to go there again. After lunch we drove along the Sanibel-Captiva Road to the north end of Captiva and the beach park that was at the end. We decided, or at least I decided in my mind, that if I became rich I was going to buy one of the very nice houses along that road. I need to come up with a name for it though, as all of them were named. The beach at the end turned out to be pretty nice, though not as nice as Bowman's in my opinion. I caught a few rays at first, then we played some frisbee and while midst frisbee throwing all of the shore birds decided to head off shore 50-100 yards and chase after whatever was schooling. Chris determined it was Spanish mackeral and proceeded to wish he had his fishing pole again. There was few people fishing and he kept telling me how he knew they weren't going to catch the right fish with what they were using. I think he was just jealous. ;) We took off down the beach again and Chris discovered that the best shells were right in the surf. Sure enough there were some nice whole shells hiding in there. You have to catch the waves just right and when you see a shell either grab is quickly or put your foot on it until the waves receed for a second. I stuffed Chris' bathing suit pockets and had a fistful of shells as well. I'll have to id them for you before I can tell you what they were.

We topped the day off with a trip to the Dairy Queen for a Blizzard on the way home. It's about two hours from there to our house and with the time change it would be sunset when we got home. I followed the road east, watching the golden amber hues of the sunset glisten on the cypress and pine trees as we crossed Big Cypress. Once we crossed back into the WCA 3A, with Chris dozing in the passenger seat, I watched the sunset in my side mirrors and glanced back a few times to check it out in person. We pulled in at 6pm and an hour later I fell asleep. I was just too tired from such a long day.

I'll have some beach pictures later this week when I get them developed. It may be a bit longer for the other bird photos.



The Chompies are back, the Chompies are back!
November 2, 2007


Yesterday my coworker and I, on the way to work in our carpool, were discussing butterfly gardens, butterflies and plants in general. I was thinking it had been awhile since I've been the monarch cats hanging around because my butterfly weed looked pretty, was flowering and had not been chomped up. Today when I got home I saw two itty bitty ones and one larger one the size of this one in the photo. This guy is from last spring or fall and is already a butterfly and has probably already moved on into the other garden in the sky. I'm just happy they are back! I found some seedlings I had started, some other types of milkweed, and I put them in the front bed tonight so maybe they will grow up and be ready for the next round of caterpillars.


I'm also ready for tomatoes. We're nearing close to 30 varieties. I have doubles of black plum and sungold, but we're getting more and more. Chris, the non-tomato eater, has jumped on the bandwagon and I think at last count he has more kinds planted than I did. I expect by December or so we will start having heaps of tomatoes. YIPPIEE! One, Mariana's Peace, I have found out to be very popular and "rare". It came free with some tomatoes I ordered about a month ago. I'm excited to see them. I'm also thinking of hybridizing some tomatoes. Just for fun! I think it's going to be named the "Leo" tomato, or so Chris told Leo.

Speaking of Leo's, if you're a cat lover, you have to see this post. That is my cat/cats. Especially the Leomeister. Paw in face: Check. Walking on mom: Check. Squeaking meow: Check. That blog is also a good one. I found him through Flickr probably a year ago and recently actually added him to my blog reader.

Oh yeah, what was I thinking of joining Nanowrimo? Stupid, stupid, stupid. I have other things this month to do, including two trips out of town, so like I am going to be spending more time at the computer than I already do. Lately I've taken to doing a quick check when I get home on a few forums and then tuning out for the rest of the night. Sometimes an evening break is good.



This photo is from Thanksgiving last year and I just got it from a friend who went camping with us. We were being silly in front of the camp fire one night, noticing that the low light was blurring some photos. Somehow we came up with the idea to do some sort of slow motion thing with our hands and I think this is the best one that came out. Mmm, camping. Been too long, been too long. Winter camping is great. I'm sensing a trip coming up. We need a new tent too. Anyone got a good idea for one that is not too expensive, but also not cheaply made? It also needs to be big enough for an air mattress. Yes, air mattress. Soo, big tent, not too $$$, not cheaply made. Lemme know.

:) Have a GREAT weekend!



It's Windy
October 30, 2007


It's been windy all day long. Supposedly it is driven by a high pressure that is sitting on top of us and attempting to keep TS Noel from coming here. The storm is supposed to skirt the coast and give much of the rain to the Bahamas. I wouldn't mind a nice windy, rainy day tomorrow, though I am supposed to be in the field.


I went out and bought the A Fine Frenzy cd. Beautiful, beautiful, beautiful. I'm so impressed with music lately. It seemed there for awhile that good music was gone, but I think with the web 2.0 and indie music rise, we're finally back into good music. The cd is one you want to put on in the background while you cook, read, write, paint, just all out relax and dream. My favorites are Whisper, Almost Lover and Hope for the Hopeless. If you like Sarah McLachlan, Tori Amos, Chantal Kreviazuk, Norah Jones, you will like her. Good stuff.


Today was a good mail day. Last week I ordered a new messenger bag. I had been using one that I got at a conference and it was finally wearing out. I surfed around for a few days, debating what I wanted. I looked on Etsy but couldn't really find what I was looking for with the appropriate number of pockets I wanted. I ended up getting this one over at REI. It was the best price around for that one and so I nabbed it. Most of the better messenger bags were running in the $40-$50 range and I wanted something good. I carry various books, day planner and a moleskine along with my wallet, phones and other random junk to work and I need something durable. I LOVE it! I was unsure which color to get. On the Sherpani website they had more colors but REI just had bright blue and a "green tea" color. I went with green tea and it turned out better than it looks on the website. I am excited to take it to work tomorrow!! Yes, I am a dork! I just ordered a pencil case on Etsy made of oil cloth so that if my pens leak they won't leak on my bag. wont. won't. Ok, having issues for a second there. Do you ever start looking at a word you just wrote and think it just looks wrong? Anyway, back on topic. My favorite pens are Pentel Energel and I actually found some in blue and red. I am wishing they came in a rainbow of colors because then my moleskine would look pretty!


The ghost orchid painting went over well. I put it on my coworkers desk when she stepped out and it took her a few minutes to figure out who it was, though I did yell across the room to take a guess because she did see my initials on the bottom. It was a sort of surprise because no one knows that I do art. I mean, they know I'm a scrapbooker and I crochet but I've never let on about drawing and painting. She was really ecstatic about it and I was glad to hear. I mean, this is the second person outside of my family I've ever given my art to. So, one step at a time. LOL and my other coworker mentioned it was her birthday coming up in December, so I will have to see what I can whip up for her then. No reason not to share it if people like it. I think people need more art in their life, anyway.


We're taking a mini-vacation this weekend, or as Bridget Jones said, "This can't be just shagging. A mini-breakmeans true love." So, we are heading to Ft. Myers Beach and Sanibel for the weekend. I wanted to stay on Sanibel, but short of $200 a night condo's, I couldn't find anything available. There were some cute cottages but they were booked. I'm looking forward to beach time, a little shopping, and heading to the J.N. Ding Darling Nat'l Wildlife Refuge. I want to get a sno-cone, walk on the beach, find sanddollars, sea stars, boogie board, to the Sanibel Stoop, the stingray shuffle...yep, cram as much as I can into two days. I'm going to have to get a disposable camera because our digital is down and we haven't bought a new one yet.


Photos are courtesy of our visit to the Selby Botanic Gardens back in the early part of the year.



The Solace of Sunday
October 28, 2007



I whipped this up late this past week. Not sure on it at the moment. But what's done is done. I was/am going to give it to a coworker for her birthday tomorrow.

Sundays are one of my favorite days. They are sort of bittersweet in that it is the last hurrah before the work week. Sunday tends to be the day in which I do most of my reminiscing. There's something about the late afternoon, the light coming through the windows, a slow down before the work week and thinking about those days. Sunday's growing up were spent at the lake during the summer, lounging around the house, and when I was a teenager, working. We slept in for a little while today and I got up and ground fresh coffee, and made some hashbrowns that turned out nasty, though it wasn't my fault. Don't buy the southwestern style ones from the store. They are HOT and icky. So, I switched to chocolate Lucky Charms. Then we worked outside for awhile. I've been collecting seeds this week to put on Etsy in a few weeks. I will have quite a bit to share with anyone interested in some tropical and just interesting types of plants. So much has grown this year. I trimmed back the jungle red hibiscus because it was getting leggy and put the stems into a nice vase for a fall arrangement. The red's of the leaves are so awesome and resemble maple leaves. I cleaned up the porch and got rid of some of the junk that has accumulated. We had two bird feeder cakes that the mice got into and some sunflower seeds that has spilled which were subsequently shelled by Leo's mouse friends. It is now a lot more organized and I'm glad for that.

The year seems to be spinning full speed to 2008. I thought October would be a bit slower because of the lightning fast way that September went, but it hasn't gone that way. November will bring a short trip for work and then home to Texas for Thanksgiving. It already feels like that trip home is over before it has begun. They always do. There is never enough time to see everyone I want to see. I even tried a week at home, alone, in July and I still never made enough time for everyone. I need a week just for hanging out with my family and another week for my friends. That's mostly who I feel so detached to. My friends. I hate that I never talk to one of them. It seems like we have sort of drifted apart and when we talk on the phone it is very odd. Perhaps I am making it more than it is, but the openness that was once there has closed off. And it makes me sad so I usually just don't think about it. I'm such an internet person that the phone is something I don't want to be on. I'm glad we do not have a land line. It is nice that my evenings are quiet.

Yesterday I said that A Fine Frenzy was a good band, so I checked out their A Fine Frenzy MySpace page. I have to buy the cd now. They are awesome! Right up my alley. I did convince Christine to get the Grace Potter and the Nocturnals cd and now she and her son are enjoying the cd. :) See, I'm a good pick at music!

It is now several hours later after I composed the first part and I just got up from a nap. The kids next door are playing outside, their laughs and giggles loudly filtering into the house. The cats are curled up asleep before their few hours of awake before bedtime. Now I'm off to putter around the house and settle in for the night.



Reading
October 27, 2007
I picked up two books in South Dakota that intrigued me. One was at the Crazy Horse Memorial, Sister to the Sioux a sort of compendium journal of her years working with the Sioux and I believe some of her experiences at the massacre at Wounded Knee. If you had HBO this past year you would have seen the movie they made based on the book Bury My Heart at Wounded Knee. I have the book in my collection but I never read it. It was one of those required readings for a history class and like many required books, I never got around to reading it. (Sometimes I wonder how I passed my classes). So, I have reserved that book to read in the car during my carpool to work and home. So far it is really good and I am finding out that Elaine was an accomplished poet and writer before she moved out there. I sort of get a Little Women feeling to her family. Educated, middle class and sort of farming in the New England area post Civil War. The other book I grabbed at a gas station in Keystone, which is the town at the base of Mt. Rushmore. It is called Women's Diaries of the Westward Journey and I am barely into it yet, but so far it is interesting. It is a narrative with diaries interspersed and discussed the differences in women's versus men's feelings on moving west. I hope this one turns out to be good because I love the whole west and prairie thing.

While I'm on the reading thing, I was at Target last night and picked up the book Evening. It is the book that the movie was based on and I thought I would maybe pick it up and read it before seeing the movie. I opened up the middle, because that's what I do when I try to pick out a book, and I freaked. GRRR! No punctuation. I cannot stand books who forego punctuation. The first one I encountered was in the 12th grade, All the Pretty Horses. That's another book I boycotted. I really did try reading it. I probably read a quarter of it and gave up. Do you want me cross eyed? I am a fast reader and if I have to sit down and try to read a page fifteen times, forget it. I ordered a book with a giftcard last Christmas, and it looked really good. It came and what was wrong with it? No punctuation. How the heck am I supposed to tell who is talking? Writers, stop doing this crap!!!! We have grammar rules for a reason. Ok, I think I'm done ranting.

Has anyone else been picking up the song of the day's at Starbucks? I've only got four and I just updated my iTunes and so far I've only listened to one and am in the midst of a second. The first was A Fine Frenzy's "You Picked Me". Loved it! I may have to go listen to the whole cd at B&N and get the cd. At first the singer sounded a bit like Feist. Now I'm listening to Annie Lenox. If anyone else has a code they want to share, email me and I'll switch with you.

Lots on the agenda today. Outside work, a few errands, finish up a little drawing I started and will share it with you tomorrow, crochet, crochet and crochet.



South Dakota
October 22, 2007


Well, here it is. Mt. Rushmore. I mean, looks like the postcards, doesn't it?


And I tried really hard to get one good one with me in it. Stupid timer.


I mean, self portraits everywhere....


This one turned out the best because at least I was smiling and looking at the camera and not doing that goofy face that happens when you hold the camera out in front of your face. Or what I like to call the "Dad" pose. My dad likes to do that. :) And my brother has caught on.


This is the entrance to the amphitheater. It is a nice little walkway, with the flags of the 50 states lining the sides.


Of course I was more interested in the nature next to Mt. Rushmore than the actual sculpture itself. Fall leaves were everywhere and despite my walking around in capri's and a t-shirt, it wasn't too terribly bad, though my ears did start hurting a bit.


I love me some moss!


The bark on the aspen are beautiful with their changing leafs. *sigh*


I just liked the way this pine was resting up against the boulder. Kinda like, "Here, I'll help you friend".


I liked this photo showing a peek of the Black Hills as the become the plains and then eventually the Badlands.


There were a few flowers still hanging around.


I liked this seemingly lonely little aspen hanging out with the pines...


Apparently Number 75 doesn't read signs very well! I saw this fella/gal when I came out of the gift shop. They were being nature's lawn mowers


And I stopped for this deer and several other friends/family members in the middle of the road. I didn't feel so bad because the car in front of me did the same. I rolled down the window and it turned to look at me in time! Cool! I believe this is a mule deer. Much bigger than the white tailed deer we have in the Everglades. They are almost Key deer like in that aspect.


And this is the last shot I took until Thursday. I was driving along the highway back to town when I saw the light coming through the clouds. It didn't turn out so hot, but I thought it was still cool.

Like I said earlier, I didn't do much until Wednesday. On Wednesday I went downtown exploring with someone else from the class. Turns out almost everyone from class had the same idea because I kept running into them as well. It's a quiet little downtown, sort of trying to revive itself. There was a super cool travel place called Roam 'N Around that I should have taken a look at more of their stuff, but I was kind of drawn to the front of the store. Very cute jewlery and I found a great backpacking travel log. The owners were really cool people, a young couple with a little daughter who was super smart because she was like four and could point out where she was born and where she lived on the globe. The next place I went was Prairie Edge which was very neat. They had all sorts of Native American art and artifacts but I found some artists I really loved upstairs. Pastel artist Peg Fowler, Kit Watson, another pastel artist (check out Prairie Orchid. It was so awesome and I would have bought it if I have the money!), and mixed media artist KC Willis. Awesome stuff! There was another guy who did some beautiful photos of buffalo. Cool stuff! Then dinner at The Fire House, which was hopping beyond belief! Seems locals and tourists love that place. Very Denver-ish in the whole micro-brew pub thing.

Thursday we got off early from the class to go to the Crazy Horse Memorial. It is just a bit further down the road from Mt. Rushmore and worth the drive. The guy who started it, Korczak Ziolkowski, started it in the late 40's and he worked on it until he died in the early 80's. Today his children and wife continue to run it and will continue the sculpting of the memorial until it is finished.


The face is completed and the long path area is where he is pointing into the distance and holding the reigns of the horse. The trouble with this project is that it is completely driven by donations and no federal or state monies. So it is taking a very long time.


They give tours to the bottom of the area so you can get a closer look. Eventually it will be open at the top, but not for a long time.


Inside is a museum with photos and artifacts from many Plains tribes. I've seen this photo before in books, but I just had to take a picture of it. It's so sad and forlorn and makes you think at the history of the U.S. from a perspective you don't hear of in school and that I think many people never really consider after they learn about the Pilgrims, Trail of Tears and well, it seems to drop of after that, doesn't it?


This picture didn't come out well at all, but it was a very neat experience. Korczak's wife Ruth came out to greet us and do a quick photo-op, something she doesn't do too often from what I over heard. She is I thnk 81 or 82 and still running the place.

This is a better photo of her, but I wish we'd had more time to talk and listen to her. She had another priority but was gracious enough to come out for that moment. Oh, the statue behind all of us is what it will look like on the mountain when it is completed.

We hit Mt. Rushmore on the way back for the folks who hadn't seen it and wanted to stop. I took just a few more photos and got some landscape shots.



It was a nice trip. I wish I could have seen more and done a lot of other things, but I'll take what I can get. It was probably one of the better places I've visited, though Colorado is still up there on the top. On the plane ride back to Denver I shot these...



You can see the rest of the photos on my Flickr page. There are more sunset shots and other cute mountain goat ones!



I am a sleepy head.
October 21, 2007
Well, I finally made it home. I left South Dakota in the early evening on Friday and made it to Dallas at around 11:30CST. I was not too thrilled with the coming and going at Denver. Rough, rough, rough. No storms, just this psychotic turbulence and the worst part was leaving. Some major dropping and bouncing that had me saying my prayers and there were a few flashback scenes playing in my head of, OMG I won't see my cats and this and that and I know I exagerrated a bit, but that was probably one of the worst turbulences I've experienced. I had enough time to crash at my parents house overnight in Dallas before my 8:00 flight yesterday morning to get back to Ft. Lauderdale. And crash I did. It was probably 1am before I went to bed and then I had to get up at 6am to get to the airport. I saw all the animals, Daisy has grown a bunch, and Isabelle was cute as ever. Red came in to visit and hid under the papasan chair and Yoda I only saw a bit when she pranced down the hallway in the morning and then made a mad dash for my parents bedroom so she could continue her hiding. She wasn't like that as a kitten. Poor Yo-Yo.

I finally made it home yesterday at 1 EST and came home to the two silly kitties. I've yet to see Chris because he is in Ocala at a geocaching event. On the way home I saw the traffic line for the new Ikea. It's only a few miles from my house and I would like to go, but until they aren't shuttling people back and forth from another big parking lot a few miles away, I think I'll steer clear. I've never been to one, but I've heard they are cool and I've heard that it is kinda crappy. I guess it just depends on your style and what you like.

And in a brief moment of insanity I've chosen to commit myself to insanity for the month of November. I've signed up for Nanowrimo, aka: National Novel Writing Month. Back when we lived in Melbourne I think I signed up and did it for about a week and then copped out and gave up. Nope, don't have a story in my head. I think I will just sit down and write. That is usualy my method anyway, or plan in my head and make small lists and that's it. Same goes for art. I think in my head for awhile and then just pull out a canvas or paper and start working. See, one of my reasons for doing it is to trick myself into getting up early. I just can't get up early to workout. So, maybe I can get up to pound away at the keyboard while eating breakfast and drinking coffee for an hour before work and then at the end of the month I'll be able to get up at 6 every morning. (Chris is going to laugh at this. He knows I am impossible to get up.)



I took this shot two weeks ago in our front yard. I found the bird feeder for .50 cents at the grocery store and put it on the new shaving brush tree out front. When I got home one afternoon it was full of Quaker parrots. They sort of look like leaves here.


They didn't scare off until I got to the front door and then they flew the coop. It is kind of nice having it out there, as we can watch it from our computer room window.

Thank to Heather who posted her photo of Tori Amos at a concer, I decided to check out her MySpace page and see what her new album is like. Now I'm addicted. I love "Big Wheel". So, then I decided to go retro and look up videos on YouTube. Yep.

Tomorrow I'll have the SD photos and a bit about the trip. It was a pretty fun trip after I got over being sick. We ended up going to the Crazy Horse monument and downtown a little bit. Fun stuff!

PS: Curt and Steph, missed you guys Friday night. :( Wish I could have seen you and your new car.


South Dakota & Blog Action Day
October 15, 16, 17, 2007
What it took for me to get to South Dakota: 3 plane rides, 1 30 minute delay, cold weather in Colorado, coffee, water and bbq breakfast/lunch in Dallas, and one bag of luggage that decided to make it on a plane after mine.

What I've done so far: Drove out to Mount Rushmore while wearing capri pants and a t-shirt, with only a light jacket to keep me warm (thank you late luggage), took lots of photos of the foliage and scenery and my friends Tom, Abe, Teddy and Georgie with a few self portrait shots in the process, saw very fast marmots running around, a very cool herd of mountain goats on the walkway just munching on the grass (they didn't mind all the goat papparazzi), and stopped in the middle of the road to get a shot of mule deer, because, really, like I haven't seen a deer before! It is COLD here! Ok, ok, not really cold, but my ears did start hurting and it wasn't very windy. Rapid City is a small town, not very big at all. It seems the sort of place where you grow up and stay put unless you have wanderlust. The hills are sort of like mountains, more like foothills and I think later this week I am going to drive west a bit to see more of it. Sturgis and Deadwood are about 30 minutes west of here. Might be fun to be touristy for a bit. The town of Keystone at the base of Mount Rushmore is very touristy. If you've been to Cherokee, NC or down Duval Street in Key West, think that sort of thing. Nice to visit once but not where you'd hang out. I'm kind of zonked from the traveling yesterday, so tonight I will probably stay put and relax. I might go out and see Elizabeth: The Golden Age, but maybe not.

Blog Action Day was on Monday and I planned on participating on that day, however I came down with some stomach bug thing and didn't feel like writing. However, I don't think you particularly need a day to write about the environment, so two days later I am going to write a little bit about what I think is important regarding the environment.

I've always enjoyed going to the coast, wherever it may be. My parents started taking us to the Texas coast, Rockport and Port Aransas, when my brother and I were little.


We would rent a little beach house or a condo and I always gazed out onto the open water of the bay or the Gulf of Mexico and enjoyed watching the shrimp boats sail by. One of my favorite things to eat would be fresh caught shrimp from the GOM that my dad would by at the docks in Rockport or we would eat at our favorite restaurant the Crab 'N. There was nothing better than grilled or blackened shrimp dipped in butter while watching the dolphins from the restaurant on the canal. A good way to end a nice beach day. I even wrote an essay in 12th grade regarding the epitome of the Texas coast, shrimp boats and dolphins I believe, in hopes of getting a scholarship. It was only a few years later when I went to college to get my degree in marine biology that I learned of the true destructive practices of shrimping and industrial fishing. No, I wasn't swayed by some political organiziation, it was just pure simple putting things together.

One of those "putting togethers" came when I did an internship tagging Kemp's ridley and green sea turtles on the Texas and Louisiana coast. We would do our own characterization trawls to determine what the sea life was in the area and figure out what the sea turtles might be eating in the area. On these trawls we would rarely be catching shrimp, but mostly cabbage head jellyfish and small crustaceans. In addition to this internship I heard someone give their presentation to defend their thesis. This girl had been on shrimp boats monitoring the by-catch and the amount of sea turtles caught in the nets. Most of the photos showed how much by-catch was caught versus the shrimp amounts. It was staggering how much was not shrimp. Another thing shrimp nets do are destroy the sea bottom, stirring up sediment causing sea grasses to die as well as dredging up the sea grasses. Sea grasses are important nursery grounds for many fisheries.

Shrimp nets are supposed to be equipped with by-catch reduction devices (BRD's) and sea turtle excluder devices (TED's) which aim to reduce the amount of by-catch and sea turtles caught in the nets. A lot of shimp boats do abide by the law, but many will rig them up for them not to work because they believe there is a significant reduction in shrimp catch.

So, in my senior year of college I decided I wasn't going to eat any seafood. I've since bent the rules a bit, trying to stick with only what Chris catches because I know he is abiding by the rules and he is going to be catching on a hook and line instead of utilizing a massive net or long-line fishing method. I don't eat shrimp. The last time I ate shrimp was a few years ago when we bought some farmed shrimp, but I have since stopped that as well. Many farmed shrimps come from Thailand or other Indonesian areas which their practices may be as detrimental to the environment as shrimping is. Many farms will devastate habitat such as mangroves (important nursery grounds and birding grounds) and their effluent will often cause heavy sedimentation issues and if there are coral reefs around this can also cause coral reef habitat loss. Also, these countries sometimes do not have the laws or inspections to be sure they are obeying the laws. I was informed by a co-worker who used to work for this company, Ocean Boy Farms which is an aquaculture facility in Florida that raises "organic" shrimp. I put the "organic" in quotes because there are no standards for aquaculture right now, but I believe they have good methods. Supposedly you can purchase this at Costco but I have not found looked yet. If you're interested in sea turtles in general you can look here, Sea Turtle.org, here NOAA Fisheries, and here Turtle Trax. It is important to note that all sea turtle species are protected under CITES and are either considered endangered or threatened under the Endangered Species Act. It is illegal to possess any part of a sea turtle, so if you go to a foreign country and they offer you a sea turtle shell (which in the Bahamas on our honeymoon, a street vendor offered us a very beautiful hawksbill shell and tried to tell us that yes, we could get it onto cruise ship. We told him no and admired it from a far. More than likely someone ate it for turtle soup. But no matter, it is still illegal and the vendor just probably wasn't educated enough to know. It's very hard to get those who eat them for subsistence to comply with these rules.

So, what can you do? Be informed and look for alternatives when you ask for shrimp. Or just don't eat it. Chris tends to stick with me on this but he does bend sometimes, and my parents are tough to sell on this. They like to come to Florida and get fried shrimp. So far the only other person I've persuaded is my brother in law who I believe (and if you read this, correct me if I'm wrong) doesn't eat seafood either. And it isn't just shrimp, there are many fisheries that arefished beyond capacity. A good book I read this year was Hooked: Pirates, Poaching and the Perfect Fish which details how "Chilean sea bass"/Patagonian toothfish came to become so popular and to be driven to near extension. Really, if you see it on a menu, don't order it.

I think that's all of my preaching for now. I'm sure I can come up with more later!



This is Fall
October 13, 2007
Today was Fall. It felt like Fall. This is what I love about Florida. From September until early May, that is the Florida I love. Perhaps it reminds me a lot of what I loved about living in Melbourne. The clear blue skies, the smell of the pine needles on the ground, mmm, I can smell the aroma now, wafting up and around me and Chris while we hiked. It is just so pleasant!. Today was no exception to pleasant. I had a hankering to go out to Little Slough and so we went after we got up this morning. No rushing to get out to do any counting, just a walk in the woods. After a few errands this morning we finally made it out there around 1:30 or so. Everything is wet now and walking through the forest, it is hard to discern the location of things. I didn't even realize at first that we had made it into the slough. The cypress and pop ash have dropped their leaves, opening up the canopy to shine the fall sunlight onto the slough. The water is hip deep in most places and so wading through the water was slow going, carefully watching for logs and stumps that we would have easily walked over four months ago. I was also keeping an eye out for snakes and alligators, though none were to be found. We dropped by the three ghost orchids that we knew had been pollinated and checked on their seed pods. All are doing good! We said "hi" to a few that we liked, and I checked on the ones that were way up there. We went to the Encyclia cochleata, the clamshell orchids, and many were in bloom or budding and spiking. Chris took his 35mm SLR and got a few shots.



This one is playing peek-a-boo I think!


I think my favorite shot of the day.


This one competes with the other. I love this one too. I was oogling at the bromeliads that were beginning to bloom and so happy they are blooming!


This is near the central part of the slough, and you can compare to this next one at the end of July.


Almost three months later and the water is up to my hips. The deepest part is probably chest deep, but we didn't try to go there.

These next two are near where the bear ran at Chris a few months ago. This may or may not be the same bear. These are not our photos, but someone else gave them to me. But, it is probably the same bear. I still haven't seen a bear!!


Hello there? Mind if I come over?


Dopey dopey dopey, doo...don't mind me! Just looking for some berries or something yummy to eat!

In the garden, the yard has started to feel like home. With everything growing in and the vines taking over, it just feels so much better. It will be sad to leave it all one day, some of the trees that we have decided to plant, etc. Today we planted the rest of the tomatoes and I started the greens for the winter. I put in mixed greens, spinach, kohl rabi, mustard greens, swiss chard and dill. Chris planted these tomatoes this year: stick tomato, zapotec, variegated, Galapagos, stump of the world, (and more he can't think of). I planted: lemon boy, black from Tula, Mariana's Peace, black plum, Arkansas traveler, Italian heirloom, sungold, copia, great white, Kellogg's breakfast, tomatillo, (and more I can't think of). Yes, we are going to have bushels and bushels of tomatoes. I'm excited!!!!

I decided to take down everything in the Etsy shop for now. I am going to re-think my plan of attack. I really think that I need to have a better approach, where I had a sort of shop update once a month instead of hodge-podge here and there. Plus, I need to think about what I like to make as well as what will sell. You see, I'm trying to use my yarn stash and a lot of it is not big enough for blankets but for smaller things like purses. So, my plan of action is to have a big update at the end of November. That gives me times to get enough going and finished and up in the shop. I am also going to have a section for seeds because that was the only thing I have sold so far anyway.

I'm heading out tomorrow for South Dakota, but I will be blogging from the road. I have the laptop and will fill everyone in on Mount Rushmore and other fun things I see! I've got some winter clothes packed, which I had to dig out from the luggage where I store them at. You don't have much use for winter clothes here in Florida. Sometimes it's like going to the store and finding new things when I dig them out!



Sunday's are for reminiscing
October 7, 2007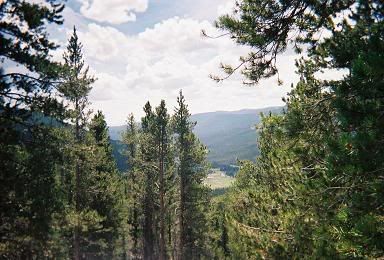 A week from today I'm headed to Rapid City, South Dakota. I'm going for work training and I am super excited! The picture above is from Colorado, on the road that goes through Rocky Mountain National Park. I love Colorado. I've been three times and all three times have been fabulous. The people are nice, the weather is great, ok, so it snows, and there is so much outdoor opportunities! Hiking, biking, kayaking. It's all there! I am sort of hoping that South Dakota is similar. I know the mountains aren't as big, but I know the first thing I am doing on Sunday after I land and get my rental car is heading for Mount Rushmore!

Sunday will be my only day really to do a lot outdoors since my classes are going to be going until 5 each day and the sun is setting earlier now. The other place I plan on heading is to Custer State Park. I'm wondering why on Earth they named a park after that man. Hrm. I've heard it is a cool place with buffalo and hiking trails. I am also crossing my fingers I get the Canon in this week so I can take it along. Our camera has decided to crap out again and I'm afraid it is going to go back to Fujifilm again. ARGH! Apparently it wasn't really fixed quite so well.

Ok, I fixed some links and am working on adding more to the "About" section, but the links over on this page to the left are all blogs I read daily. Most are friends from my Anne of Green Gables forums (another story for another day...) that have been around since I've been blogging. Some don't blog as often and I've even added one defunct one because Jo always wrote so well and had wonderful stories to tell. Plus I'm nostalgic now. There are a few that aren't forum friends but geocaching friends, Shelah and Christine (goes by Chris, but with Chris at Digi Flower Pics and my Chris, it's too confusing), and then Pure Florida and Digital Flower Pics and Vitamin Sea. All of these are blogs I read daily and usually not through a reader because I like going to their pages. I have put other blogs I like and other lins on the "About" section links because I read them daily through Google Reader. There are others, but these are the ones that I get excited about when they post. LOL, it's almost like when your favorite author comes out with the next novel (Diana Gabaldon, J.K. Rowling) and you can't wait to get your hands on the book. Oh and I want to point out Robin, over there on the left. Robin writes great stuff with fun stories about co-workers and crazy cat antics. Good stuff! Check her out!

I think that's all my blog telling for today. Not sure what's on the plan for today. I can't decide if I want to stay inside or go outside. Tough decision.



Just a Day
October 6, 2007
I really could never go into business for myself. I am too scatterbrained and lazy. This morning I decided to sleep in until 10 and then frantically ran around trying to get things together for my swap partner at the Sweet and Sinister Swap (see the little button on the left). I am a week late getting it out, mostly because of the issue with my drawing. And from then on it was just one pissing episode after another with it. Wednesday night I sat watching the new show Pushing Daisies (CUTE!) and Private Practice and tried doing various charcoal backgrounds on some other Bristol paper I was using. Everything was just painful and irritating and not working. Insert Misti having a crying fit and Chris calming me down. *sigh*. It was decided instead of putting it on a penciled background to just cut it out and put it on a textured background and then mat it. Matting it makes it look nice but now I have issues on shipping. I cannot find a box or a bubble envelope that is 16x20. ARGH! So, I decided this morning I was going to send the other contents ahead and then send the drawing later this week. I waited 30 freakin' minutes at the post office to find out shipping it priority would be $25!!! WTH?!?!?! It didn't weight much, but I had used a box that was a bit big and apparently the post office's new shipping prices really make you pay! GRRR! I was incredibly peeved I waited in line that long to decide that I would rather put it in a smaller box and spend less than $10 to ship it instead of that amount of money.

After all of these little issues, it still never got sent and I realized that Columbus Day is Monday and the post office won't be open then. I need to procrastinate less. But the good thing it is all done! So, here it is.


I just need to sign it and then maybe do one more quick spray and then I am packing it up and getting it ready to send out on Tuesday. It's from a photo, probably another Gayle's rose, though I'm not sure if I'll call it that or not. I'll stick it up in the gallery soon. Gallery. LOL, dork=me. Anyway, all graphite pencils. I'm tempted to do a few more pencil drawings soon.

Last night I did some baking. I made pumpkin bread and then I really wanted to make cream cheese icing so I made that and added some cinnamon, cloves and nutmeg to the icing. I think it turned out good! I made them for a baby shower today, but only two people ate them. I think the chocolate covered strawberries, biscotti and other fruit won out over the pumpin bread. Oh well. To work they go on Monday!


Please, now, don't lick your monitors!

And I can officially JUMP UP AND DOWN because I'm going to be an Aunty!!! One of my best friend's Michelle is pregnant!!! She had a miscarriage earlier this year and has been wanting to start a family ever since and the sneaky little girl talked to me on the phone last week and didn't tell me! Anyway, she just let me know today and I am SOOO HAPPY! Being at the baby shower today I got a lot of information going in one ear, tried to process it, and then it kinda fell out the other ear. I could easily shop for babies all day long. They have the cutest clothes and I will have a hard time picking out the style of nursery when the time comes for me. So, now I have someone to buy for!! Michelle is one of my closest friends from college. I can't even quite tell how we became so close. I don't know which class we had, or maybe it was the lack of class, because we used to hang out in her dorm room when our other friends were in class and we'd make green tea and then sit on the balcony and watch Galveston Bay and Texas City in the afternoons. If I were in Texas, there'd be frequent trips to hang out, to sit on porches and we'd garden together. Chelle, if you're reading, I'm supercalifragilisticexpealidocious excited!!!



Seeds from a blackberry lily....summer blooms are fading.



October is becoming my favorite month.
October 4, 2007


See? I told you I had banana's!! And guess what else??


They taste good! ;) Hehe! Nah, the guess what else is that we finally got the camera back! Ok, it took six weeks for Chris to actually send it off and then a few weeks for them to work on it, but now we've got it! YAYAYAYAY! I missed my camera! Oh and Chris, I'm getting the Canon because we already had lenses for an old film SLR. I would have gone with Nikon, but this Canon looks spiffy!


In other banana news, Chris bought a Siam Ruby which seems to be all the rage over on GardenWeb. Not quite sure I get it. They are pretty, though.


Here's the variegated costus I got Chris for his birthday. It's so purty!


Remember the giant elephant ear I was standing under a few months ago? This is the flower!


This one is for Christine. I gave her a bunch of white beautyberry seedlings last spring and she said that hers had some berries but they weren't white yet. This is what you'll get soon! :) This next one is for you as well.


This is my friend, Mr. Hornworm. He's super cute and I found him crawling on a regular beautyberry. I'm pretty sure he also devoured my canna leaves, but that could have been his cousin Mr. Leafroller. We will never know. I do know that Christine committed a travesty in my eyes, she squashed Mr. Hornworms' brother or sister. Ok, so it ate her tomato. But that's why you are supposed to plant like 10 plants!!! :) I've got a fondness for caterpillars, even if they do eat lots of things that you may not want them eating. They just wanna eat!! They've gotta get big and strong to turn into cool butterflies and moths! Give 'em a chance! They've got a lot going against them, like being hit by cars, and pesticides.


I love this photo of Sam, blurry as it may be. He was rubbing up against the plant after moving out of his sitting pot. He tends to squish whatever he sits on. I had a super cool purple seligenalla that is now pretty much kaput. :(

In other news, I've been meaning to blog all week. I tend to walk around writing mini-blogs in my head. Half the time what I want to write about exits my brain sometime between leaving work and coming home. This week has been enormously long compared to my three day week last week, which ended with taking Leo to the vet. That was not fun. The poor boy got worked up when they went to get a sample for worms and they brought him back in to me to wait for his shot and as I was trying to comfort him, and I should have known his behavior, he ended up whacking my hand and biting it at the same time. Left two nasty marks. I gave up and let him roam around the room, poufy tail and all. The vet had to get two tech's to help him hold a towel over his head and hold his butt down to get the shots. After the first shot the vet set the needle on the table and I was so worried that Leo would get loose and try running around and then stab himself. I did end up moving the needle because of that. Yes, I'm paranoid. I got him home and he moped around for awhile and I fed him treats to get him back to liking me again. He's back to his twerpy ways.

A friend from college Meghan is doing 365 Days challenge on Flickr. Having the camera again made me interested so I'm being a copy cat and joining in. Plus, I'm thinking a cool mini-scrapbook would be awesome of this. Day 1 is that banana shot up top and below is today's.



We had to show some guys who are going to be doing aerial photography of the land at work, the boundary where they could go. It was a quarter mile walk from the road, in hip waders, to the point. Nice day, but HOT, as you can tell from the sweat stains. I'm going to put a link up to my challenge so if you're interested you can check it out.