On the Hook, Blooms and a Sucktastic Aquarium
June 27, 2007

This fella was probably the most entertaining thing at the Miami Seaquarium. I was throughly dissapointed. I mean, I've heard that the place was bad. There's even an anti-Seaquarium website. If you've seen Free Willy or any documentaries of the early aquarium's of the 50's and 60's, this is exactly that. Aside from a new pool for the swim with dolphins thing, the park is something out of 50 years ago. In fact...


this big girl has been around since 1958. She's around 55+ years old and a hefty 2,000 lbs. Honestly, the biggest manatee I've seen in my life. The ones we used to see in the Indian River Lagoon were little ones, 500 lbs. The reason we were at the sorry little aquarium was for Chris' aquarium club. They do a behind the scene's every year and apparently this was the worst year. A quick tour of their "reef" (what coral? what fish? this is pea soup green...what the hell?) tank and then the manatee tour, that was it. No Shamu (Lolita their version) jumping in the air, no dolphins doing fun little trick's to their trainer's whistle, nada.

I've been to my fair share of aquarium's, even to a little one in D.C. That was better than this. This is beyond the bottom. So, if you come to Miami, don't go.


At least it was nice outside....

Lessee, I think I'll save the garden tour for tomorrow. Today I'll show you what's on the hook for crochet.


This is the new purse. I started it today and will work on it feverishly for the next few days in hopes of getting it on Etsy next week. I took new photo's of two of the kerchief's and will be replacing them soon. The other's were sucktastic.


Ok, here's a happy variegated sunflower. I'll put it in while I'm waiting for the next photo to upload. :)


Ok, this is my rose painting I've been working on, neglecting, working on some more, neglecting to collect cat hair, and then now finally trying to finish it. It needs a few more layer's in the green and I need to double check some of the pink's and then I'll work on putting the anther's in. I hope I don't royally screw that up. We'll see.

I'm loving some new musician's lately, Regina Spektor and Terra Naomi. I'm also in love with Coldplay's Fix You. I'm despising the Reba/Kelly mix of Because of you. Ugh. I like Reba but she ruined that song. Oh and I want to pass this on Nothing but Red and the story of Du'a Khalil. I'm contemplating submitting a mixed media work for this project. My friend Jasmine on the Ingleside forum is an editor on the project.



Peaches, elderberry and coffee
June 24, 2007
Good morning! Happy Sunday! I love Sunday's. I like them because I like to keep them low key. Wake up, eat breakfast, do things around the house. Just quiet before the week begins. I'm eating an English muffin with elderberry jelly I bought in Cherokee, NC a few months ago, a fresh peach, coffee and my staple drink of choice, water. YUM! Samson is sitting here on the desk next to me just keeping me company and ooh, here he comes trying to steal something to eat or drink. Sniffed the coffee and now he's moved on to the water, which he's now buried his head into the glass and is drinking water out of it. Silly Sam!

Last night I worked on my archives and I arranged them by year. So, if you want to read anything old it is more organized now. I'm such a dork. Whoa...yeah.

I was hoping I could report to you the number of ghost orchid's we had finally counted. But I can't. We still aren't done. We're almost there. If we had brought bug spray last weekend like we should have we'd be done. But no. We're going to break 500. That's for sure. How much over, we're not for certain yet. We found two yesterday extremely high up. One was about 18 feet and the other 16 feet. We hadn't even seen them before!

Oh, we found an interesting fruit at Publix yesterday. Actually, earlier in the week Kal Barteski, a blog I read, noted she had found one as well and painted it. She was calling it a horned melon and I'm going, what on earth is that? I know! I've seen it somewhere. It looks a bit like a balsam apple, an invasive cucumber thing that grows here, and so when we found it at the store yesterday Chris I had to get it because we like growing weird things. I got online and found the real name is Kiwano and the taste varies. Some say it's horrible, some say it is a sweet banana like cucumber taste. Well, I know for sure we'll be keeping seeds to grow it! Speaking of seeds, we have a passionvine we grew from seed from a fruit at the store. It flowered last week and Chris said it was pollinated and is now setting fruit! COOL! My very own passionfruit! I'm so excited! Now, as long as I can keep the gulf frittilary caterpillar's off it maybe we'll have several fruit's this year.

I'm planning to do some yard work today so there are a few cool things I want to blog about later, tomorrow most likely. Oh, I also am going to add the dimensions to the purse on Etsy so if you want to check that out later and maybe it'll be big enough for someone here. I've got three more in the brain, processing design idea's. Maybe today I'll get started on another. Or not. I've got a lot of picking up and organizing here to do. The spare room has finally hit the annoy Misti to death level and it's time for some organizing, listing computer stuff on Craig's List and just chunking a few things. Eh, who knows.



Let's go for a walk!
June 21, 2007
I love summer evenings! And so to celebrate Summer Solstice today, tie on your shoes and let's go for a walk in the neighborhood!

Before we get too far, let's stop at the front flower bed and see what's going on out there.


Lots of nasturtiums, dahlberg daisy, butterfly weed seeds, and some variegated lantana in bloom. YAY for summer rains!
Around the first corner we come upon a very nice plumeria tree!


Sometimes they have an aroma, sometimes they don't. It sure does look purty doesn't it?


Ooh, here's a house with a yard I kinda like. Lots of orchid's hanging on their walkway.


I spy a kittie!


And another one!!


I also spy a house with a yard that needs some serious help! I like the "cottage" look but this is beyond that. This is, "Please trim my shrubs back and get rid of all the weeds!", kind of help.


Ooh, celosia! I love it! And the cowgirl is cute too! Hrm, I hear quacking noises....


Just hanging out in the yard. Grass must feel really good!


Ooh a Traveler's Palm! I first encountered this when I worked at Moody Gardens and we were told, though I'm not sure how true it is, that when you plant it the tree will align itself north to south and so a traveler would always know which direction to go. I just learned that it is endemic to Madagascar! COOL!


Let's walk through some more palms and be sure to try and keep me from ripping out all of those croton's! They are one of the most overplanted, ugliest plants in south Florida. (the variegated ones) UGH UGH UGH!


Watch out for this fella!


Here's another quacker!


Poor homeowner! They live right next to the sidewalk. It's a sad day when you have to put a sign up to tell people to use common sense.


Let's get tropical! Hibiscus it is...


You know we're getting some rain here if the rain lillies are making their apperances. I've got some in the front bed but nothing has bloomed yet.


This kitty looks very comfortable, almost Samson-esque. I surmise that if Samson was let outside he'd be finding a patch of grass to just soak up the evening sights and scents.


Someone made a cute little creek bed!....Alright cat lovers, let's meet some of our other furry friends...


Nice dog #1 and


Nice dog #2! These two are always in the same spot when I rollerblade or run by. They never bark, just silently watch as I jam by. Awww, lemme pet you cute little furry thing (said in my best doggie lover's voice)


Hrm, what color can I wear today?


Three very large staghorn ferns on one tree! Well, one fell down if you look behind the tree.


Uh, oh! Another cat! We're being over run by feline's here! This one watched in stalker mode as we walked past the house, moving silently behind each of the trash can's, to get a better view.


Better keep your hands to your self! I know this mango looks nice and juicy and ready for eating! Mmmmmm, fresh fruit!


Now, that was a nice ending to this evening's walk, wasn't it? Some nice thunderstorms off to the west, over the Everglade's.

Well, did you enjoy the walk? Hope you did! I've come up with two possible names for my next purse, and it isn't even made. And I think you can guess the color....Sunflower or Sunshine. :) This weekend I want to get some art stuff done. Finish a painting. Do a little art journal thing. And scrapbook. And Samson wants me to finish his blanket so I'll do that too. Ooh and I got my haircut, so maybe I'll show you that. Nothing special, just a little trim and undercut. Until whenever....



I made a purse!
June 18, 2007
My slow poke self has finally finished the purse! My task for all of you is to name it. It is currently named something very boring at Etsy, but I need something cute! So, here is my first purse. Hopefully no one thinks it is butt ugly. It caused me many headaches but when I finally got it to work I was thrilled! WOO! Obviously time will let me get better, and with some ideas from Chris it came out pretty well! And now, I debut my first purse!.....


I learned how to line it via the 'net. Love the 'net! LOL, you can find anything! Just need to figure out how to get the sewing machine stringed (someone find me the 1906 Singer handbook, please!).

We've been getting a lot of rain lately. Finally making up for the lack of rain the past few months. And so, the grass is really green, growing rapdily as well as so many things in the garden. However, now I can't really get out there and work because it is raining when I get home. The pumpkins are growing so rapidly they'll be taking over before I can move them!


This is some of the variegated plants at the moment. One day I'm going to take a photo of every single variegated item and post it. T'would be cool! Lessee here...elephant ear, thumbergia, morning glory (came up naturally!), and sunflowers.


Some raindrops from this afternoon: elephant ear, passionvine, plumeria.


These two birds are bluejay's. While I was out scoping the garden the one flapping its wings was having a hollerin' contest and trying to get the other one to leave it alone. Feather's were ruffled and finally the other one scooted down the line a bit. Reminded me of two certain cats of mine....


I thought this was fun! The banana flower petals had captured some of the rainwater. And the orange with the overcast day made it a nice photo op!


And a general grouping of some of the neat blooms right now. Japanese morning glory (has different color blooms on the same vine!), close up of the morning glory about to open, the bur oak we planted in the ground, grape leaves and a passionvine flower, purple basil in flower, African iris, daylily about to open, passionvine flower that I grew from a passionfruit at the store, beautyberry (my favorite native), some kind of hoya, the pumpkins!!, the the ominious clouds of today.

You have to see this video. It's amazing and inspiring! Simon Cowell actually likes someone! If you've watched America's Got Talent any, usually you see people with silly talent's, and this is Britain's version. Very cool! Gives you chill's.

More tomorrow...:)



Studio Friday
June 15, 2007
I haven't participated in a Studio Friday in awhile. I thought I'd take a break from all the photo mania of the past, oh well, long while, and do a thinking post. Today's Studio Friday is about Wabi Sabi. Tine asked, "What imperfection are you struggling with in either your art or studio space? Is your ideal set too high? Do you put too much pressure on yourself? Try to see the beauty in its imperfection and celebrate it!!". Here we go!....

Imperfections, or rather my perfectionism. Trying to cope with whatever I'm painting not looking right, dealing with my perfectionist thoughts about having to do so much and then my procrastination side of not doing what I really want to be doing. It's almost like exercising, once you're doing it and get in a zone everything flows. It works. It feels good. Not doing it, well, not so good. Of course my ideal's are set too high. I am always putting the proverbial cart before the horse. Wanting to sell things before I even get started. Do I even have a portfolio? So, I dream about what I want to be doing versus actually doing. It's time to step up and get some productivity. The bad thing is while I'm at work I'm dreaming of all the things I want to do. I make lists, usually of the same things over and over, of what I want to do, the creative things I want to make. Perhaps it is so I keep it fresh in my mind so that I eventually do it. It's unfortunate that the time I have to do these creative things is when I am most tired, have chores to do, errands to run and want to spend time with Chris and the kitties. It's not like I'm a writer where I can write chapters on my lunch break. I can't break out the oil paints or the pastels on my desk. I can crochet and I do sometimes. Usually I bring it along on longer car rides that I know we'll be doing. I guess the beauty in all of this crazy, imperfect creative time/productivity/management is that at least I am doing something, I have goals and aspirations. And if I just work a little harder it'll eventually pay off. *hopefully*.

Sorry for my rambling. It's just a Misti Needs to Get This Off Her Chest Day. More of a talking to the air sort of thing. Sunday is doing to be my day of getting some things done. I am going to get five scrapbook pages done, paint some, and finish up my crochet purse and get it on Etsy. Not too bad. Just one by one I'll get projects done and completed.

I was thinking the other day about how much Chris and I are becoming more of naturalists. We don't know every plant name or animal name, but it's so much more of a fun and learning experience now when we're out hiking, or on the beach, or just driving to a natural area. If I travel to a new area I always want to scope out the natural area's and figure out what plants are what. Sometimes I wonder how much people really see of their day to day life, what they drive by. I notice the little sidewalk area on the main road around the house. The irises are past peak and done blooming and now the canna's are blooming. It's just noticing these little changes in the day to day activities of my life that are so fun.

Ok, so you could call us Big Dorks. Nerds. But, I think it beats some hobbies.



Five Years
June 14, 2007


Five years ago today we were married. It seems like so much longer and yet such a short time.


I don't remember the ceremony or the words I said. I remember going down the aisle until the point I got to Chris, and then bits and pieces from there on out until we walked away at the end.


We filled up our Blazer and moved to Florida two days later, though Chris had technically been living here for four months already.


That is the only taste of wedding cake I had the entire night. A year later we at the entire top. My mom alternately wrapped it in foil and plastic wrap and it tasted great.


We stayed a nice bed and breakfast on the SW side of Ft. Worth for the night. I am still deciding what to do with my bouquet. It isn't looking too hot these days.


If things had been different, there'd be another person in this photo. My Michelle was going through personal issues and wasn't there. I wish she had been. These girls keep me going and I miss them so much. Two are now married and one is engaged. And one of the married's has a toddler. I wish I had a photo of the guys, but it was too difficult to take out of the "nice" album. Unfortunately one of them is no longer with us. :(


I always liked this shot of my parents.

I love you Christopher. :)
Happy Flag Day as well.


Possum Kingdom
June 12, 2007
A few months ago Chris and I worked for a few weeks to get the camera cd's we had and chronicle all of the photo's on the computer. Our last camera burned the images on a itty bitty cd and it started becoming a pain in the butt. Not only trying to locate the cd's (K-Mart or Fox Photo only) and then the camera started being super fussy. Like a Samson when he's really, really grouchy. Anyway, I found some of the first photo's we took with it, the weekend or so before we got married. We went to Possum Kingdom State Park to camp for two nights. Or, I think it was two nights, I can't quite remember. Alas, we were one of the few people there and it was such a fun time. Certainly not our first camping trip together. We stole away one night to the Galveston Island State Park our freshmen year of college and then one spring break we went to Lake Forth Smith in Arkansas. Sadly, we probably saw the park in its last glory as you can see from the website they were going to be flooding more land for a larger reservoir. It is a bit sad considering the buildings were old Civilian Conservation Corps projects from the '30s.

So, I thought that I'd reflect a bit and post some things about Texas. Everyone is used to my tropical Florida photo's so maybe a little bit of High Plains and Hill Country from Texas should wedge its way in here.



Here's Chris, with a pole in his hand. He was born that way. Came out completely like that. The rod grows as he gets older. So do the fish stories. ;)


Awww, isn't he cute???


My first attempts at macro photography. This is pre me knowing what the macro button was!


Here's me.


Some cool dragon flies hanging out on the water


Prickley Pear cactus


Some kind of cool stacking cactus


A few from the top of a hiking trail. At one time I thought Texas was pretty flat. Then I lived in Florida for six months, came home and realized that Florida was the flattest place on the planet!!! LOL


We did have a cool sepia setting on that camera. This is the campsite, but you can't see much of it. It was nice and secluded and since there wasn't a lot of people there we had it quiet. The only bad thing was that once nightfall came the daddy long legs came out. EWWWWWWW! And some made it in the tent. SCARY!


Whaddya know? The fisherman caught something! I have no clue what kind of fish that is. I'm not a freshwater fish expert. I can name some of the saltwater ones though.


A flutterby


Another flutterby


I miss seeing streams and creeks like this. You don't get this kind of thing in Florida, especially South Florida.


A nice field of Asters


Rudebekia perhaps? Not quite sure!


Here we go, the obligatory camp shot.


A view of the dam


And Chris at the top

That was fun! I wanna go back, now! Maybe later in the month or so I'll scan some photo's and I'll take y'all camping at Big Bend Nat'l Park, tubing on the Guadalupe River, and maybe go to a bonfire. ;)

Ooh and lastly, I sooo want to subscribe and then be in Artful Blogging. COOL!

And a second lastly...I am going to start making it so that you can link to a topic here. You will just right click on the link subject and click copy link address and then when you post it in your blog you can automatically jump straight to that post. That is if something here is interesting enough to talk about in your blog!

PPPPPS: Heather, you were correctamundo on the complimentary colors.
PPPPPPPS: I am going to set it up so comments are emailed to me. I keep missing so many comments in previous posts!!!


Creating and Thinking
June 11, 2007
I finally started working on crocheting a cute sleeveless shirt. It was in Family Circle's Easy Crochet magazine a few months ago, and I decided I had to try it. It is very girly, "lacy", and I just knew I needed to try something else besides afghan's. I am using Bernat's Cool Crochet in white and so far I am loving it! I need to get more yarn because I started using half of a ball of leftover's from the kerchief's.


This is the torso part and I still have a good 12 more sections of patterns left before I'll fold it over and sew up the seam and then continue building the rest of it. I don't expect it to be done for several more weeks though.



And I am still working on the purse. It's been frogged many times. I am finally mostly happy with it and am adding buttons on the side now and then hopefully the handle later this week.


And I've gotta tell you, frogging that yarn is a pain in the butt. Eyelash yarn stinks when you've gotta rip.

Yesterday I did end up working in the yard. I mowed, repotted a few things, removed some tomatoes that were at the end of their prime. I need to do more things, some of which I had thought about doing tonight but ended up not. I love summer evenings. When I went out to shoot the crochet photo's I grabbed these while I was at it:


Hydrangea. I had been waiting patiently for it to bloom and it finally made its show. The veggie garden now, about three week's after planting, maybe four. The amaranth is doing good, corn is up, everything is doing good except the onions which sprouted and died and not sure what happened to the pepper seeds. The pumpkins are going to be transplanted to the fence because they are doing to take over and I'll replace it with cauliflower. Then that is a grapevine with grapes forming and the final is a passionflower.

This post by Ali Edwards made me think today. It's about choices and how you get to create your life every day and the way you approach affects the outcome. Something I need, I think.

Which reminds me, I've been meaning to head to the library. Something I think I'll do tomorrow evening.

Oh and lastly, the Lemon Square recipe. I've gotta stop this baking. I'm getting fluffy. I haven't worked out in a month!!!!!! *gasp* *faint*

1/2 cup of butter
1 c of flour
1/4 c powdered sugar
Mix and press into a 8" x 8" pan or pyrex and press up the sides. Bake this for 20 minutes at 350.
For the filling:
1 c sugar
2 TBLSP flour
1/2 tsp baking powder

3 TBLSP lemon juice (I used a whole lemon and then tossed some juice from the little plastic lemon in too) 2 eggs
Beat together and pour on baked crust. Bake for 25 minutes at 350. Sprinkle with powdered sugar. Best left to cool so it forms well.
YUMMMMMM!!!



Tour of Little Slough
June 10, 2007
Are you ready for another tour of the swamp? Put on your mud boots and slap on the bug spray because here we go! (by the way, don't laugh, I am a big dork ).






There, that wasn't to bad was it? ;) Did you have fun?



Sometimes it isn't easy being a turtle...even in the wild, wild wilderness. This cute fella wasn't too scared but he poked out for some photo's...


Wild flowers...top to bottom and then right, a: some kind of heliotrope, beggar's tick, opening up of a coreopsis, and a fully open coreopsis.


Almost positive these are panther tracks!!!! Taken yesterday they were probably made the day before. COOL!


Encyclia tampensis in bloom.


I zoomed in on Adobe to get this one a little bit bigger, but it is a cool looking spider. I have no clue what it is but it's hanging out on a strap leaf fern.

I hope you enjoyed the tour! :) I don't think I'll be posting too much more about the ghost orchid's due to the fact that I just don't want too many people emailing me about it. I understand the fascination and the total want to get out there, but we are very concerned with people finding the area and screwing it up. I would literally cry. And be very, very depressed. It is such a beautiful area that it feels like home when we are there. In this day and age it only takes one wrong person finding out and then the whole place is wrecked. I'll apologise in advance to anyone who wishes to go out there, but I'll go ahead and tell you that your best bet will be Fakahatchee Strand and doing a swamp walk with Mike Owen.

Tomorrow will be a garden update and craft update. And maybe a rant about something if I feel like it. Or maybe just a post about cute my cats are. ;)



When life hands you lemons...
June 9, 2007
When life hands you lemons, you make lemon squares. I pilfered a recipe via a craft blog, which I now can't even remember whose it was. I saw it, copied and pasted into Notepad and hit print. Then it sat on my recipe books for about a week before I felt like making them. And ohhhhhh yeah...they were good!


Oh yeah, they were good! I took them to work yesterday where it was a sugar fest anyway Pastelito's and a birthday cake for someone) and the squares went quickly! I had a few pieces left and I packed them into my lunch for today's trip to Little Slough. That was a welcome treat to the humidity. :)

I am totally bummed because I'm having problem's uploading some video's we took in swamp today but I did get one to work. It isn't my favorite one but it's funny anyway because I'm a dork! So, here is the first video of hopefully four more.


Tomorrow I will hopefully have a garden update, crochet and painting update and some more tours of the swamp.



Fairchild Garden Tour Part III
June 6, D-Day, 2007
I think it is time to wrap up our little tour at Fairchild. It's raining outside and we need a little garden cheer.


Wouldn't you like some gazing ball's in your pond?


I love the colors of this bromeliad flower!


Another fabulous picnic spot! Mmm and a royal palm in the background.

Jacaranda cuspidifolia I LOVE this tree! I so want seeds!


My friend the softshell came swimming by. He looked like he might come on shore but never did.


Ever been so crabby you wanted to pinch someone? This is a Heliconia.


This is a very fun moss and fern covered old amphitheatre


This is the flower an a palm. I just loved the texture and thought it looked like a loofa!


These are quickly becoming a favorite palm, Bailey's palm Copernicia baileyana


Dinosaur!!! Nah, just an iguana! One of the MANY I saw in the lowlands


Really, your going to interrupt my nap, er, nesting? Chris stopped and went "Look". I was like, "What?" and the said, "There's a turtle nesting". I'm looking at the water's edge, "Where?". "Right here". WHAT??? LOL, what was it doing up there? Nesting I suppose?


Zebra longwing butterfly on some wild coffee


Posing pretty...*snap* got your leg!


I just loved the way the trees were dipping into the water.


Don't forget to smell the roses on your way back


Giant elephant ears, bromeliad's, cat's whiskers....hmmm yeah!


Fungus? Cabbage? Nah, Amorphophallus flower
And now...drumroll please.......it's rainbow eucalyptus time!


Wayyyyyyyyyyy up there....that's how tall it grows....


Don't you love the pedestal affect?


Sunshine Day! Tithonia, or Mexican sunflower
And currently my favorites on Flickr, Cottage gardens



And before I got, two You Tube video's to share. First is Chantal Kreviazuk. I'm spreading the word on her musicial greatness. I need her fourth album which was recently released in the U.S. If you like artists who write and play their own music, you'll like her. She's married to Raine Maida of Our Lady Peace.

The second is a live version of Eric Clapton singing Layla. Awesome!.

Enjoy!


Bzzzzz
June 4, 2007
This weekend I felt like I needed a real recharge. I really didn't get it though. Friday I came home and I felt ok. Somehow about an hour into being home and Chris calling me for dinner everything changed. I was a true Cancer crab. Chris had made fish for dinner and then paired black eyed peas (or field peas as he said and then pointed to the can when I mimiced him) which really made me want to barf. Fish and "field peas". Gross. I was thinking fish and rice, fish and potato, fish and green beans...but not that. Then well, everything just went to grouch-central. I was supposed to make cupcakes for a geocaching event and really had no energy and no want for going. That was it. I wasn't going and I sure as hell wasn't making cupcakes. Really and truly, I wanted to sleep. It was raining outside from Tropical Storm Barry and I felt that Saturday should be a stay in bed rainy day. I was also still perturbed about finding out that Chris'd volunteered us for the event mid-week, and to boot I didn't even really think about it. Truth is, we don't cache much. And honestly, I am not that interested in it anymore. I love the people, but caching itself is wearing me thin. I like going for the ones when I am traveling because I see new things, but other than that unless it is a long hike or a kayak one, I'm not interested.

And so here I was on Saturday morning wanting to sleep in, which we did until about 10am, but the rain had stopped mostly. I made pancakes, did some dishes and then proceeded to lay in bed until 1, dozing and vegging. We needed groceries and so I finally got up and Chris went to the store with me around 2. I'm not sure what I did the rest of the day. Oh yeah, we took another nap when we got home and then I made lasagna. It was a nice day but I was looking for those really nice rainy afternoon's that would be refreshing. It was marred by my guilty conscience for not doing the geo event and that I was sort of restless as well.

Yesterday we were out at the swamp and spent the entire day. Chris almost stepped on another cottonmouth, we saw a cool inchworm and other neat things. At one point I was sitting down at the base of a pop ash and Chris was standing up and I heard a "bzzzzzz" sound. It was loud and coming our way, slowly accelerating in volume. Plane? No. I knew it was bees, and when it got closer I did ask Chris what it was. Then it got really loud, like I was sitting under a beehive. I got up and started to dart away because I was worried I was under a beehive when he realized it was a huge swarm of bees that were flying over the treetop. Then soon enough they were gone. Weirdest thing ever! Then flashes of "My Girl" came before me when Macaulay Culkin gets stung by the bees and dies. Hrm.

So, we left the swamp and my head was pounding so I slept onthe way home. I ate leftover lasagna and took a shower and tried to do some internet stuff when my head just started pounding all over. It was horrible. So, I hit the bed at 6-ish and tried to watch tv. I ended up asleep at 7:30 and slept mostly until this morning at 6:30. I was woken up by Chris at 10:30 when he told me water had spilled out of the tank and he had to clean it up. Normally I would have gotten out of bed and freaked out, but I was totally too tired. Alas, no ponds in the house this morning, but I suppose there are lots of towels to wash tonight.

So, my dear husband, who really is a sweetie, stuck through my crankyness and stayed home with me on Saturday. I tried to get him to go to the event without me but he wouldn't. Awwwww. :) He's also helpful at the grocery store so I am going to be conning him into going more often. In other news I randomly emailed someone on Etsy that I saw was from Miami and crocheted. I had hearted her and then a few days later saw she hearted me and so I went to ask if she knew of any crochet groups in So.Flo. She was so excited that I had emailed and to say she was wondering the same thing. So, we're thinking of putting together some sort of S. Flo crochet and knitting group.

Lastly, before a few photo's, HAPPY ANNIVERSARY to my parents. 31 years today! :) Y'all will make 50!!!!!

Yes, yes, Mom is holding a ginormous margarita. That's how they do it in Texas. ;) She's going to shoot me for showing that probably. lol!

And now for some laundry monster...


Mom!! I'm wearing dad's shorts!!


Ahh, might fall off if I'm not careful!

And a little inchworm action up close....

And finally, something to rock out to:



HAPPY BLOGIVERSARY TO ME!!!
June 2/3, 2007



It's been 5 Years! since I started this blog. Or rather, started blogging. I started June 3, 2002 way-back-when...before blogs were what they are today. Blogger was fairly new I believe and I started there at Sealion.blogspot.com. Some people on the Anne 3 forum had started blogging and blogging was different than it is now. I started off more of a ranting for the forum, it turned into a political sort of thing and well, now it is more of a nature/creative blog. I was at Blogspot for awhile until I decided I wanted to learn to code and so I took an online HTML course for free at Budding HTML Guru's, which I highly recommend if you are interested in learning HTML. I'm no code guru, but I'm ok and with a little bit of panicky AIM conversations to my brother-in-law, a computer whiz, I've been able to get out of some sticky situations. I must also give props to my brother who is good at doing computer things as well for starting off at Blogger and helping me with some of my setup back then. He also hosted me for awhile when he was blogging and then I ended up on a few other geocities pages until I settled on this one and I've been at this site about three years now I believe.

Originally I wanted it to be more focused on the ocean and marine biology and well, while the title is, it isn't always focused on that. It's hard to believe that five years ago I was still in Texas, two weeks away from being married and had no clue what was in store for me in the next five years. Pretty crazy! I just want to thank everyone who reads and comments and even all of you lurkers. It is nice to know I am not insane (mostly) and that there are others out there willing to listen to what I have to say. I am certainly not the most eloquent person on the internet and horrible at posting frequency and have a tendency to break down and shut the place down when I get angry at myself or in a depressive episode. Alas, most of you tolerate me! ;)

And so, with that I suppose we shall return to our Tour of Fairchild Gardens! And Christine, we're inching closer to the rainbow eucalyptus. ;)



This is a mangosteen fruit. They are a super cold sensitive plant and actually aren't that tolerable of zone 10B. But here in the cozy tropical fruit conversatory at Fairchild they'll remain safe from the cool weather. Chris loves these and we ordered seeds from Thailand I believe and then he tried to germinate them and well, they ended up drowning from too much water.


The mangosteen flower


An unknown pink flower


Orchid of some sort.


Check out this cactus!


Bromeliad flowers


I forgot to get the name off this one, but it is pretty cool!

Alright, tomorrow we'll finish off the tour! And before we go, I've gotta share this...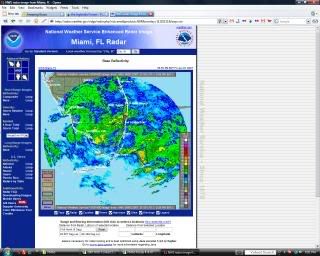 That was the radar last night! WOO! Tropical Storm Barry was friendly and gave us a nice rain from 1pm yesterday (with sprinkles earlier on) until early this morning with sprinkles until mid afternoon. YIPPIEEE! The garden should take that nicely!



Tour of Fairchild, Part II
May 30, 2007
Before we head back out to the garden for more of the tour I have some rants.

What on earth is up with the USPS? The one around the corner is actually open until 7pm and it never fails, if I arrive after 6pm there is two or worse, one person working. This is one of the few in the region open that late so of course there is a line!!! Hello, why aren't there more workers? Why aren't all five booths filled with workers anyway around 5pm? And what on earth is up with the price of shipping now?? Similarily, what is up with the price of milk? $5.69 at Publix yesterday. We bought milk and cookie dough and the total was $8 something and I looked at the screen and had a conniption at the price of milk.

I slammed my right thumb in the sliding glass door. I almost passed out it hurt that bad. Which I've been wondering lately if my low bp needs to be checked out. I've noticed it has been worse lately that when I stand up from sitting or squatting I get light headed and well, even just other issues. I can't even take my asthma medicine without coughing or gagging sometimes. That can't be good, right?

I am getting fed up with Feedburner, the program that sends you all the email's and subscription notices. It isn't working with Opera and updating and it isn't sending email's out, even though I have been manually pinging as well as validating my feed. I did subscribe on Google Reader and it picked up all of them. So, if you haven't been getting anything I guess re-subscribe. Which brings me to the odd thing off how some days I have like 20 something subscribers and the next it is like 14. Weird.

I suppose that is all the rantage for today. Oh, I plan on putting some plants and two more kerchief's on Etsy tonight. And I've decided to list the baby blanket anyway for $85 plus shipping because it is ridiculous the pricing of some of the crochet items. WAY too low. I couldn't even cover the cost of the yarn, let alone my time, for some of the prices I've seen. And I think that is fair. If someone really wants to order it they will. If not then they can go make their own blanket. And fly a kite while they are at it.

We left off yesterday gazing at the Chihuly glass sculpture at the end of the lane. Today...


Complimentary colors on the color wheel. Purple and orange. Wandering Jew plant and a bromeliad.

mmm, banana!


Wayyyy up there in the live oak is a nice orchid in bloom.


ooh, check out what else is up there in the tree! Nice sized bromeliads!
Alright, now it is time to enter into the shadehouse. There is where Mr. Stinky blooms and the public stares in awe. But no Mr. Stinky today.


A beautiful Vanda. One of my favorite orchid's.


A really nice fern. Birdsnest I think.


This looks like an orchid, but it is actually a bromeliad flower!


Exotic leopard looking Vanda.


Mmm, more Vanda's! Lovely little red beauty.


The frond's to the fern that gets the largest in the world.


How art imitates life. Chihuly scupture amongst the frond's of the fern


I have no idea what this is, but it rocks!
And that is is for the Conservatory. Tomorrow we'll take a tour of the rare and exotic fruit shadehouse and then off to the swamp area of the garden. Friday will be the lowlands area and Florida native section with some wildlife!



Tour of Fairchild, Part I
May 29, 2007
Before we go on our little tour of Fairchild I have some miscellaneous photo's to share:


Encyclia cochleata, Clamshell orchid, native of Florida.


Harrisella porrecta, one of the three Florida leafless orchid's. Now I've seen all three!


A really fun green snake!


I think this is a woolly bear caterpillar. Someone correct me if I am wrong. The reddish tint of some of the bristles make me lean towards that.

<;;br> Pipevine swallowtail caterpillar.

Alrighty, get your camera's ready for lots of good shots...
First up, some nifty bromeliads shining in the sun.


Be sure to stop by the Ylang Ylang odorata and inhale the essence


Not sure what it smells like? Next time you are at the mall, take a whiff of Chanel No. 5 at the perfume counter. This is what they make it out of.


The cat's whiskers and giant elephant ears make a nice backdrop


Mmm, dwarf plumeria. Yummy!


A sweeping landscape reminds me that I should have a picnic lunch more often. If only it wasn't so humid and the mosquito's weren't out to get me. I could pretend this is in Connecticut or somewhere non-humid...


Feeling tropical??? How about a little jade vine?


What an interesting shade of greenish blue!


This pond will make you feel like getting in or putting your toes in while you read a book or perhaps sketch the pond.


What's that? A plastic plant???


Nah, it's a torch ginger! Etlingera elatior


We're going to stop and rest our legs here in this pretty little lane while we gaze upon the Chihuly exhibit at the end. Until tomorrow....bring your hat for more fun in the sun!



Rolly Polly Olly
May 27, 2007


Marpesia petreus caterpillar. It's chopping on a strangler fig leaf out in Little Slough.


Join


Tomorrow and the rest of the week stay tuned for a trip to Fairchild Gardens. We went today and got a lot of photos!

Well, the past week has been a busy and crazy time. Chris has a new job now, which he starts on Thursday and leaves for Sacremento next week for training. I think it will be exciting and hopefully he'll enjoy a new challenge. It is paying more money and I totally think he deserves it. Someone with a Master's degree deserves more than what he was getting. To me, he was undervalued at his last job. Anyway, onward and upward!

The garden is doing semi-well despite the lack of water and rain. The front flower bed has been doing well and only the past day or so have things started looking stressed. The new plantings are springing forth and the only things that don't look great are the transplanted amaranth and the herbs.

I finished the baby blanket. I took a quick snap but the colors don't look great. I'm going to redo it tomorrow in the sun so you can see it better.


I *really, really, really* love it. It actually works great as a lapghan, something for the car or while you watch tv. It is cotton and I am starting to want to work with that a lot! If it wasn't going to a good person I would be keeping it for myself! I was also thinking of putting it up on Etsy as an order basis, where you pick two of the colors from the link I select for you, in addition to the white and it would be exactly what you see in the photo there, but your colors. I'm working out the pricing in my head but at the moment I would guess $65-$75 for it. I'm in love with the granny squares and am thinking of making a purse out of it. Speaking of purses, going to finish the purse up in the next few days. It's coming along well!

Now for some numbered ramblings...

Libba Bray, an author, wrote an essay that regarding feminmism and the honor killing of Du'a Khalil Aswad in Iraq. Essay here. I agree with just about everything except this, "Maybe the bullies think we'll be so beaten down we'll slink back to the cave and sew up some window treatments". Seriously, nothing wrong with making window treatments! Sewing is in vogue now!
Lucky Charms. Totally in love with them at the moment. mmmmm yeah!
I want a house in Coral Gables or Pinecrest, somewhere between U.S. 1 and Cutler Ridge Road. Totally lovely, goregous! It doesn't have to be the nicest one, I'll fix it up. Why, why, why is the housing market crappy??? :(
I want the new Chantal Kreviazuk c.d.
Regarding photo's and camera's. I don't have an expensive camera. It was under $200 and it is six megpixels. It is Fuji Finepix F20. The main things I can tell you are to read your camera manual and learn to use different settings. To get macro's click on the flower button. Usually you push halfway down and let it focus and then finish taking the photo. Take from different angles. Play! Use the manual settings if it has that. Play around with that. See what it can do. Learn to move in and get close so you can crop out unwanted backgrounds. That's all I can tell you to do. I didn't know much of this until three years ago when the flower button was accidentally on and all of a sudden the orchid photo I took was marvelous! WOO! From then on I've been obbsessed with macro's and getting different angles. I want to see the pollen on the anther of that flower. Show me that bee nestled in the flower. Let me see that moss on the tree and the unfurling of the fern. I want to see the things people walk by and never notice. Sure, I have a zillion photos of a lot of these, but it always fascinates me. That's all I can tell you to do. Look at what other people have done and mimic it. Usually that is the way you get better. That's what artists do in school, copy the Old Masters.

So, tomorrow, Fairchild tour...be ready! :)



My first sale!
May 23, 2007
Imagine my surprise and excitement when I opened my email this morning and saw my first sale on Etsy. I was hoping that it would be one of my kerchief's, but alas, it was the cylindrical sansevieria. The downside to all of this was I ended up losing money. Bummer. I set the shipping price at $8 and the plant was $10. We ended up having to go buy a box because the normal longer priority box wouldn't work. So, that's $4. Then shipping was like $11 or something, so I lost out. Lesson learned. It won't be bad on other things, but the bigger plants will have to deal with that. But I think it helps that I have a one item sold listed to my name now! YAY!!! So, go buy a kercheif from me. ;) I am planning three more, same sort of colors but will be putting some fringe around it to make them more funky. Perhaps I'll also do the one I made for Robin as well.

I am coming along well on the granny squares. I think I'll have that blanket finished this weekend as well as a purse. Hopefully I'll get my sewing machine up and running because I have some small quilt/blankets I want to make with some scrap material. I am now contemplating making a tshirt quilt with my Aggie shirts. I was digging through my many drawers of tshirts and saw an Old Navy 2002 July 4th shirt. I probably haven't worn that in four years. It made me want to wear it, but it also made me realize that (hey, it's raining...WOO), I need to clean out and do something with those shirts.

I have also been in a clean out spree. I pulled shirts out of the closet that I don't wear, finally gave up on my skinny jeans (kept one just in case!) and decided it is time to head to Goodwill. I still need to go through (WOO, really raining now! Party on!), the excess computer junk and the garage. The garage...eh, it's a ticking time bomb.

I have a little blog linky to share with you all. My "friend" Amber, she's one of the Anne friends (ie: Anne of Green Gables, originating from Anne3.com in '00....) anyway, she owns a shop in Michigan. She had blogged a long time ago, before blogging was "cool" (actually, I've been blogging almost that long...five years in a few days!) and then dropped her blog, but now she's back! Frivolities Blog. Very cool! And then I found a really neat blog the other day Kal Barteski. That is how I want to be! I want to be inspiring to others, so full of creativity, and hey, making money while I'm at it. Again...gotta get to work on all of this. ;)

And now the rain has stopped. It is time for me to get another peanut butter cookie cupcake (I'm in heaven!) and do some chores and then do some crocheting. FUN! :)



Baking and Gardening
May 21, 2007
Yesterday was spent in the yard and baking. Sometimes when I get a little bored or craving inspiration I drop by Martha Stewart's website. It is chock full of goodies and the other day I printed out Peanut Butter Cupcakes. Chris had finally had enough temptation and I sent out to Publix to get the needed ingredients.


They turned out good! The icing is faboo, mostly because it has cream cheese in it. I *heart* cream cheese frostings. I wish I could have found it for my wedding cake! So, I had fun with that...

Like I said, the morning we worked in the yard. I ripped out the kale and collard greens and we ammended the little "garden" in the corner so we could plant a summer crop. We're crossing our fingers on that one, but we'll see. After we leveled the ground so that we could retain more water we went inside and settled on what we were going to plant. The back along the fences would be pole beans, followed by a row of okra. Starting along right to left would be corn, peppers, onions (more like for chives because we planted too late), herbs, pumpkins, amaranth, and then I put some carrots in the ground that weren't doing so hot in the pot. Figured I'd at least let them try even if it is past their prime.



This is what it looked like when we finished. I'd picked two peppers up at Walmart and then the variegated pepper we put in the ground as well. Some of the corn had sprouted in the front flower bed because of Chris' variegation nuttiness, but wasn't going to get enough sunlight.


Here is the harvest, collards, scarlet nantes carrots, Everglades tomatoes and sungold tomatoes. Those two are really the only tomatoes still producing, though my Arkansas traveler is hanging in, the variegated ones have a few and the Galapagos tomatoes have produced some. Next year, I think I'll only do a few plants and choose heavier producers.


The collards later turned into this. Mmmm yeah!
So, I puttered around some more and found a Gulf Frittillary...


And a lizard


One of the prettier ones in the yard.

Asked the pretty Miss Charlotte/Mr. Charles to pose for me...


And oohed and ahhed at my plumeria! :) I have two more that I hope to bloom as well. Well, besides the other two white ones I have.

Alas, that is it for photos. Lessee here, oh I read The Locket and I highly recommend it. It's a tear jerker. And Ransom by Julie Garwood is a nice fluffy little romance that you'll enjoy. And I think I told you about When I fall in love. So, books you should read. Now, I am going to pick up Lord John and the Private Matter again. Diana Gabaldon never fails, but I was a bit distracted the last time I tried to read this one. I shall let you know!



My Meeting with a Ghost
May 20, 2007


Four of us went out yesterday morning. It was foggy early on and a bit cool. There was an air of anticipation in the car on the way to the area. When we finally arrived near the slough and into the area they reside we all sort of went "Ok, Chris, you're insane. Where are these ghost's?". Soon enough we found a small one with a spike and bud. It was craziness! The amazing thing is you see one you see 10, 20, 30, all on surrounding pop ash and pond apple trees. The whole area is amazing. I love this area. I want to tie up a hammock and wait for a panther to come out of the ferns that stop where you can tell the water level gets too high.

We were focused on the one about to open, trying to get the camera to focus on it and cursing it when it wouldn't. Then Chris went over to the area where he'd seen two about to open a few weeks ago. And there it was. About 10 feet up in a tree and you had to sort of straddle between a downed tree that was up a little and one that was leaning to the west in order to reach it. One of the trees had about five ghost orchids on the side of it as well, so we were careful not to touch them.


This is the first one. It was mayhem, the four of us, trying to get a photo. Trying to capture the light, get the right angle, find that money shot. It is an interesting flower, too. It sort of floats and you could probably easily miss it if you weren't paying attention. You'd think that white would stand out in a forest of green's and brown's, but it doesn't. After we all spent time at this one we looked around at the others growing nearby, searching for perhaps another one in bloom.

To get an idea of how deep the deepest area gets look here:


If you look at my bottom belt and onto the tree you can see the water line. Pretty much where the ferns and moss start growing on the tree is where the water line will get during the rainy season. It was dry this time with a bit of mud near a few areas.

So, we're wondering around taking photos and Chris yells out he found another. This one is on its way out, another bud about to open behind it. It'd been beaten up a bit by the wind, rain and probably by the moth that pollinates it, with some brown around the edges.


We figured this was probably the last one and we took a group photo. Oohed and ahhed some more at the beauty of it. I mean, again, spectacular. A ball of roots on a tree can produce such a flower! I think it is pretty damn cool! So, we're about to probably call it a day and we're walking around again and Chris calls out again that he sees another one. This one is in perfect condition!


Cool! Just so excited again!



These are the three together. I found the black and white setting and woohoo for that!
It was an awesome day. I can't wait to go out again! It would probably even be cool when the water is up. There are some nice sized cypress out there as well. You can see them and the rest of the photos on my Flickr page.



Green Thumb Sunday




Join





Grannies
May 19, 2007
The other night I finally taught myself how to do a granny square. My grandmother has raved about them for years and after seeing a few other crochet bloggers and their grannies I decided I should give it a whirl. I was looking for a new pattern to do for a baby blanket and this was perfect. I am *so* in love.



Aren't the colors pretty?


Samson has been cute all day. He was laying here about an hour ago and I couldn't resist...


Awww, isn't he cute???


Meow???

I finally saw a ghost orchid today! We went out and found THREE in flower and holy cow there are hundreds in this area. We've named it "Little Slough". And no, still not telling the location. I will say that Mike Owen at Fakahatchee Strand does not know this area. Chris has been talking to him several times and he was supposed to go out with us today. However, he had to do a tour so he was unable to make it. From the conversations Chris has had with him it is quite possible this area will double the population of the ghost orchids in Florida. I'm going to save the photo's until tomorrow since it is Green Thumb Sunday. I must say, we got some nice ones! In a few months we may make them available for sale as prints. They aren't Clyde Butcher quality, but you know, still pretty darn nice.

I also put up new kerchief's on Etsy and a new plant. I need to make one more kerchif and then I'll make some "fancier" ones. I'm in the process of a purse as well. So, we shall see.



Blog Meme
May 16, 2007
I had something written out and then I tried to send it to myself at work and it never showed. So....I'm going to catch up and do a meme that Danielle tagged me to do.
Title: My Pet Peeves - Blog Tag Torture
This really gets me going. The girl over at Danielle's Garden posted her top 5 pet peeves the other day and invited other bloggers to share in her rant. So here are mine.
1. People who cannot spell. Ok, so I admit that I do misspell things, but really now, it's rIdiculous, not rEdiculous. It's y'all, not ya'll. And my own pet peeve against myself was that for months and months I was spelling definitely definitly. It was one of those Fe-bru-ary situations where you have to sit down and sound it out. Dur!
2. Miami/South Florida drivers. Really, you do not know what a bad driver is until you come here. Visit Homestead, SW 8th Street, Kendall, those area's and you'll find out. Then after you experience that, get in a cab in Panama and then you'll have lots of fun! Rollercoaster fun!
3. It's crocheting, not knitting. Really now. *Some* people know I crochet when they see me doing it, but everyone thinks it is knitting. No, it is a crochet hook, ONE hook, not two knitting needles. And to pair along with this the thought that crochet, knitting, crafting is for "old ladies". Even so, who cares if "old ladies" do it? We're all going to be old one day.
4. People who make comments that softball players are all butch and lesbians. Nothing against butch women or lesbians, but really, we're not all like that. If you'd of known me 10 years ago you'd of seen the prissiest little softball player. I was such a nerd.
5. People who send me friggin' forward email's that are just plain dumb. Check the facts!!! Even after you tell them that it is false they still believe it. Helllooooo???!?!?!?!??!!

So, now I am tagging:
Robin
Shelly
Jessica
Gladeslvr/Chris (myspace)
New poster/lurker Snoskred
Have fun!!!


; I'm moving to the Keys
May 15, 2007


I wish I was still there. I need to move there. Someone, please hand me a job that will allow me to afford it. Wait, no. Someone hand me $25 million and then I can move there and not worry about anything. Sounds much better doesn't it?

My dad came in late last week and we hit the Keys on Friday morning. We stopped at Herbie's in Marathon for some lunch. Yummy! I can't believe we skipped the Key Lime pie this time! For Shame, Dad! ;) We were headed for Bahia Honda State Park where we were going to camp for two nights. First we stopped at "our" snorkel spot on the Ohio Missouri Channel, just after the 7 mile bridge. Dad stopped to pick up this:


A Whelk egg sack. Fun stuff already! YAY!
After snorkeling, where we had some fun tickling out a lobster (no we didn't bring it up and keep it. It's not the season.) and watched him scurry off, showed dad a sea biscuit, and he showed me some nice sponges, we got out and walked around the shore. It's fun to see this shore evolve over the past few years. There had been a dead tree, probably a mangrove or buttonwood, and it is now totally disintegrated and gone.


I got a bit artsy trying to get this rock. Tried very carefully not to get the camera wet while I squatted in the knee deep water.


And no matter how many times I photograph this red mangrove I still love it. Just a relaxing little thing to look at.
After all that we went back to the campsite where Chris fished for awhile and dad and I hit the beach to chill out for awhile. I can't remember if Chris caught this Friday night or Saturday morning, but it's cool.


Squak??? Polly got a cracker? This is a parrotfish. They like to eat coral pieces, which is appropriate for their nice little beak.


For dinner we went to Parrotdise a restaurant on Little Torch Key. I had a really good dinner, something vegetarian, which is odd for me. It was a filo dough filled with grilled veggies and goat cheese. It was so delicious that I am going to make something similar soon! Here's me and dad...

Saturday morning we got up to an overcast and smokey day. If you've heard, Florida is literally on fire. There was even a fire in the Keys. So, some of the smoke from local and distant area's was having fun down our way. It was probably a good thing because it kept the sun off us and made it a much easier day. We kayaked the mangrove's, introduced dad to sea cucumbers, which had fun squirting water at us, and we all chased a stingray for a bit. It was so neat seeing him dart around the water. It was so clear that you could see 50 feet in front of you. Chris chased fish and sharks through the day while he was fishing. We didn't bring the dry bag with us so I didn't get any photos of the kayaking. Next time, I promise!

Back at the campsite we had fun with the land crabs...


Mr. Land Crab, he thinks you can't see him....


And we went to the open part of the Bahia Honda Bridge
I'm actually kinda happy with the way this one turned out! It's a bit odd, but kinda rustic at the same time.


Me and Chris


Florida has iguana's running around and we looked down and saw this one sitting there. We surmised that he had probably walked on the bottom of the bridge and made it over there. Hrm???

Sunday morning Chris got a nice prize while fishing.

Chris and his prize, Goliath Grouper. Pretty nifty, eh?
After Chris fished to his heart's content Dad and I hit the beach again while Chris went to "our" spot and did some snorkeling. I walked around and snapped some photos, played frisbee with Dad and just enjoyed the day.


Hi, I'm Mr. Fiddler Crab. Please, don't come in!


A washed up gorgonian


Really it was much bluer than that....


Floating by....turtle grass, Thalassia testudinum


A little sargassum and turtle grass on the beach...


As we were walking around I just thought this was a nice shot.


Seagrass, crystal clear


Hi Dad!


Unknown fishes


We were walking back in the water towards the beach towel and a pelican comes crashing down and gobbled down some food.
I cropped this one so you could see it better, but at first we thought it was a Miami Blue butterfly. We had just visited the nature center and saw there was a variety of "blue's" at the park. Turns out this one was a Cassius Blue


It was a wonderful time. I am already thinking Chris and I have to go back here in a few weeks. I could settle on Big Pine Key and be happy. Just need me a job. Or $25 million.



Mental Break
May 9, 2007
I took a mental break from doing creative things the past few days and have read a book. I have many books on my bookshelf I haven't read. Most of that reason is because I bought a lot at $2 bag sales at the Melbourne public library. Some are from getting gift cards and oogling at too many good books and then storing them on my shelf. I now have a little goal to read as many books on my shelf that I can before buying another. *hahahahahaha* Um, yeah right. But I'm going to try!

So, I picked off my bookshelf a book by Iris Rainer Dart, the author of Beaches, called When I Fall in Love. It was a cute, fast read and I enjoyed it. If you're looking for something easy to read I'd say pick this one up.

My next read is going to be The Locket. Just randomly grabbed it off the shelf.

I think I am going to wait until I have several kerchif's ready before I add more to my Etsy shop. Probably late next week. I think that is probably the best thing anyway. Still have the purse idea in my head but will just take some sitting down and working on. I am itching to paint and do some pastel also. But before that I am going to go to the Keys this weekend with my Dad. :) He's coming in tomorrow and will be here when I get off work! WOO! We're going to do some kayaking, probably go to Sunset Celebration in Key West, and just relax, get some sun and have fun! Monday or late Sunday night I'll put some photos up. Until then, have a great weekend! :)



A Sealion and Wayward Seal
May 7, 2007
My friend Erin, who works for the Georgia Aquarium, put this video up on her MySpace. It's her feeding a sealion at work and it's so adorable. I must say I'm envious. ;)



And speaking of marine mammals, today a bearded Arctic seal was found in a canal in Ft. Lauderdale. I was watching the news tonight and they showed him/her hauled up on someones seawall. Article. There used to live a Carribbean monk seal in Florida and the Carribbean but it is now extinct. I think it would be cool to have marine mammals around other than manatee's and dolphins. I mean, I know there are whales and other dolphins around but you don't really see them as often. At least we have really badass sea turtles!



Green Thumb Sunday
May 6, 2007


Green Thumb Sunday




Join
Phyciodes phaon: Phaon Crescent butterfly on milkweed, inside the Loop Road on the Florida Trail, Big Cypress National Preserve

Phaon Crescent on common tickseed, Coreopsis leavenworthii, same area as above.

Gardeners, Plant and Nature lovers can join in every Sunday, visit As the Garden Grows for more information.

Cinco de Mayo
Cinco de Mayo
Today I went to Einstein Bagel for breakfast. I love Einstein's. I fell in love with them on my first trip to Colorado, where I went to the one at the border of Lakewood and Golden, CO and would get my bagel and then ooh and ahhh at the foothills of the Rockies in the near background. I love going to any Einstein's because the whole aura of the place reminds me of those times. I love Colorado. I want to go back. It's so outdoorsy, so different from everything I am used to. People are nice. Friendly. So many eco friendly options! So, when I walk in and order my bagel, which is usually sun dried tomato or potato bagel with sun dried tomato shmear, or sometimes a cinnamon sugar with the honey almond shmear, I always remember Colorado.

I'm still slowly recovering from whatever crap I had. Sinus infection, cold, I dunno. My nose isn't as runny, but I'm still blowing all the time, and my ears have decided to let me hear again, sometimes, but now I've developed the cough. Thank you crappy sinus thingy ma-bobber. (sidenote, Leo just had Samson in a death hold, ooh now they are taking off...ah, cat antics!) I am really wanting to get back out and run again but am afraid of having snot running everywhere. mmmm, yeah.

I had to work today, unfortunately. Simple stuff, nothing big, but something we had to do. I did manage to finish my brother's blanket, and did one more kerchief. I will have two more put up maybe tonight, but probably tomorrow.

I went through my seeds on Thursday evening and pulled out a whole ton to plant tomorrow. It's going to be a long day in the yard. Mow, water, ammend and mulch mini-veggie bed, weed containers....almost gives me a headache thinking about it. I'm looking forward to it. I always like it when the yard has that just fresh worked over feeling. Would be even better if at 3pm a rainstorm forms and waters everything for me. (another sidenote, Leo is now playing with a brown bag and he is now inside it. Easy entertainment for him!)

Went to an art and educational store yesterday and scored big on their clearance section. I picked up a bunch of different gesso board, pastel board and some other painting items. I've been wanting to work on some different surfaces. I finally feel that since I am "caught up" on crochet a bit I can paint some more.

Oh and another little tidbit, Chris went back out to where he found the ghost orchids and found one in flower, actually probably going to open up tonight or tomorrow. It is SO COOL. I will post it as soon as we can watermark it I'll post it. I have other big news regarding the whole situation but I don't want to share until about two weeks from now when hopefully it all happens. It's pretty darn cool! Ok, so it's darn cool to plant geeks. ;)



Geekery
May 2, 2007
Yesterday was my littlest boy's birthday. The Leomeister turned 3!! Can you believe that? Three years ago the little squirt was born into the world, two months later he ran away and showed up on my porch sounding like a baby bird. He celebrated by going on the porch for awhile and having five little treats. He's so cute! :)

I am kinda surprised more interest wasn't shown in the ghost orchid. I suppose, though, not a lot of people really know or appreciate what it is. If you've read The Orchid Thief or seen the movie Adaptation you know what kind of lure this orchid is to plant enthusiasts and hikers in Florida. Or orchid nuts. Whichever. ;) I haven't told anyone outside of the garden forum, the S. Fl. cachers forum and one friend of ours. It's kinda like "our little secret" in a way. The coolness factor is that this plant is rare, endangered and have no leaves. It photosynthesizes through the roots and then in the summer, if you're lucky, you get a flower. It is only pollinated by a certain kind of a moth, which adds to the allure of the plant. And that moth is rare too. Alas, I suppose we're just geeks.

Speaking of geekery, this week I've been attending a wetland delineation class. I took a class in college and so this is all refresher. Most everyone is from the Corps of Engineers, State, EPA or a local agency so everyone shares the same interest. Uh, I need to brush up on my plants! To delineate a wetland you have to have three criteria: hydrology, hydric soils, and hydrophytic vegetation. Hydrology is fairly easy as is the vegetation but the soils is more difficult, at least for me. You dig a pit and basically characterize the colors and there are certain representations within that first foot of soil that you can call it a hydric soil. Then throw in all sorts of oddball situations and you've got yourself some fun. I really enjoy this part because this is the science-y portion of what I love. Sometimes the science portion gets away from you.

Also, on the being creative front, I added a kerchief to my Etsy shop. Oceanic Wilderness Designs shop. I plan on adding two more by the end of the week and I have in mind a really funky purse *possibly* next week. Really, I forsee having a decent stock on there being around first of June. But, I need some word of mouth spread too. So, if you see something you like at my shop and you're a blogger, could you do a little mention? I hate to ask this, but I do want to sell something, sometime. I also wouldn't mind critiques regarding pricing, too high/too low, as well as if you think something is even "nice". There are some craptastic things out there! LOL...anyway, I promise not to be pitching my stuff too often here as to aggrevate all of you to death.

Well, I suppose that's it for today. :)



A Ghost in the Woods
April 29, 2007



After much effort and searching, Chris finally found them! Our lips are sealed as to their location, so please don't even bother asking. But, while I was home sick, Chris took a walkabout and found a big patch of 'em. Loads more are on Flickr. We'll be going back in a few weeks to check on the ones with spikes, so hopefully we'll have some nice photos of the flowers.

Polyrhiza lindenii, aka: The Ghost Orchid. One of Florida's leafless orchids and an endangered species.



Sick of being sick
April 29, 2007
This is the second time in two months I've been sick. At the end of February I had something similar, a cold or sinus infection. Now, last week I started feeling it late Tuesday and it has gotten progressively worse. I was crossing my fingers that it wouldn't move to my throat but this morning I am hacking up nice loogies. Great. I've been popping the CVS version of Claritin, Benedryl at night and Robitussin as well as my inhalers, but other than drilling a hole in my head I'm not sure what to do. I hate going to the doctor because they'll probably just give me antibiotics for sitting in the office for two hours. Blah.

This weekend we were supposed to go backpacking. Well, we did...sorta. My coworker kindly dropped us off at the starting point of the Florida Trail on Loop Road in Big Cypress Nat'l Preserve so we could hike the ~8 miles to the car. I had qualms about going on Friday night because I felt bad, but then I felt bad that Chris wanted to go so bad. I also wanted to go. So, we did end up going out there and we hiked 3.5 miles to the first campsite and had lunch. I was feeling awful, nauseous and my nose was dripping like no other. We made lunch which was chicken and rice. I thought it wasn't bad because it was just like buttered and salted rice but Chris didn't like the fact there wasn't much chicken to eat. He made something else because we had one extra meal with us and I ended up laying out my mat in the shade, peeling all my clothes off but my shorts and sports bra to cool down and laying down. Of course, the first real humid day of the year happened to be yesterday so we're just sticky with sweat. It was just uncomfortable.

Chris went off exploring a nearby cypress dome while I was "sleeping". I mean, laying down, listening to some bees trying to get some nectar out of palm flowers, swatting gnats and mosquito's off my sticky skin and trying to be sure not to roll over onto the poison ivy nearby. I do remember dozing fairly good for awhile and then Chris came back. He tried to lay down for about an hour but by this time the sun was fully blaring down and it was impossible to sleep well. We'd already talked about going two more miles to another campsite up the way and staying there for the night so that we could just have three miles in the morning to hike. So, we got up and packed our stuff up. I felt a little better and the hike was nice.

There was more water on this trail than a few weeks ago north of Tamiami Trail. The cypress domes had a good amount of water in them and the trail was muddy. So, it would have been ok if we'd have run out of water. Well, we went through a nice hammock that is reminescent of Fakahatchee Strand. Orchids, bromeliads, and stuff I'd like to explore. We discussed that we'd come back for a day hike soon so we could explore it. So, we're hiking along, Chris had some GPS problems and when we finally figured out how far we were, we realized somehow we'd missed the next campground. We were only two miles from the car. Chris wasn't feeling good, I was just looking forward to sleeping in my bed and drinking some very cold water and we decided to just finish it out and go home. We'd run into two other groups while we were out there doing day hikes. We ended up getting done about 6pm.

Chris took 97% of the photos yesterday. It was a nice break away from the camera. Here are some that he took:



Grass pink, Calopogon spp., a ground orchid.


Another orchid with a seed pod


Fern frond uncoiling
The rest are uploaded onto Flickr.


Gardening Joys
April 25, 2007
Things are happening in the garden. I really need to get outside and work. My new plan is to actually make the vegetable area that the collards are in now a real garden with mulch and some minor soil ammendments. Planning on okra, corn and beans for a summer crop and then in August I'll start fall tomatoes up again. Here's what's going on right now....


Albo marginated Vanilla planifolia


My little ball thingy. Found the ball at Bed, Bath and Beyond, put the spagh in it and then Chris planted the orchid (think it's a Dendrobium) and the other thing in it.


Variegated pepper with flower


The flies are loving the starfish cactus flower


Small starfish cactus flower


Varigated sunflower seedlings


The skies the limit for this Dendrobium spike


Above said Dendrobium flower


Tillandsia streptophylla that I bought off of Etsy.com


Mustard green seeds. I'm a dummy and had cut the seeds off the plant, tossed them on the ground three weeks ago and just now remembered to pick them up.


Our first variegated tomato. Kinda small and now all the way ripe.


Chris cutting the seeds out. I ate the pit part which was good. That's one good tomato.


Was supposed to be a variegated sunflower but this came up normal


Another...


First gladiolus of the season


Mmm, love you gladiolus!


Plumeria coming out of hibernation finally, with a few flowers. Also, see the little fly? It's some sort of striped wing fly. Hrmmmm...

That's it for the yard for today. I've got a cold...again for the second time in friggin' two months...so when I kick that I plan on getting in the yard a lot.

I finally finished one afghan. Afghan's really take a lot out of me. They just keep on going and going and going! Anyway, I did enjoy this one.



I like doing them and have almost completed the list of friend's. The only major one going now is one for my brother and SIL and then I need to start a baby blanket that won't take as long and then I'm taking a summer off of afghan's and focusing on learning to make purses and other things. Then the fall I will work on the final two afghan's. Maybe learn to knit then too.

I also made this:


Another kerchief, but I like this one better. I already made another one that I am going to put on my new Etsy shop! I need to build a product base first and I have in mind a cute apron to make.


What kind of cute name would you call this one? I was going to say "Neopolitan Delight" because it reminds me of Neopolitan ice cream, but that is incredibly dorky. So, something girly. I bought a blue yarn and a cream yarn and will make some of those. My problem now is thinking of pricing. It seems jewelry on Etsy is one of the only appropriately priced items. Crochet items are too cheap, then again some are kinda gaudy. I want to make cute, wearable stuff but also not selling an apron for $5 when yarn costs a lot more than that combined! So, once I get enough stuff listed I plan on hopefully actually selling some things. I'm not going to get rich. But you know, it seems like fun. One step leads to another, right? Taking a craft/hobby to the next level.

Well, that's a lot to say for a few days at least. I'll leave you with a link to see the first house I ever lived in, from birth to 5 years old. It's for sale! House. Curt and Steph...buy it!!!!
It's updated from how I remember it and there used to be a tree in the front yard. And the back right tree in the backyard had a tire swing on it. :)

Oh, my camera is a Fujifilm Finepix F20. We got it for like $170 last Christmas.


Earth Day
Earth Day, 2007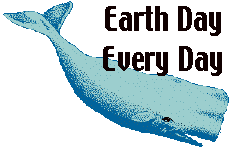 Happy Earth Day! Today we celebrated by kayaking from the Rickenbacker Causeway near Key Biscayne to a little bitty, approximately 1/2 acre island about a quarter mile or so offshore. We attended a Geocaching CITO (Cache In, Trash Out) event with some local Miami cachers. Holy wrecked island. Obviously the people who illegally visit this island (there are no trespassing signs) love their Corona's and Heineken's. What made me most angry was how many plastic bags were wrapped around the the tree's and debris. We pulled up tarps, grill's, all sorts of crap. The place looked great afterwards, though there are lots of little broken pieces of glass that we couldn't get. Luckily we did not have to haul the trash bags out as the people who set the event up coordinated with the city of Miami, who owns the island, to come out and get the trash. When the photos are posted I'll post a link. Then we did two caches that are on some mangrove islands nearby. It was a nice day out on the ocean. Oh, we did see dolphins and I saw a itty bitty file fish at a buoy, hovering near the rope that was tethered on. I think he thought it was sargassum. Chris saw a manta ray but I was elsewhere when he saw it. *lucky*

Now, for photos of last week.


Sabatia grandiflora and Erigeron quercifolius


A red-shouldered hawk that landed to nab some grub...


And he takes off...


Two very inquisitive deer. They came around a little berm as we were eating lunch, peered at us, turned to leave, came back a little closer, turned again, and came back again a little closer! The little one still has its spots!


Not sure on the name of these little flowers


Mmmm, wild blackberries!


You don't know how stoked I was to get this little zebra longwing! They are one of the most fluttery butterflies and hardly ever sit still. This one sat and let me get about six photos of it before he wanted to find some better Bidens alba


Nuclear meltdown? Nah, just that fire with a nice sun behind it. This was taken probably 2 mile from the house, so you know you could still see it at my place.


Thistle seeds. I love thistle seeds, or seeds that are wispy and meant to be carried in the wind!


This is Thursday on the way home.


I swear, you'd think people hadn't seen a fire before. I mean, this isn't the Fourth of July people! LOL...


If you look closely you can see two alligators. This was the only mudhole in a long while. This area was burned before the current fire started. Apparently it happened less than two weeks ago.


I think this is duckweed but I'm not for certain. I just loved the texture on it. It's a little aquatic plant.

Anyway, more photos are on my Flickr.



I am a Zombie
April something, 2007
I am a zombie. This week has been long and tiring, though I feel like I haven't done anything to deserve being so tired. This is our Everglade's Study week, so we are in the field every single day. The spring study is on full tracks and buggies. So, the first day we narrowly escaped a highway shut down as we were leaving home. That way, 30 minutes to the house. Highway shuts down, two hours home. The reason?



The first one is what we saw at about 2:30pm. We kinda looked at each other, did we do that??? Nah, too far and not where we went. Kept on going and once we were closer to the highway again we still saw semi's and cars going by but we were worried about I-75 shutting down because it'd happened the week before for another fire south of the interstate in the Everglades. We made it out just in time, though the westbound lanes were already shut down. Tuesday was a normal day and the fire had moved north and petered out a bit. Wednesday, looong day. I didn't get home until 7:30 because we didn't leave the place we were at until 5 and it is a 2 hour drive to where we all met up and then the 30 minutes home. The fire was north and not doing a whole lot. Today. oooh, today. Today was actually nice. I saw a bobcat...WOOT!...the first one I've ever seen. I was with my boss and this cat crosses the road and at first I was thinking ok, that is one lost kitty cat (because it came from a marsh and it's cattle pastures nearby) then realized, oh that's a bobcat! It took it's sweet time trotting across and then dissapeared into the marsh on the other side. Very cool! I mean, this is one step up, so surely the next thing I'll see is a panther, right??

Anyway, I drove the swamp buggy around all day. It was very fun and I had a good time doing it. We saw a black racer snake, cows (ooh, ahh), a feral pig, swallowtail kites and I am proud of myself that I put the swampbuggy back onto the trailer. I mean, this is a huge feat. You try driving monster tires up onto a trailer! Actually, earlier than this we hear that I-75 is shut down both ways again and the fire is now on the reservation. Great. We finally find out that for sure we won't even be able to get on the highway. Double great. So, it's back up through the Seminole Rez and up the ag area of Florida, through Clewiston and South Bay, down U.S. 27 and Big Sugar and finally we see the fire again. Holy Cow. I can't believe how fast these things go! It was already to 27, probably 15+ miles from where it had started. Of course it's going in the opposite direction as well. Smoke everywhere, but we made it back onto I-75 there and to the house. The cool thing about taking the back road was as we were driving along I notice this funky bird flying slightly higher than the car, but about 30 feet away along the canal. I'm going through my mind, what is that bird? Ah ha! Duh, it was a Crested Caracara! SWEET! Chris and I had been wanting to see one when we'd gone to Kissimmee Prairie SP a few months ago and didn't see any. I was totally stoked!

It was a good animal day at least. It's been a good animal week most of the week. Lots of deer, piggies, tons of hawks, and just been nice seeing so many animals. I did find a butterfly orchid in a hammock on one of the properties. I'd yet to see one on any of our properties yet, though I knew they were probably there. Sure enough I looked at this water oak and said, that looks like an orchid tree, and up about about 5 feet over my head was a little E. tampensis
I'll do a photo blog about the week this weekend. I can't even believe my brain was able to write all of this. I'm going to eat a brownie and watch McDreamy.



Because My Cats are Darn Cute
April 13, 2007
I'm uploading all of our old cd's from the other camera onto the computer. I'm coming across some great photo's I'd forgotten about and so I am doing an all cat post today. I mean, my cats are *the* cutest on the planet. And I don't have kids so you get to see me bragging about my cats instead. Not that I realy want to be bragging about how Leo kicked litter and its contents all over the bathroom floor the other day. Lovely.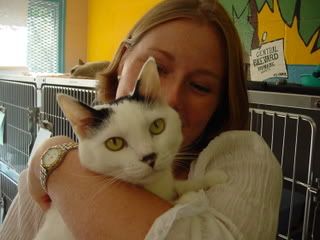 Samson and me at the Cocoa Beach Humane Society in Dec '02. Poor little fella had to wait about two more weeks before we could get him. Didn't want to adopt him and then go home to Texas for Christmas and have him lonely in the apartment. He'd already been there two months!


Ahhh, the beginning of what has become a computer cat.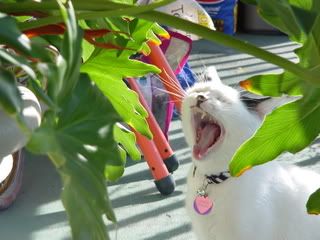 Rooarrrrr!!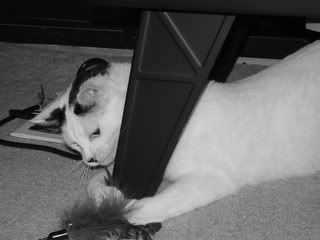 Ooh, feather!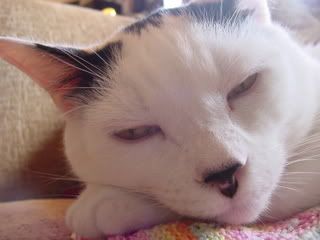 Mom, I'm sleeping!!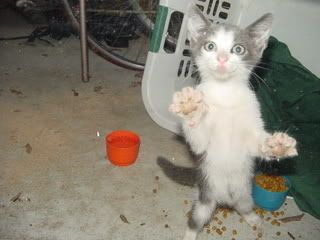 The runtiest runt on the planet! *hello in there...are you going to let me in? Squeak-meow-whine?*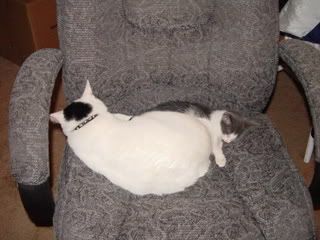 The chunky-monkey and the rugrat cuddling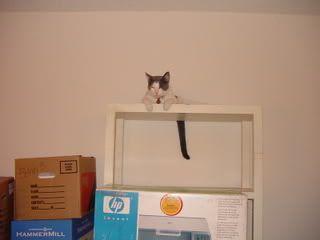 How we knew he was part panther....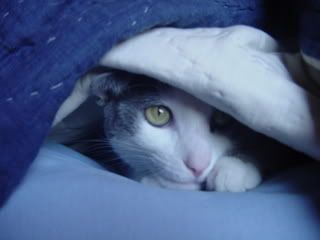 AHHHHHHH! Bed monster! Nah, he just really loves getting made up in the bed.


Rain on Me
April 12, 2007


1: Cape Jasmine, from a cutting that I took at a park, 2: Buddha's hand citrus, 3: unidentified jasmine from a trade, 4: Jungle Red hibiscus, 5: red lantana, 6: an arm to the "General", a cactus we got for $5 at a garage sale. The arm sprang up about two months ago, 7: pole bean flowers, 8: purple basil, dill, catnip, 9: lettuce (the salad's have been good!), 10: Everglade's tomato, 11: can't think of the genus orchid, 12: super huge elephant ear sprouting, 13: mulberry cutting from the Nat'l Clonal Germplam Repository, 14: nasturium, 15: oops, another cape jasmine photo, 17: rose sucker.

We finally got a lot of rain despite the drought and water restrictions. Tomorrow we head into two day a week water restrictions after several weeks of three day a week restrictions. A nice thunderstorm went through the Everglades on Tuesday night putting out a huge fire that was in the conservation area and closed down Alligator Alley for several hours. This morning it rained most of the day as well.

First person to email me at oceanicwilderness at gmail.com will get the rose sucker. It's the pink rose that I've posted before and blooms well. I would keep it if I have a yard and wasn't bound to my containers.



Dawn
April 9, 2007
Right now I am walking along the Longbourn premises, dreamily thinking about Mr. Darcy. Ok, so I'm only there in spirit, but it helps to have a little Pride and Prejudice sountrack to ease the mind. I *love* this soundtrack. In fact, I love the 2005 movie. I need to buy the 1995 version as I cannot even find the first set of my taped from DVD from Blockbuster set. Le sigh. Oh and I need to actually finish the book. *so close*!



Here is the chest I painted and re-knobbed. I should have gone with a darker blue, but it works.



Leo says hello


And I'm missing these two lately. Chelle on the left, Steph on the right, who is recently engaged! Not to Mr. Darcy, but alas, to someone named David.

I've spent the day rather well. Did some chores, did some fun things and relaxed overall. Good for the mind and soul I should say. I finished watching Anne 3, which I do like but really needs more Gil in it. Then I started Little Women which I plan to finish later while crocheting in bed. Mmmm, love that movie. I love the family when they are singing In Excelsis Gloria. Really, Jo and Laurie were meant to be. <-----another book I need to read. It's on my bookshelf too. Speaking of reading, I lent a bunch of books to my coworker for his family to read. His oldest who is 11 is a voracious reader, much like myself at that age. He wants her to read more challenging things instead of I am assumming Babysitter's Club-esque books. Well, I had given Outlander so his wife could read it, but she is working on finishing her thesis, so his daughter read it instead! Can you believe that? I mean, that book is 850 pages and full of adult content and a high reading base. He did say they helped her along with questions, but I was floored.

Oh, here is a map of where we hiked this weekend.

Also, I fixed the link for the button on the 21 days thing. If you look on the page you can see a code to insert and just follow the diretions on making it usable. Hopefully that works for you!



My feet fell off around mile 12
April 8, 2007
Ok, so my feet didn't really fall off, but honestly I am worn out. So, here's the story...

Friday morning our friend JC slept on our futon when he finally got here around 4am. We figured it was better he was already sleeping here so we wouldn't have to wait for him to drive from Miami to our house. We left our house around 6:30 with a pitstop to Hess/McDonald's and then headed to the Alligator Alley visitor/rest stop to leave our car. JC then took us to the Oasis Visitor Center in Big Cypress where we were going to start our hike. We filled out our backcountry permit, let the ranger in the center know we were headed out and finally got on the trail around 9:30.


See, we look fresh and ready to go....

So, we happily begin, following the nice orange markers


And keep on going...


Following orange markers...


Part of the first section of the trail....


And we come upon a red shouldered hawk nest, with mom, pop and the little ones. They got a little skittish when we approached but ma came back and we tried to get a photo of them.
Finally, it was lunch time...


Dehydrated chili-mac. Mmmmmm...


A little photo taking during lunch time too...


Now you see, it was bone dry out there. We carried two days of water in hopes we'd find something. Normally this is full of water. It is the dry season right now and even the Everglades get a little dry. You can see the water line on the cypress.


A break at 7 mile camp


A "Wild Pine" bromeliad
And a little more walking until we reached


10 Mile Camp. We were tired. It started getting hot and the day had started off cloudy, but now it was blazing sun and we were tired! We promptly unpacked, setup camp and took a nap, where we dripped in sweat because it was so sunny. We did sleep for three hours though!


By now we had begun to assess our water situation. No water on the trail meant we may have to thing about other options. We had heard of collecting dew in the morning, and we did have a water filter and tablets if we did find a pool of water. Well, as you see, we did find a puddle of water, which is why we rigged our handy-dandy scooping device to lean over the mud and into the otter pool we found...


here in a cypress dome. We had attempted to dig a hole and see if the water table would fill the hole up, but to no avail. And then Chris found the hole. It was chocolate milk muddy. So, we filled up our container we use to boil water for the food and thought maybe it'd settle out overnight.


We woke up in the morning and it was COLD! Ok, so it was like high 50's, but when your camping that's cold! We huddled around a little fire for a bit and


watched the smoke filter off into the woods to the east. Then we tried to filter the water. We got one liter filtered, started on about a quarter of another when the filter broke. The mud had clogged it. So, change of plans. As we sat and ate our breakfast we decided that we were going to have to do a long day that day (Saturday). Figuring out the time it would take us to get everywhere we could bet on getting a little over 7 miles to 13 mile camp for lunch, go two more hours, take a nap, wake up have dinner and then do two more hours, totaling about 13-14 miles. Originally our plan was Friday 10 miles, Saturday 7 miles, Sunday 6 miles and then Monday 8 miles to the car. And we weren't finding water on the trail at all, not even in the cypress domes we crossed. It was cracked earth out there.


So, we said goodbye to 10 mile camp and hit the road for 13 mile camp
You know, I was very surprised at how much pineland we saw. It almost seemed like Melbourne and north Florida, the scrubby pine/palmetto forests in some places.


Tried to conserve water and feasted on


GORP
Hiked through some thick stuff


Took silly photos


And found a hawk feather


Milk thistle seeds


A cool fern/lichen thing in a burnt piece of wood


Crossed several buggy trails and saw a burned forest until we came upon our lunch spot


13 Mile Camp. Which ironically has a water spigot but it's broken. *annoyance*


Chris fixed lunch


And then we rested for 30 minutes or so in the shade


And so we trudged ahead four more miles (2 hours)


Where we took a two hour nap and made dinner before heading on...


We passed Oak Hill Campground where we would have stayed tonight...(not sure whose pack that is!)


Walking down a buggy trail


Oopsie...when they did trail maintenance a few weeks ago they let a bit onto an orchid! By about 7:30 I was beat. I had blistered, my ankles were killing me and I just couldn't go to the next marker, so we set up camp in right off the path, in the middle of a bunch of dwarf pond cypress.


I'm somewhat chipper this morning as set off, but my feet are just dreading the walk


Chris liked this dwarf pond cypress because it looked bonsai-ish.


I got cozy with a cypress


Morning across the prairie


Some tilandsia's hanging on


Ivy camp, which is a little less than 4 miles to the car...keep on swimmin', keep on swimmin', says Dory...


Need to look this one up, but a nice little flower


Counting the markers now...


A juvy Lubber


Our last stop with about a mile and a half to go, we gobbled down the rest of the half liter of water we had.


The home stretch


Civilization...almost there


And we made it!!! WOOOOOO! I left my walking stick there for someone else to use and we hobbled the .4 to the rest stop to pick up the car. It was there, YAY! We "met" a guy who was wondering where we'd come from and we talked a bit about what we had done. We scrounged up change to get a Twix out of the candy machine and I use the restroom. Ahhhh, no more drip drying! ;)

We made it home around 10:30 this morning and showered and drove for some Mexican food. I've since layed in bed all day and watched a few movies. I plan on doing the same thing tonight and crashing early. I took tomorrow and Tuesday off because we had planned on coming back tomorrow, so I think I will just keep the days off anyway and catch up around here. Plus, my legs are aching. Our total was around 28-30 miles.

You can see the rest of the set here. Phew...more later!

My 21 Days
April 2, 2007
It seems the 21 days is getting off to a good start so far! YAY! I'm glad and proud of everyone who has committed to whatever they have committed to. :) I realize now that I need to put what I was going to do. 1: Work out daily, no matter what it was, walk, run, yoga, weights etc., 2: journal daily in my paper journal. So far I've only done one straight, the journaling. It is easiest by far. Originally I had planned to make it get up and do it in the morning while eating breakfast, but, well, I suppose my next 21 day plan should be to get up at 6:45 every morning on time. LOL...

Tonight I did something I've been meaning to do for forever. I'm repainting a little nighstand that we had bought at a garage sale 4.5 years ago as well as a little table that Chris uses to put his fish stuff on. We originally painted them long ago but they don't go well with anything anymore and so off to Walmart I went. I spent a little too much time there because I had to wait for the guy to mix the paint, then the line in the garden center was loooong. So, everything is painted but I'm going to go over with one more coat tomorrow. I need to buy some new knobs for the dresser at Lowe's tomorrow and then Wednesday maybe I'll show it off. I hope it doesn't look horrible! I'm almost thinking maybe I should have gone darker with the blue I used. *oh well*!



It's April!
April 1, 2007
How on Earth is it April???

Today while sipping my coffee and catching up on the news I found this story on Amelia Earheart. The most interesting things were that her calls for help were reportedly heard on shortwave radio way across in the U.S. History's mysteries are always interesting to me.

Yes, Robin, Leo's little man bits are hanging out. I don't think he cared though since he was soooo sleepy! Although, he doesn't have much "bits" left since he was fixed a long time ago. He's going to be 3 in a month! Hard to believe. He's also put on a few lbs, though he is still long and skinny, and is now around 15lbs.

Strawberries are in season now and least week I had the the most ginormous ones ever.


That one on the back left...HUGE! I don't get nearly that size or amount off my little measley plant. It's more like a piddling around the garden snack when I can catch one that hasn't already started rotting or been eaten by something else.

And after waiting "decades", ok, more than three years, we finally had an unknown bulb bloom.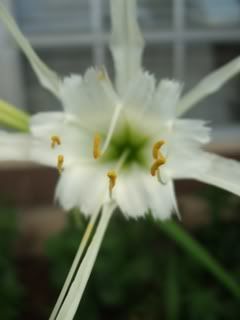 Turned out to be a spider lily of some sort! Another is on the way to blooming also. Oh and Margaret Mockingbird...she has 4 babies! They are adorable! Chris got whacked with a wing for peeking in to see the babies. But so far she hasn't attacked me yet. They are still quiet, and putting their heads up for food. You can kinda see them here:


I'll try to get a better photo today.

Oh, and Robin, I'm sorry it is taking decades for me to send you that hat. I've had to redo it a zillion times because a: I used the wrong yarn. Dur, follow directions... b: following said pattern yielded it too big and it looked like a big blanket on my head, which was a result of c: not making my stitches tight enough. But, Samson is modeling it for you...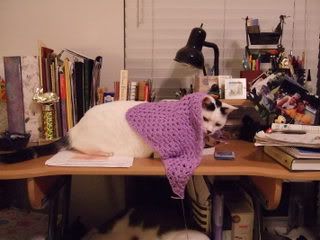 That is pre-correct size and pre-prettied up, so it looks like a mini blanket for Sam.

Oh and one last thing, Ali Edwards (link to the left) won the Six Degrees contest with $47,000 raised and 2400 people donating! Isn't that insane?